Hurricane Michael Will Hit Inland Georgia At Hurricane Strength (Albany, Valdosta, Macon, Augusta at Risk)
While interests across the Florida Panhandle and Big Bend areas are urged to get out of coastal areas in Hurricane Michael's warning strike zone as the storm of a lifetime bears down for a Category 4 strike Wednesday, another dangerous situation is developing inland across Georgia, with the storm poised to inflict rare devastation there, as well. Hurricane warnings are posted across Southwest Georgia, including Albany.
It's unusual for a hurricane to make landfall along the coast and move inland while maintaining hurricane strength many hours later, but that's what Hurricane Michael will do as it moves into South Georgia late Wednesday and early Thursday morning. Georgia Gov. Nathan Deal has declared a state of emergency for 92 counties across South Georgia.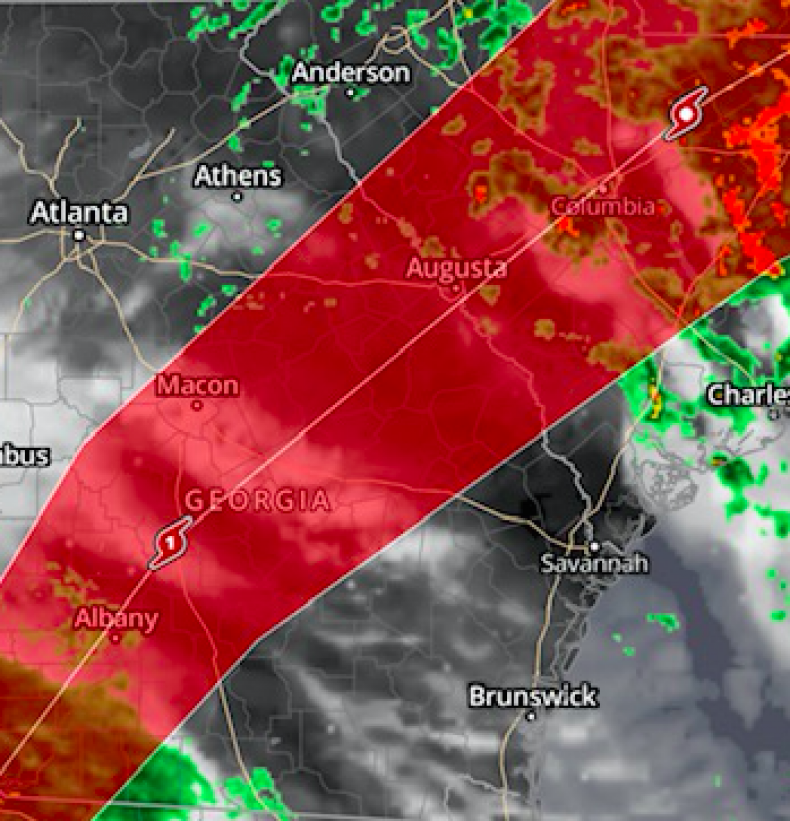 Because Michael is now forecast to hit the Florida panhandle Wednesday afternoon with winds of 145 miles per hour, making it the strongest storm to ever hit the region in the history of record-keeping, it will be so strong that the National Hurricane Center forecasts it to still be at hurricane strength when it moves across areas including Albany and Valdosta, Georgia – well inland. That means sustained hurricane force winds are possible in excess of 74 miles per hour. Parts of Southwest Georgia may get hurricane winds of 100 miles per hour, according to the NHC timing forecast.
"Dangerous hurricane- force winds will also extend well inland across portions of the Florida Panhandle, southern Georgia, and southeast Alabama as Michael moves inland," the National Hurricane Center reported Wednesday in its 7 a.m. update.
Hurricane Michael is forecast to track across Georgia from Albany to near Macon and eventually by Augusta, becoming a tropical storm by the time it reaches Georgia eastern border.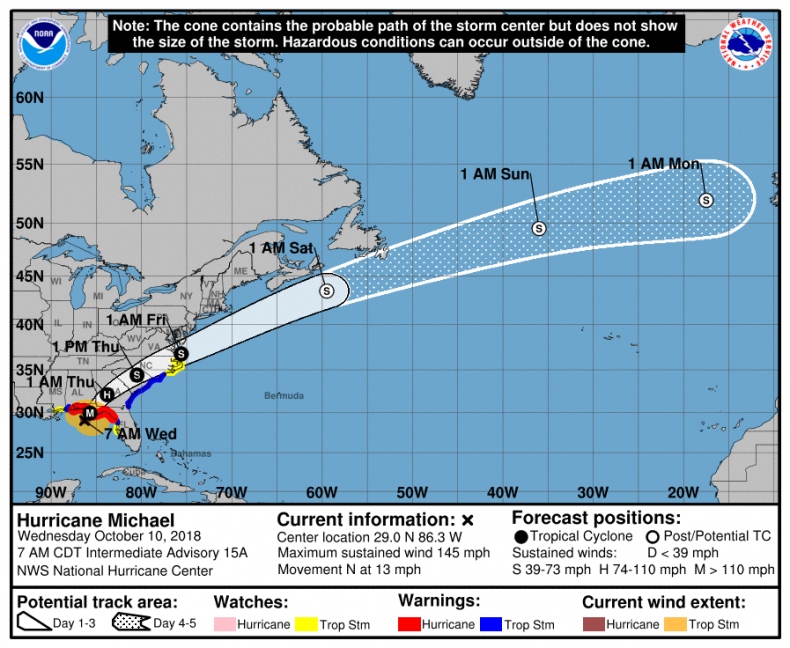 Typically, hurricanes lose strength over land because of cool temperatures and the moisture that fueled them over water. Michael will lose strength inland, too, but it will be so strong at landfall that even powering down it will be a hurricane for multiple hours inland.
Hurricane Michael is forecast to make landfall Wednesday afternoon, likely between Panama City and Apalachicola in the Florida Panhandle and Big Bend area. But the National Hurricane Center forecasts Michael to still have hurricane force winds inland of 75 miles per hour (hurricane strength is 74 mph) at 4 a.m. Tuesday when the storm is center well over Southern Georgia, impacting cities including Valdosta, Macon, and Albany with high winds, flash flooding, and potential tornadoes.
Schools and businesses across the Southern Georgia region are heading the warnings and dire forecast by closing and making plans like many coastal residents. In Albany, for instance, community colleges and all public and private schools have been closed in advance of the storm.