Hurricane Nicholas Slams Texas, Now Aims Toward Vulnerable Houston Area
Hurricane Nicholas made landfall along the coastal bend of Texas early Tuesday morning at Freeport. Landfall happened just a few hours after Nicholas developed into a Category 1 hurricane.
Though it just made landfall, there are still hurricane-force winds, life-threatening storm surges and heavy rainfalls in the forecast for the path of Nicholas. As the storm works its way inland and around the Texas coast into Louisiana, tornadoes are another possibility. Residents and visitors are encouraged to follow the advice of local authorities for evacuation.
Nicholas quickly churned from a tropical depression into a definitive tropical storm, and on Monday night went from a storm with sustained winds of 60 mph into a hurricane-force storm with 75 mph winds in a matter of hours. Nicholas was first forecast to make landfall around the area of Corpus Christi-Port Aransas area, but it jogged northward in the Gulf of Mexico before hitting the area near Freeport.
There are flash-flood warnings from Port Aransas, Texas, to central Louisiana, which was just inundated with the wrath of Hurricane Ida. CenterPoint Energy stated early Tuesday morning that there are more than 61,000 power outages in the Houston area.
This comes just four years after Hurricane Harvey wrecked the Texas coast from Corpus to Houston, landing as a Category 3 storm with devastating winds in the coastal bend and finishing with Biblical floods in both the Houston and Beaumont areas. Some parts of those areas saw more than 50 inches of rain in a short amount of time, with parts of Houston getting more than 60 inches of rain in just two days.
The winds and waters of Hurricane Nicholas crashed into the Texas Coastal Bend area early Tuesday sent heavy rains and winds to the area battered by Hurricane Harvey in 2017. Sustained winds from Nicholas Monday night reached 75 mph, which is the minimum needed to become a Category 1 hurricane.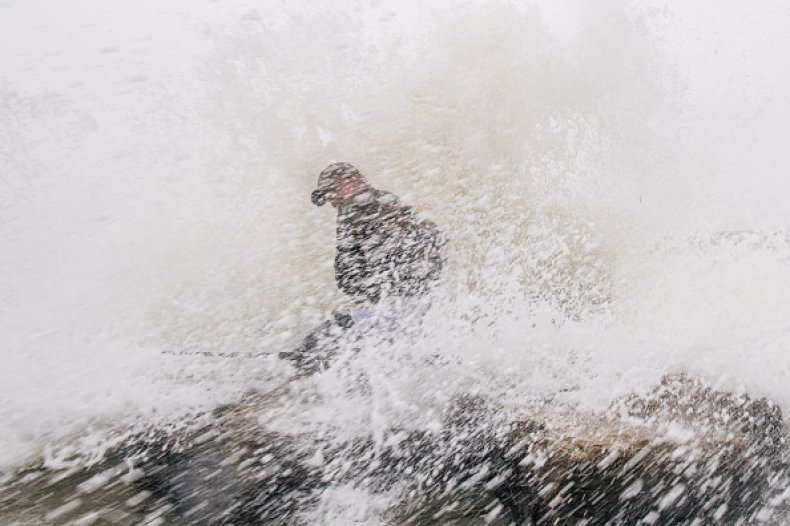 Nicholas has also created a life-threatening storm surge along the entire Texas coastline and into southwest Louisiana.
The NHC stated during its 10 p.m. CT advisory that sustained winds from Nicholas had increased to 75 mph, and it is expected to make landfall around Matagorda Bay in Texas. The storm is expected to then turn northeasterly, which will affect the entire Texas coastline in that path.
This is similar to Hurricane Harvey's path in 2017. Harvey slammed the same part of Texas as a Category 4 storm in 2017, and then turned toward Houston, where it meandered over the Bayou City and dumped around 60 inches of rain in some areas in just two days. Harvey is still considered one of the most catastrophic rain events in American history.]
Nicholas isn't expected to be as dreadful, but its forecasted rainfall could be dangerous along the Texas coastal cities.