Hurricanes Olivia and Norman Forecast: Storms Sitting in the Pacific Near Hawaii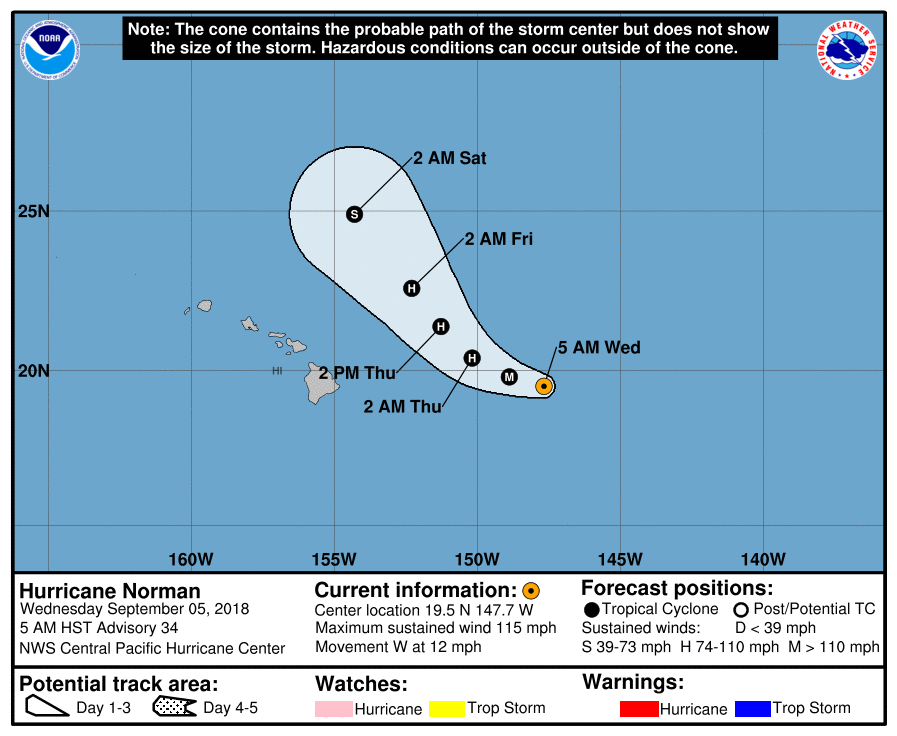 Hawaii already had one hurricane to worry about to the east of the islands, but now there's another storm heading in its direction.
Hurricane Norman is officially a major hurricane in the Pacific Basin, with maximum sustained wind speeds of 115 miles per hour. That makes it a Category 3 hurricane on the Saffir-Simpson scale. A map on Wednesday showed Norman to the east of Hawaii, but the most it was expected to do to the islands was generated large swells across them.
The winds could cause dangerous surf, but nothing else was expected to damage the islands because Norman was traveling west as of Wednesday. The storm was expected to turn northwest on Thursday and steer clear of the islands entirely.
Following up behind Norman was Hurricane Olivia, which was a Category 2 hurricane as of Wednesday, with maximum sustained winds of 110 mph. As of Wednesday, Olivia was still sitting off the west coast of Mexico but was poised to head west in the direction of the Hawaiian Islands.
Hurricane Olivia wasn't expected to make landfall, or even get close to the islands, through the rest of the week and over the weekend. The five-day forecast from the National Hurricane Center (NHC) showed that by Monday the hurricane was still not expected to reach the islands.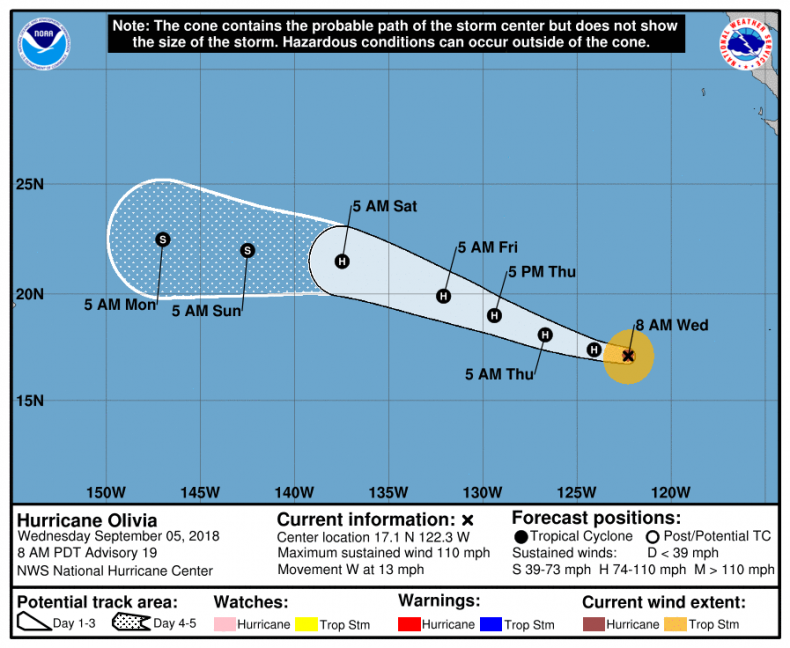 There were no hurricane warnings or watches in effect on land for Hawaii as of Wednesday, according to the National Weather Service. Hawaii is still recovering from last week's damage from Hurricane Lane, which brought record-breaking rain to some of the islands and causing mudslides and flooding as well.
In addition to Norman and Olivia, residents of the United States were on guard for Gordon, which was recently downgraded to a tropical depression over Mississippi. But Hurricane Florence, which is brewing in the Atlantic, registered Wednesday as a major hurricane, the first in the Atlantic Basin so far this hurricane season.
Florence is on track in mostly empty waters of the Atlantic and posed little threat to anyone on land as of Wednesday but it was expected to head in the direction of Bermuda. It likely won't reach the island until next week if it retains its strength while traveling west-northwest through the Atlantic, according to the NHC.​