Tropical Storm Xavier in the Pacific Ocean, Track and Path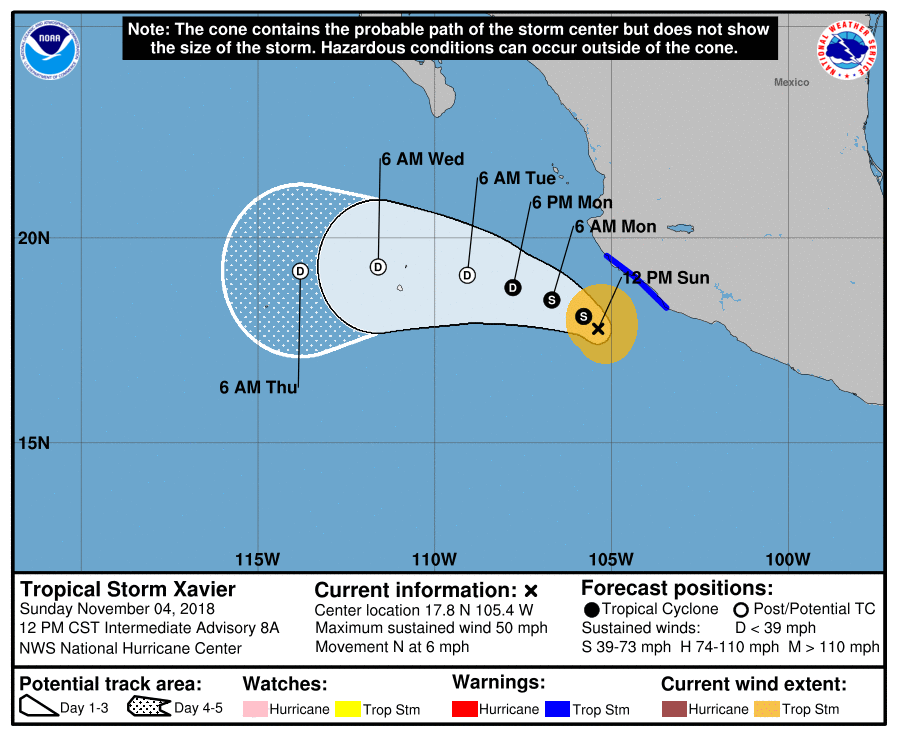 There's a tropical storm in the Pacific making its way to the coast of Mexico. Tropical Storm Xavier is sitting 110 miles south-southwest of Manzanillo, Mexico. The storm's maximum sustained wind speeds were about 50 mph on Sunday and those winds were making it to the coast of the country Sunday afternoon. Those winds were reaching about 150 miles out from the storm's center to Mexico's coastline.
The National Hurricane Center was tracking the storm and the government in Mexico issues a tropical storm warning for Punta San Telmo to Playa Perula, Mexico. But Monday the storm was expected to head away from the shore of Mexico so those in Mexico would likely be outside of the potentially hazardous area come Tuesday morning.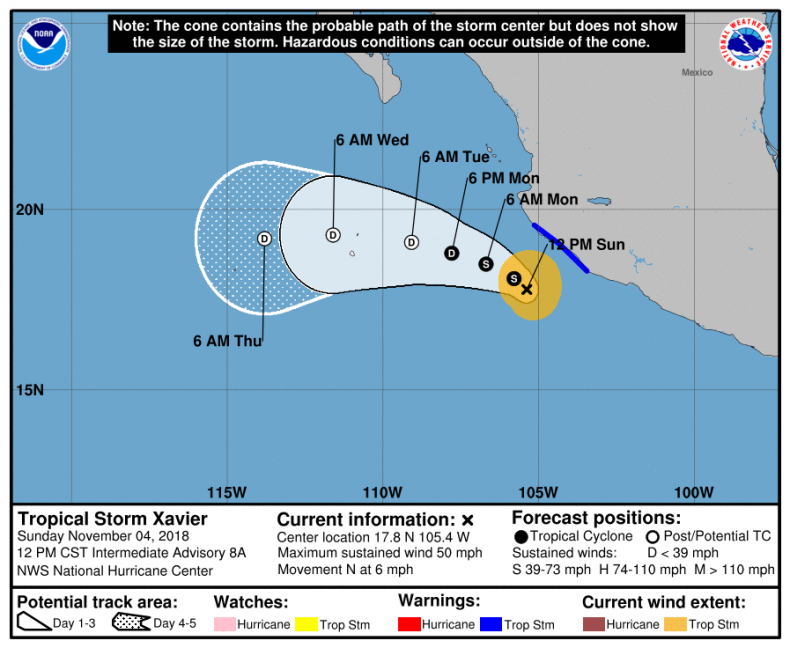 A second storm was behind Xavier but it was nowhere near as strong on Sunday. That storm didn't even have a name yet because it was still just a depression that might turn into a tropical cyclone over time. There was a 10 percent chance of it forming into a tropical cyclone in the next two or five days, according to the NHC.
Newsweek subscription offers >
Neither storm was particularly threatening to Mexico or the people along the coast. Even Xavier was expected to weaken over the coming days until it was no longer a threatening storm. About an inch to three inches of rainfall were expected to fall from Xavier in the areas of Guerrero, Michoacan, Colima and Jalisco through Monday, according to the NHC report on the storm.
The storm was however expected to create swells in the ocean off the coast of Mexico that could cause life-threatening rip currents. The NHC was urging those along the coast to monitor the weather and surf forecasts for the area to protect themselves from the potential rip currents.
Those in the area should check their local forecasts as Xavier comes closer to the coastline. Updates will be posted to the NHC website and will also be shared by the government in Mexico. Xavier helped make hurricane season in the Pacific Ocean one of the most active in decades. The season is set to end November 30.
​
Tropical Storm Xavier in the Pacific Ocean, Track and Path | U.S.