Hurricane Pete Rose? Some Baseball Fans Love the Next Two Named Storms
The baseball star dubbed "Charlie Hustle" might have his eye on the tropics this week as two storms that include his real name have developed in the Atlantic basin. The names Charlie and Hustle aren't the named storms for the newly-developed Peter and Rose.
Pete Rose, the legendary player who turned into a player-coach and was eventually thrown out of baseball for gambling, has two Atlantic storms brewing in his name at the same time.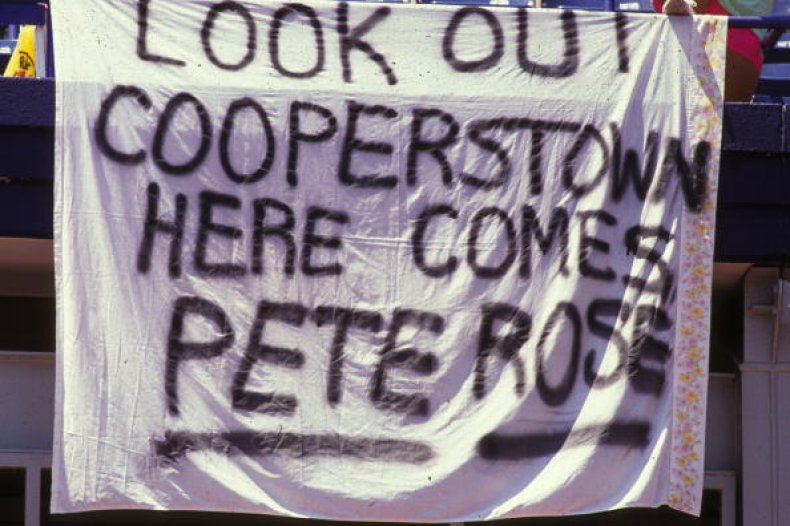 Peter is the 16th named storm of the season, and Rose is the 17th, both of which formed Sunday, and both of which are aiming toward the U.S. coast. Both are projected to make a dash toward the already-battered U.S. east coast before turning northward and fizzling out at sea. The five-day projected path is unknown at this time, though.
This comes on the heels of the formation of the recent landfall of Hurricane Nicholas in the Texas coastal bend. Nicholas drenched areas of Texas from Matagorda to Beaumont, and onward across the Louisiana I-10 corridor.
Hurricane Ida had already smashed the southeastern Louisiana coast in late August, then making its way toward New York City and the northeast U.S., where it dumped record rainfalls and caused catastrophic damage.
But why are Peter and Rose significant?
Peter Edward Rose was known as one of the greatest baseball hitters of all time before he retired as a player in 1986. He finished his career with 4,256 career hits, which surpassed Ty Cobb's legendary record and still stands today as the best in MLB history. Other MLB records by Rose include (but aren't limited to): Most career at-bats (14,053), most career singles (3,215), most career games played (3,562), most career doubles by a switch hitter (746), most career runs by a switch hitter (2,165) and most seasons of playing 150 or more games (17). He still holds the National League record of getting at least one base hit in 44-consecutive games.
He's earned more Hall of Fame credential worthiness than almost any player could dream of, but he confessed in an autobiography 'My Prison Without Bars' in 2004 that he publicly bet on baseball games, but included that he never bet against his own team.
Former MLB Commissioner Bart Giamatti on August 24, 1989, announced the suspension of Rose from baseball when Rose was managing the Cincinnati Reds. Giamatti died eight days later, and Rose still hasn't been reinstated to baseball, making him ineligible for the Hall of Fame. Commissioners since Giamatti have upheld the 1989 decision, and now Rose finds himself at 80-years-old and on the outside looking in when it comes to any reinstatement.
As the two tropical storms were named Sunday, baseball fans both loved and mocked the idea of Peter and Rose as back-to-back possible hurricanes in the Atlantic.
Here are some responses.
"For those of us of a certain age, this has meaning. And could even be why those names are in the list, even though they're not supposed to be based on anyone in particular."
"Why not? Since you can do it at the ballpark now," another follower wrote.
"I wouldn't...bet...on it," one man said.
"Which one is he betting on?" one Twitter user questioned.
"Beats thousands of Disney themed Elsa tweets, anyway," said one writer, referring to Tropical Storm Elsa, which made landfall in Florida in June before working its way up the east coast and lashing floods in New York City and New England.