Hurricane Sally is bringing floating islands of fire ants to parts of Florida as the Category 2 storm makes landfall along the Gulf Coast.
The National Hurricane Center (NHC) has issued a special advisory for the storm, which now has winds of 105 mph. It said: "Historic, life-threatening flooding is likely along portions of the northern Gulf Coast," and that flash floods due to rainfall are likely throughout Wednesday.
Areas forecast to flood include southern Alabama and the Florida Panhandle. The NHC said inland portions of Mississippi, Alabama, Georgia and the western Carolinas could also be affected over the course of the week.
According to WKRG, floating islands of fire ants were recorded by Jason Garcia, a photographer for the broadcaster. He saw an island of these venomous insects at Civitian Park in Pensacola, Florida.
Fire ants arrived in the U.S. in the 1930s. According to the U.S. Centers for Disease Control and Prevention, there are now five times more fire ants per acre in the U.S. than there are in South America, where they are native to.
The insects came to the U.S. to escape their natural enemies. They are now found across southern states, including Texas, Louisiana, Mississippi, Alabama, Georgia, Florida, and South and North Carolina. They also have a small presence in California, and Arizona, as well as Mexico.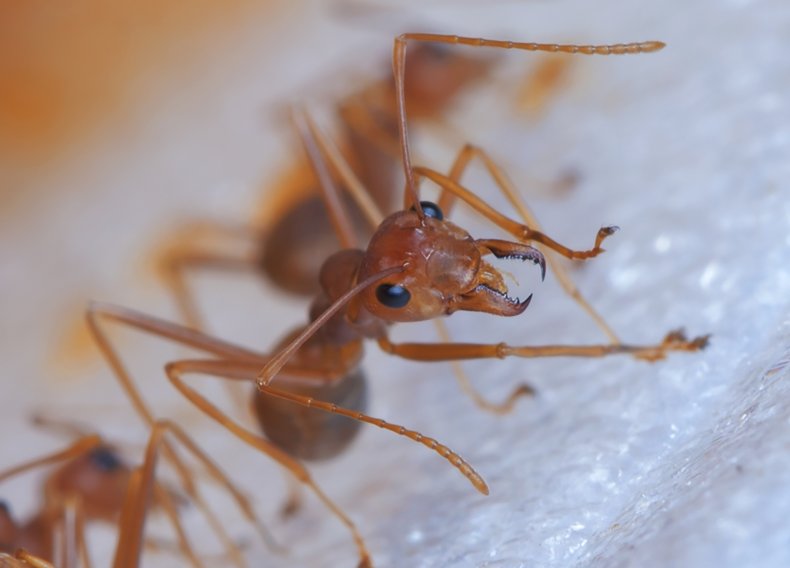 Fire ants bite and sting, injecting venom that causes an intense burning sensation. "Red bumps form at the sting, and within a day or two they become white fluid-filled pustules," the CDC says.
Floating islands of fire ants are often seen after storms and floods. In 2018, videos emerged of these rafts appearing in North Carolina after Hurricane Florence hit the state. At the time, the Weather Channel said the ants turn their bodies into rafts, with tiny hairs trapping a layer of air that protects those at the bottom of the raft from drowning. It said the ants can remain on these islands for weeks, so "beware near floodwaters."
Fire ant islands were also reported after Hurricane Harvey hit Texas in 2017. Footage from a river in Cuero showed huge swathes of fire ants in the water, prompting Alex Wild, curator of entomology at the University of Texas at Austin, to tweet: "I have never, in my entire career as an ant researcher, seen anything like this."
Craig Tovey, from the Georgia Institute of Technology, has studied how fire ants create these rafts in order to survive floodwaters for weeks at a time. Writing for The Conversation after Harvey hit, he said ants will clump together and then flatten out to create "a circular pancake" that can float within just minutes. He said there were no fire ant islands after Katrina hit in 2005 because the storm surge happened so fast the ants did not have time to escape their nests and drowned.