Hurricane Sally Update: Alabama Hit As Category 2 Storm Makes Landfall
Hurricane Sally has made landfall in Alabama as a Category 2 hurricane, according to officials.
The National Hurricane Center (NHC) said Sally hit near the city of Gulf Shores at 4:45 a.m. CDT. It said maximum sustained winds were at 105 mph.
"Catastrophic and life-threatening" flooding was likely along portions of the north-central Gulf Coast, the NHC said.
In an update published at 4:00 a.m. CDT, the NWS National Hurricane Center in Miami, Florida, said Sally's northern eyewall with hurricane conditions was moving across the Gulf Coast from Pensacola Beach, Florida, westward to Dauphin Island, Alabama.
A hurricane warning was in effect for the Mississippi and Alabama border to the border of Okaloosa and Walton counties in Florida. A storm surge warning was also in effect for Fort Morgan Alabama to the county line of Walton and Bay, Florida.
The NHC said there was also a tropical storm warning for the East of the Okaloosa and Walton county lines in Florida to Indian Pass, Florida, as well as on the Mississippi and Alabama border to the mouth of the Pearl River.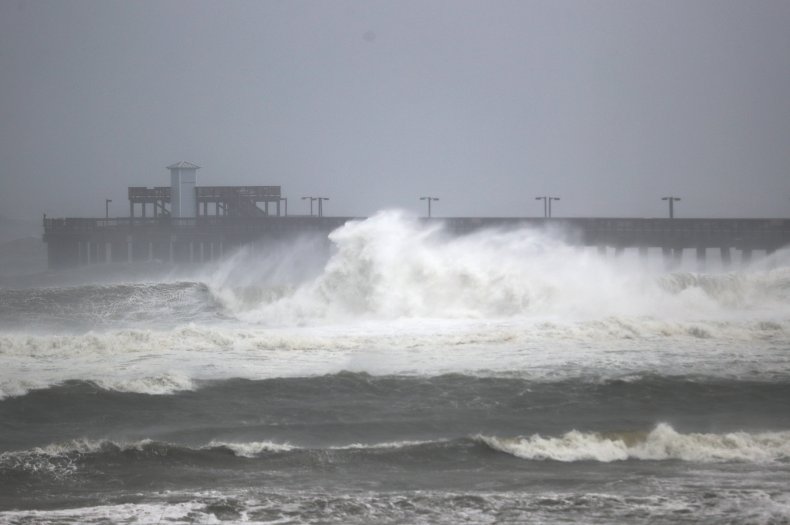 In the few hours preceding 4:00 a.m. CDT, there had been "little change" to the hurricane's convective structure. Sally was expected to rapidly weaken after its center moved inland, according to Miami's National Hurricane Center.
Areas along and just inland off the coast from western Tallahassee, Florida, to Mobile Bay, Alabama, were hit by "historic and catastrophic flooding," the centre said, and widespread moderate to major river flooding was forecast.
Flash, urban and river flooding was likely in inland areas of Alabama into central Georgia, and possible in western South Carolina into western and central North Carolina. Meanwhile, scattered flash, urban and minor river flooding was forecast for southeast Virginia.
Between four to 25 inches of rain had fallen in the western Florida Panhandle and portions of southwestern and south central Alabama, the National Weather Service Tallahassee, Florida, said.
On Wednesday morning, Pensacola Police department urged people to say off roads, as flooded roadways and intersections, along with hazardous debris had "become too numerous to list." The Florida Division of Emergency Management said the state's National Guard had activated 175 soldiers to provide assistance and prepare for search and rescue operations.
Slow-moving Sally has gone from a tropical storm over south Florida, to a Category 2 storm as it approached the Gulf coast cities. It was later downgraded to a Category 1 storm, nearing tropical storm status, before strengthening again late on Tuesday.
The hurricane season of 2020 is shaping up to the busiest on record, with the NHC currently issuing advisories for Tropical Storm Vicky, Hurricane Paulette, Hurricane Sally, Hurricane Teddy, and Tropical Storm Karina. There have been so many storms this season, meteorologists may have to use the Greek alphabet to name them.