Hurricane Sally Leaves Over 440,000 People Along Gulf Coast Without Power as Storm Surge Floods Streets, Homes
After making landfall early Wednesday morning, Hurricane Sally left over 440,000 people without power across the Gulf Coast, with storm surge flooding streets and damaged homes.
Hurricane Sally made landfall as a Category 2 storm, bringing 105 mph winds, and "catastrophic and life-threatening flooding," in areas of the Gulf Coast including Alabama, Florida and Mississippi.
According to Poweroutage.US, over 440,000 residents were left without power, with at least 234,103 in Alabama, 204,410 in Florida and 5,406 in Mississippi.
In Alabama, Mobile County and Baldwin County experienced the most power outages, with at least 136,597, 83,077, respectively. In Florida, Escambia County experienced at least 130,645 power outages, while Poweroutage.US reported 33,594 in Santa Rosa County. In Mississippi, Jackson County had at least 5,163 residents without power, while George County reported 856.
Prior to the storm making landfall, Florida Governor Ron DeSantis and Alabama Governor Kay Ivey issued emergency declarations for their states, while President Donald Trump wrote on Twitter he was "fully engaged with State & Local leaders to assist the great people of Alabama, Louisiana, and Mississippi," as well as ordering federal assistance.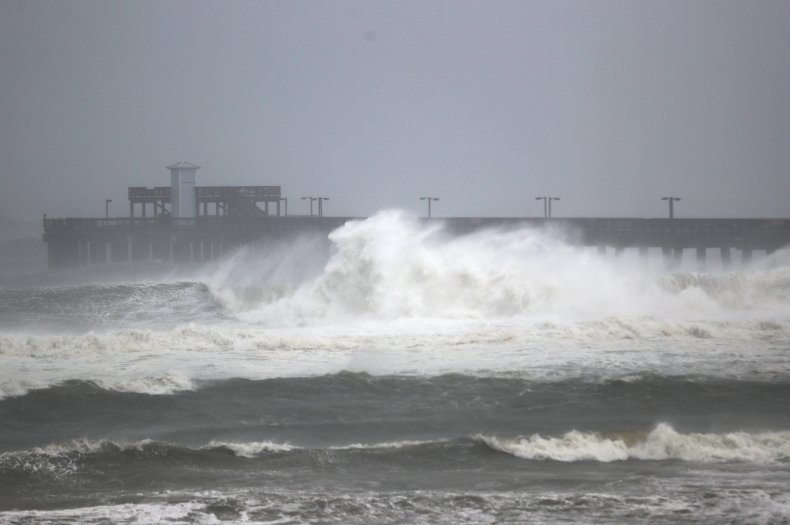 After Hurricane Sally made landfall, a number of people across social media shared videos and photos of the wind, storm surge and flooding brought by the storm.
Felicia Combs, a meteorologist for The Weather Channel, shared a video of the winds from Hurricane Sally in Daphne, Alabama, noting that they "have been howling for hours."
Twitter user Reed Timmer, a meteorologist and storm chaser, shared several videos of the storm surge seen in parts of Alabama.
"STORM SURGE Gulf Shores AL Hurricane Sally," Timmer wrote in one tweet showing powerful winds and storm surge flooding the beach town.
"INTENSE, unrelenting eye wall of Hurricane Sally dominating Gulf Shores, AL. Storm surge. Historic flooding." Timmer wrote in a subsequent tweet.
Timmer also captured a video from "inside the dead calm eye" of Hurricane Sally in Gulf Shores, Alabama, showing streets flooded from rain fall and storm surge.
Jennifer Lambers, a meteorologist for FOX 10 News, shared a video showing the hurricane's storm surge beginning to reach houses in Orange Beach, Alabama.
Twitter user Michelle Platt shared several photos of the damage seen in Orange Beach, Alabama.
Across the state line, Pensacola, Florida also experienced similar flooding and damage from Hurricane Sally.
Twitter user Mackenzie King posted a video showing Sally "wreaking havoc in Pensacola," with "many roads submerged in water."
The Weather Channel's Chris Bruin shared a video of downtown Pensacola, showing streets flooded as "the water keeps rising" in the hours before Sally made landfall.
"Very serious situation unfolding with the worst of #Sally still hours away," Bruin wrote. "Views from our hotel. Whitecaps rolling down most streets."
Twitter user Jim Cantore shared a similar video, showing Sally's winds and storm surge damage a number of areas across the "bay side of Pensacola Beach."
While speaking during a National Hurricane Center (NHC) audio briefing, Director Ken Graham stated that winds slowed down by 5 mph but noted that there's "still gonna be some damaging winds."
"Hurricane force winds. Pensacola reporting sustained hurricane force winds," Graham said. "Torrential tropical rains continuing to put down enough rain to cause flooding. You get that rainfall, the slow movement has been the topic we've been talking about for days, and that's what's compounding the issues here."
He added, "the slow movement, the longer time you have those winds could be damaging with power outages, trees down and some structural damage."
Newsweek was directed to the NHC audio briefing after reaching out to the center for comment.