Hurricane Sally Path, Tracker As Storm Threatens Florida, Mississippi and Alabama
Hurricane Sally has weakened slightly but is expected to restrengthen before making landfall along the Alabama/Mississippi border early Wednesday morning. It will also threaten Louisiana and Florida.
Life-threatening storm surges, hurricane-force winds and torrential rainfall are expected along the Mississipi Gulf Coast on Tuesday. Tropical Storm, Hurricane, and Storm Surge Warnings are in effect for parts of the area, and the National Weather Service (NWS) says that all hurricane preparations should be followed.
Historic flooding is possible and extreme life-threatening flash flooding is likely through Wednesday in areas of the Northern Gulf Coast.
As of 1 a.m. CDT, Hurricane Sally is around 60 miles east-southeast of the mouth of the Mississippi River and around 115 miles south-southeast of Biloxi, Mississippi. Sally currently has maximum sustained winds of 85 mph and is moving west-northwest at 2 mph.
A slow west-northwestward motion is expected to resume later on Tuesday morning, and a northward turn is expected on Tuesday afternoon, followed by a slow north-northeastward to northeastward motion Tuesday night, continuing through Wednesday night.
The center of Sally is forecast to move near the coast of southeastern Louisiana later Tuesday and will make landfall in the hurricane warning area Tuesday night or Wednesday morning.
A Storm Surge Warning is in effect for Port Fourchon, Louisiana, to the Okaloosa/Walton County Line, Florida, and Mobile Bay.
A Hurricane Warning has been replaced by a Tropical Storm Warning from the Mouth of the Pearl River westward to Grand Isle, Louisiana, including Lake Pontchartrain, Lake Maurepas, and metropolitan New Orleans.
A Hurricane Warning is in effect for east of the mouth of the Pearl River to the Navarre, Florida.
A Tropical Storm Warning is in effect for east of Navarre, Florida, to Indian Pass, Florida, and west of Grand Isle to Morgan City, Louisiana.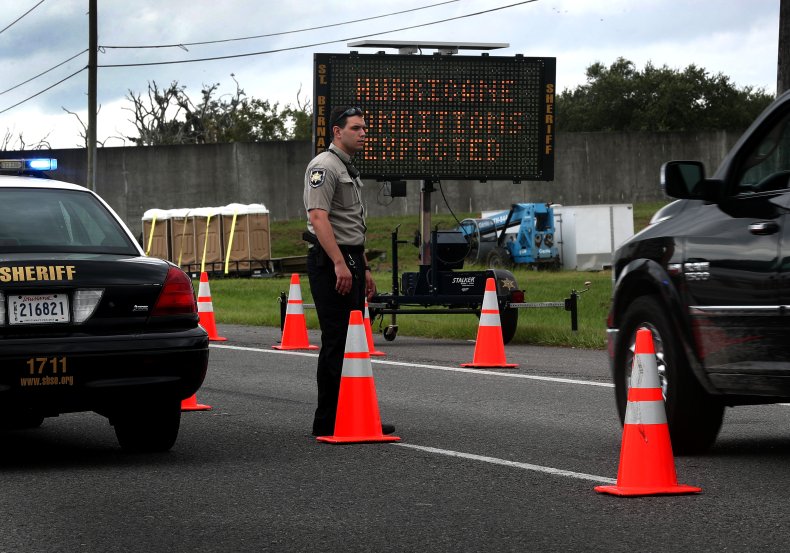 On Monday, President Donald Trump said on Twitter: "My team and I are closely monitoring extremely dangerous Hurricane Sally. We are fully engaged with State & Local Leaders to assist the great people of Alabama, Louisiana, and Mississippi. Be ready and listen to State and Local Leaders!"
Alabama Gov. Kay Ivey said on Twitter: "As projections for Hurricane Sally continue to develop, I've requested a pre-landfall emergency declaration for AL.
"I just wrapped up a phone call [with] Acting Secretary of the Department of Homeland Security Chad Wolf and Administrator of the Federal Emergency Management Agency Pete Gaynor and asked them to expedite this request. Thank you POTUS for being ready to assist AL."
Louisiana Gov. John Bel Edwards said: "I want to remind everyone, even those not in the direct path of #Sally, to avoid flooded roads. Several inches of water can sweep a car off the road. So, when you see a flooded road: turn around, don't drown."
Edwards also warned to use generators safely following deaths of carbon monoxide poisoning during Laura: "If you are using a generator, please be safe.
"Most deaths from Laura have been from improper usage of generators. Follow the manufacturer instructions, do not use them inside your home, and keep them away from your windows and doors."
As well as Hurricane Sally, four other tropical cyclones, Paulette, Rene, Teddy, and Vicky, are also active in the Atlantic Ocean.