Hurricane Sally Update: How Much Rain, Flooding Will Hit Mississippi and Alabama?
Hurricane Sally, a Category 1 storm, is continuing along its path toward the Mississippi and Alabama shorelines, and experts predict the system could produce "extreme life-threatening flash flooding" in some areas.
The National Hurricane Center (NHC) issued an update early Tuesday morning, announcing that a stretch of coast from the western Florida Panhandle to far southeastern Mississippi is expected to see heavy amounts of rain.
The National Weather Service's Weather Prediction Center (WPC) expects the hurricane to bring 10 to 30 inches of rain across the region, with "historic flooding possible."
"Very heavy rainfall will accompany this system, which is likely to produce widespread life-threatening flash flooding," the WPC tweeted early Tuesday.
The slow-moving hurricane is expected to make landfall late Tuesday night or early Wednesday, with parts of southeastern Mississippi and southern Alabama directly in the path of its core, according to forecasts. These areas could see a total of 8 to 16 inches of rainfall through Wednesday morning, according to the WPC.
The WPC expects 1 to 2 inches of rain per hour, and parts of coastal Georgia and southern South Carolina could also see heavy rainfall as a result of the storm system.
"Hurricane Sally is not to be taken for granted," Alabama Governor Kay Ivey said during a news conference Tuesday. "We are looking at record flooding, perhaps breaking historic levels."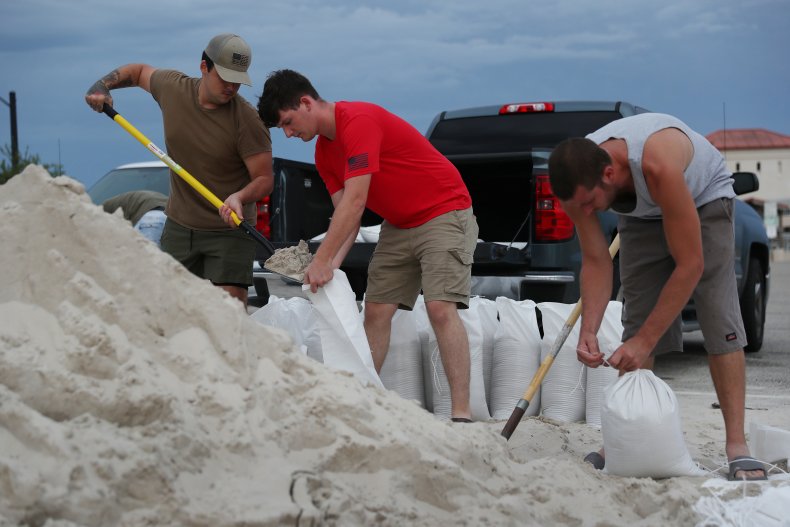 Sally's current tracked forecast brings the storm's center near the Alabama and Mississippi state line. Mobile, one of Alabama's largest cities, lies along a bay and could experience major flooding.
In Alabama, Zach Hood, director of Baldwin County's Emergency Management Agency, urged those living in low-lying areas to consider voluntarily evacuating to higher ground.
"The Mobile Bay area is expected to see a 6- to 9-foot surge," Hood said during a Facebook update Monday evening. "The coastal communities and cities such as Gulf Shores, Orange Beach and Fort Morgan are expected to get up to 7 feet of surge. This is a very dangerous situation that we're dealing with, and those conditions could worsen as the storm is approaching to our coast."
Sally remains a Category 1 storm, with maximum sustained winds of 85 mph. Meteorologists do not expect the storm to grow any stronger before landfall, Al.com reported.
Alabama's coastline is predicted to bear the brunt of Sally's force, but parts of coastal Mississippi are also under watch. On Monday, Mississippi Governor Tate Reeves warned residents who live in low-lying areas, saying they will see significant amounts of rain. "It's going to be a major water event," he said.
"If you live in a low-lying area in the three coastal counties of Mississippi, the time to get out is now. There is no doubt about that," Reeves said. "We are going to get as much as 20 to 25 inches of rain in those three coastal counties."
Both Reeves and Ivey have signed state of emergency declarations ahead of Sally's arrival. The hurricane continues to move northwest at 2 mph and is positioned 55 miles east of the mouth of the Mississippi River, according to the NHC's 11 a.m. ET update.