Hurricane Sandy Brings Two Worlds Together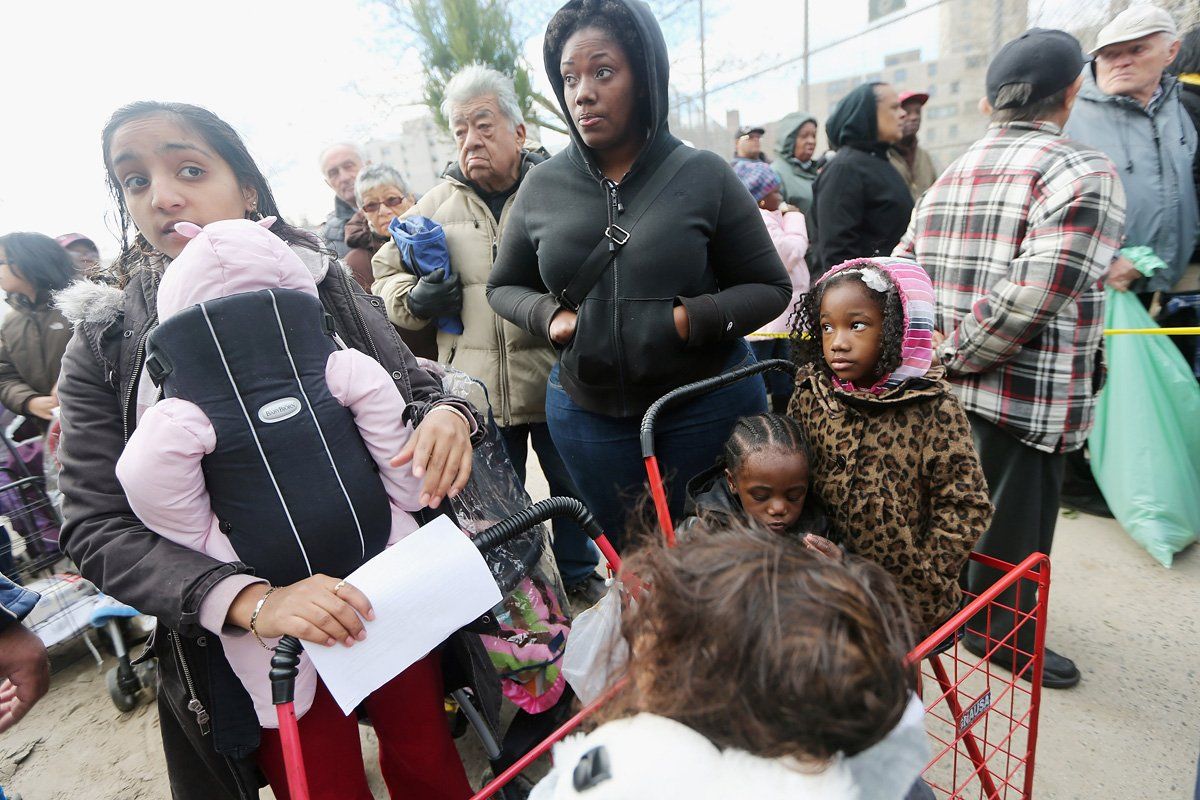 New York City's ultra-Orthodox Jews live in a world apart from the rest of the city. They have their own neighborhoods, send their kids to religious schools and wear a uniform of black hats and suits that makes them as distinct as an Amish farmer in Times Square. After the storm hit New York, hundreds of elderly and frail New Yorkers from the
African-American and working-class neighborhoods of Far Rockaway and Coney Island had to be evacuated when their assisted-living facilities flooded or lost power. They were moved to the Park Slope Armory, where the only food available was Army rations—high-preservative, high-sodium ready-to-eat meals. So Brad Lander, a local city councilman, called Rabbi Alexander Rapaport, who runs the MASBIA soup kitchen in the ultra-orthodox neighborhood of Boro Park.
"We were supposed to be closed on Tuesday, what with the blackouts and the flooding," Rapaport said. "But this food they had, it was a like a mix between cholent [a traditional Sabbath stew] and lasagna, and it came in this inner pouch that they somehow call 'food.'"
Rapaport and Lander put out the message on Facebook and Twitter that the soup kitchen needed volunteers. Even as the city still struggled to slough off the effects of Sandy, nearly 100 showed up, peeling potatoes, dicing squash. They delivered 200 lunches of eggplant and pasta that day and made twice that many chicken and meatloaf dinners. By Wednesday, their stocks were depleted, so they put out another call on social media; more donations came in. At week's end, they were still making hot meals for evacuees and volunteers all over the city, delivering hundreds of meals to a command post in the flood-ravaged Seagate neighborhood in Brooklyn. All of this while the regular lines at the soup kitchen are growing longer.
"A lot of people who would never eat in a soup kitchen are now staying with someone who let them in, a distant friend or a distant relative," he said. "We have a lot more middle-class people who are at a loss, who don't even know where to put their head down."
Does this mean that the ultra-Orthodox reputation for insularity is a false one? "I don't know," Rapoport said. "My agenda is to feed people. If you want to find a new cultural trend here, that is up to you."