On Superstorm Sandy Anniversary, New York Is Ranked Most Vulnerable U.S. City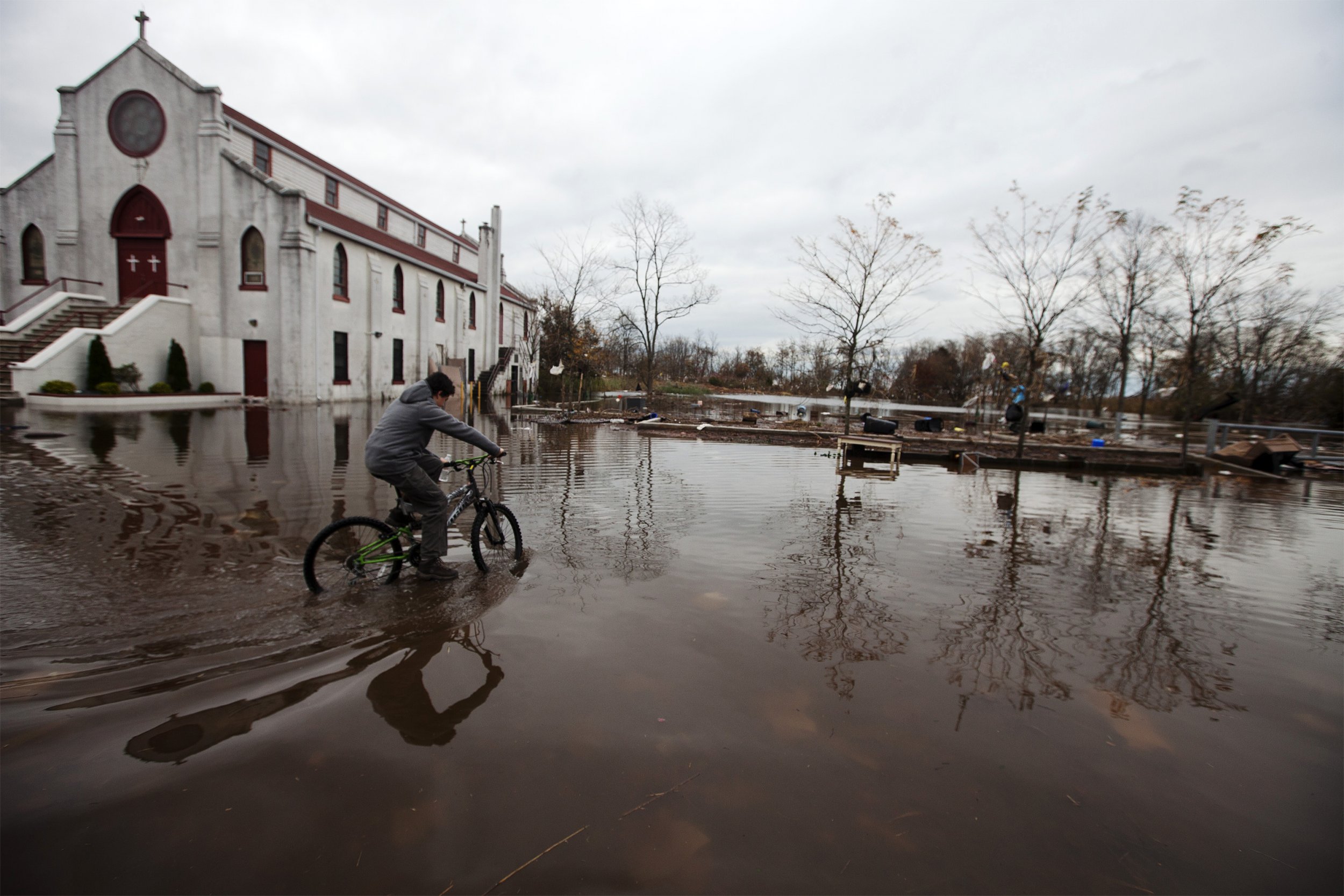 Superstorm Sandy slammed the coasts of New Jersey and New York five years ago Sunday, leading to 157 deaths, 51 square miles of flooding in New York City alone and an estimated $50 billion in damage. On the anniversary of that catastrophe, researchers for Climate Central have ranked New York as the U.S. city most vulnerable to future storm surges and sea level rises, with 426,000 people living on land that is imperiled through 2050.
Not only is the world's financial and arts center at least as vulnerable to future mega-storms as it was back then, but regional and federal policymakers don't yet even have a comprehensive protection plan on the drawing board, let alone funding for that necessity.
On the contrary, local leaders could be seen as simply rearranging the deck chairs on the Titanic, with piecemeal local plans to plant more trees and build berms, neither of which would protect the area from storm surge inundations of 20 feet or more that could be expected in conjunction with extreme weather events over the next two or three decades, according to the privately funded National Institute for Coastal and Harbor Infrastructure (NICHI).
Climate Central looked at cities now within the Federal Emergency Management Agency (FEMA) 10-year floodplain and also in 2050, after a predicted three-foot sea level rise. In both sets of data, New York City was twice as vulnerable as the second-ranked city, Miami, because of its much bigger population and its low-lying geography.
"What we are facing now is a new reality," said Bill Golden, president of the NICHI. He also pointed out that the National Academy of Sciences has predicted that what were once termed 500-year storms will now occur every 25 years, and 12 out of 13 of the worst storms of the last 100 years have occurred since 2004. "Extreme storms, rising sea level and aging infrastructure present a clear and present danger to public safety and national security," he said.
The NICHI recently took journalists and policymakers on a boat trip to show where the two major storm surges that inundated Manhattan originated, and to point out that even on a clear, calm day, water laps at the edges of lower Manhattan just a foot below the level of the sidewalk.
The drowning of Manhattan may seem incomprehensible to the millions of people who live, work and visit the metropolis, but Golden said that without a $20 billion investment in six miles of seawall, it is an eventual certainty, possibly even within the next generation.
Seawalls—giant underwater gates that remain open until low tide just before an expected surge, and then are drawn closed—can keep waters at low tide levels during storms. They have already been shown to work in the Netherlands, outside London and around St. Petersburg, Russia. Similar projects are being funded in the U.S., including a five-mile "great wall" south of Louisiana that was begun after Katrina. The federal government has earmarked $300 million toward a project called Ike's Dike to protect the Houston-Galveston area in Texas.
But New York is not even close to installing the best available technology, as area political factions and the cash-starved federal government—with its flinty, anti-science and anti-city tendencies—have not been able to come together. The huge project is in a state of paralysis, even though most experts believe it's urgently needed.
"Storms like Sandy don't stop at political boundaries," said Golden. "It is principle everywhere to protect major urban areas like New York. All around the world these principles are recognized—except in the New York/New Jersey area."
The New York area seawall project—not yet on any legislative drawing board anywhere—would cost $20 billion, money that would have to come from regional and federal sources. Instead, communities in New York and New Jersey are separately considering local plans, including building a 20-foot wall to protect lower Manhattan. Golden said such a solution has never been tried in any urban area, because it presents transportation problems and raises other objections from property owners. If the city were flooded, such a wall would actually keep the water contained and thus help create a toxic stew of sewage and chemicals.
If a seawall were in place and working, a hurricane—even with a potential storm surge of more than 25 feet—would feel like "just another windy day in New York," Golden said.
Golden and NICHI are initiating a coastal education tour next spring, sailing a refitted Nantucket lighthouse ship around some of the 48,000 miles of U.S. coastline to collect stories of how storm surges and sea level rises are affecting Americans. Golden hopes the project, which will include outreach and documentary efforts, brings more attention to the fact that rising seas threaten 7 percent of the U.S. landmass, and that another Sandy could cost just New York $90 billion.
NICHI organized the first national conferences of community leaders from areas affected by sea level rise, and the group has met several times. So far, Golden said the prospect for a unified response is bleak.
"After a lot of these conferences, you want to slit your wrists," he said. "But what do you do with a city that represents 400 years of people's blood, sweat and dreams, and the financial and arts capital of the world? People are saying, 'Let it go back to the beavers,' but New York City is worth saving."
Golden said he firmly believes that, even though he is a native Bostonian.
"The Yankees, though, are another story."