Hurricane Sandy's Harrowing Oceanic Rescue Mission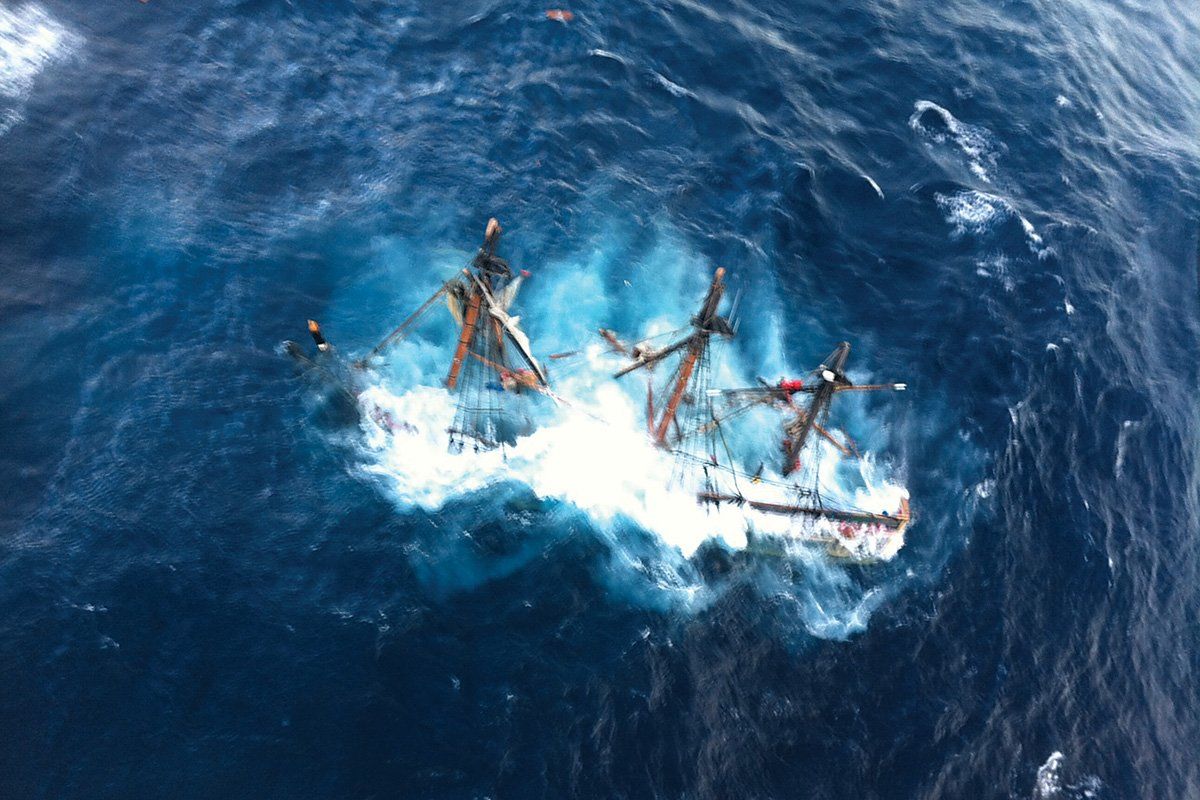 U.S. Coast Guard rescue swimmer Randy Haba didn't know it yet, but he was about to become the first of the first responders.
When Haba fell asleep on Sunday, Oct. 28, at the Elizabeth, N.C., air station, Hurricane Sandy was still hundreds of miles out to sea. Landfall was still 24 hours away. And the storm wasn't expected to make its savage westward turn until at least Maryland or Delaware.
But then, around 3 a.m. Monday, an alarm sounded on base. A metallic voice crackled over the speaker: there is a boat off the coast that's taking on water, it said, and there are 16 people on board. The HMS Bounty, a replica 18th-­century merchant vessel, had tried, for some reason, to sail around Sandy. The plan had failed. Now the waterlogged Bounty was sinking 90 miles southeast of Cape Hatteras, in the teeth of a once-in-a­-century superstorm.
"I woke up right away," Haba tells Newsweek. "I knew it was going to be good because ... well, because it was a hurricane." He laughs softly, to himself. "You don't get those very often. Most people are smart enough to stay away. Smart enough not to go out on the water."
He rushed to the op center, assessed the conditions, and secured the proper equip­ment. Then, in the darkness before dawn, Haba, a pair of pilots, and a flight mechanic piled into an MH-60T heli­copter and took off for the open ocean. They were flying blind, relying on their instru­ments to steer them through the storm.
Their first mission was to find a man who was floating somewhere out in the darkness, alone, after falling off one of the Bounty's two life rafts. They strapped on their night-vision goggles and scanned the horizon. Finally they spotted his strobe light. He was already half a mile away.
"I'd been out in tropi­cal storms and hurricanes before," Haba said. "But these were the biggest waves I've ever been in. Good 30-foot seas I had to swim through. Just like a house coming at you each time."
It took all of Haba's strength and concentration to cinch a quick strap around the survivor's chest and lift him to safety.
But Haba didn't stop. Ten minutes later, he was back in the ocean, slicing through the swells to reach the nearest life raft. When he finally got there, he saw seven people huddled together, shiver­ing. He could tell they were terrified, even though no one spoke. "They were all just listening," he says. "All intent. Getting ready to get the hell out, pretty much."
One by one, Haba pulled the wet, limp bodies from the raft and towed them through the churning sea. Again and again he went back for more. And then, suddenly, after the fifth survivor was hoisted up to the helicopter, Haba got the signal to stop.
But there are three more people on that raft, Haba shouted. The backup chopper will get them, he was told. If we don't leave now, we're going to run out of fuel.
He had been in the water for more than an hour.
The second Coast Guard team eventually rescued the rest of the survivors on the rafts; a 15th crew member later died at sea, and the captain of the HMS Bounty remains missing.
"I wanted to keep going," Haba recalls. "Keep going down, keep bringing up sur­vivors." He pauses, and laughs again. "It was one of those days as a swimmer that you dream of. Going out there and doing the job—that's what it's all about."