Hurricane Season 2018: When Will It End, Be Over?
The hurricane season for 2018 may be coming to an end in November but that doesn't mean more storms won't form in the Atlantic or Pacific that can cause significant damage. The latest storm to wreak havoc on the United States, Hurricane Michael, was still making its way out of the country Thursday.
The storm made landfall near Mexico Beach, Florida, Wednesday and then continued north before crossing over Georgia and heading into the Carolinas and southeast Virginia. The storm was a Category 4 with wind speeds over 150 miles per hour and it caused significant and deadly damage after its arrival in Florida.
Hurricane season in the Atlantic started June 1 and has a few weeks left to go until it's over. The season runs until November 30 and though storms can happen after the season is over the bulk of them usually happen within the June 1 to November 30 window. Thursday, in addition to Michael, there were Hurricane Leslie and Tropical Storm Nadine in the Atlantic.
In the Pacific, the hurricane season starts a bit earlier than in the Atlantic. The Eastern Pacific season begins May 15 and continues until November 30. Tropical Storm Sergio was brewing in the Pacific Thursday while those on the Atlantic coast were watching the remnants of Michael.
Every hurricane starts as a tropical cyclone and only becomes a hurricane when its maximum sustained wind speeds reach 74 miles per hour or higher. The cyclone first becomes a tropical depression with wind speeds of 38 miles per hour or higher and then a tropical storm when the wind speeds are between 39 and 73 miles per hour. All of these storms originate in tropical or subtropical waters
The Atlantic hurricane season peaks around the middle of September until the end of October. A chart from the National Oceanic and Atmospheric Administration shows the frequency of hurricanes and tropical storms by month over a period of more than 100 years.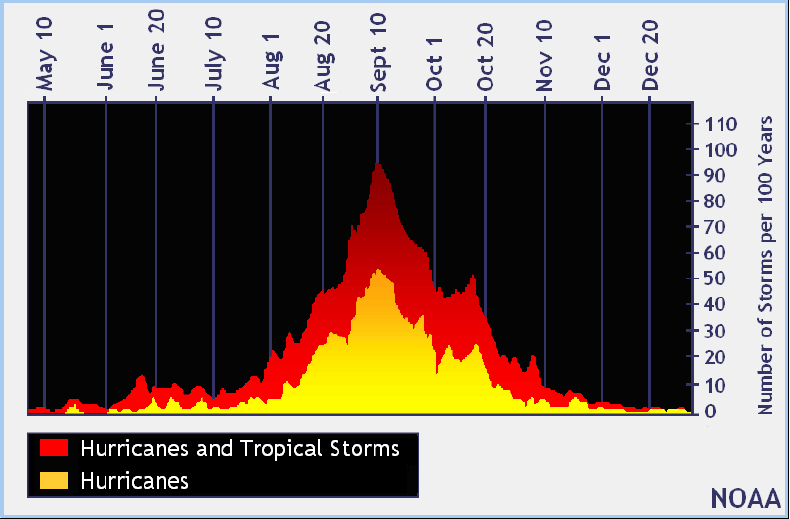 The 2018 hurricane season has seen 14 named storms so far, which is more than NOAA predicted there would be during its updated August forecast of the hurricane season. Updates about newly developing storms and the path of those already formed is available from NOAA's hurricane center.​