Hurricane Season 2018: NOAA Predicting Less Severe Season Than Originally Expected
Just a few days before the 2018 hurricane season began on June 1, the National Oceanic and Atmospheric Administration's Climate Prediction Center predicted that there was a 75 percent chance hurricane season would be average or above average. But after a fairly quiet summer, that outlook has changed.
The Atlantic Hurricane Season that starts June 1 every year runs through the end of November, so there's still plenty of time for storms to brew, but NOAA is still expecting a quieter season than they first predicted.
Instead of expecting 10 to 16 named storms in the Atlantic, like the original forecast included, NOAA now predicts there will be a total of nine to 13, of which there have already been five. If the numbers NOAA is predicting actually happen, they would put the season at below normal compared to previous years. The chance of El Niño development, sea surface temperatures and winds are considered to help create the outlook for the season.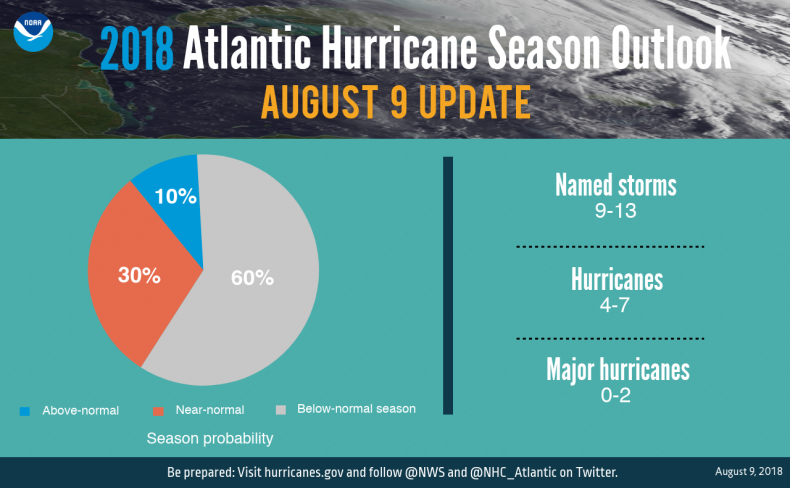 But that's no reason for those in hurricane-prone areas to feel like they're in the clear just yet.
"Now is the time to know who issues evacuation orders in their community, heed the warnings, update your insurance and have a preparedness plan. Don't let down your guard, late season storms are always a possibility, always keep your plans updated," said Brock Long, FEMA administrator, in a release from NOAA.
The National Hurricane Center tracks activity in the Atlantic and rates the chances of disturbances turning into actual storms. The site has two-day and five-day outlooks available for those who liked to track possible storms at home.
The new forecast gives on a 30 percent chance that the season would be near normal, and only a 10 percent chance that the season would have above normal levels of activity, according to NOAA.
Of those nine to 13 storms NOAA is predicting, the office said it's likely that four to seven of them will be classified as hurricanes—meaning will have winds at 74 miles per hour or higher. A smaller number, zero to two of them, are predicted to be major hurricanes with winds at or above 111 mph.
Of the five named storms that have already occurred, two were classified as hurricanes but there haven't been any major hurricanes, those that cause the most severe damage. NOAA also noted that its outlooks are simply about the number of storms there might be, not necessarily how many storms will make landfall or impact people.