When Does Hurricane Season 2018 Start? Storm Categories, Predictions
The Atlantic hurricane season is less than a month away. The season begins June 1 when the possibility for hurricanes in the Atlantic Ocean, Caribbean Sea and the Gulf of Mexico will be at the highest they are all year. The season lasts until November 30, at which time hurricanes usually stop forming until the following season.
The 2017 hurricane season was "extremely active," according to the National Oceanic and Atmospheric Administration. There were a total of 17 named storms and 10 of those were hurricanes, which was on par with NOAA's prediction for the season.
An early outlook of the 2018 season from Colorado State University predicts 14 named storms and seven hurricanes, slightly fewer than there were last season.
When Is Hurricane Season?
Atlantic hurricane season starts June 1 every year and extends until November 30. Peak activity usually happens between mid-August and late October, according to the National Hurricane Center.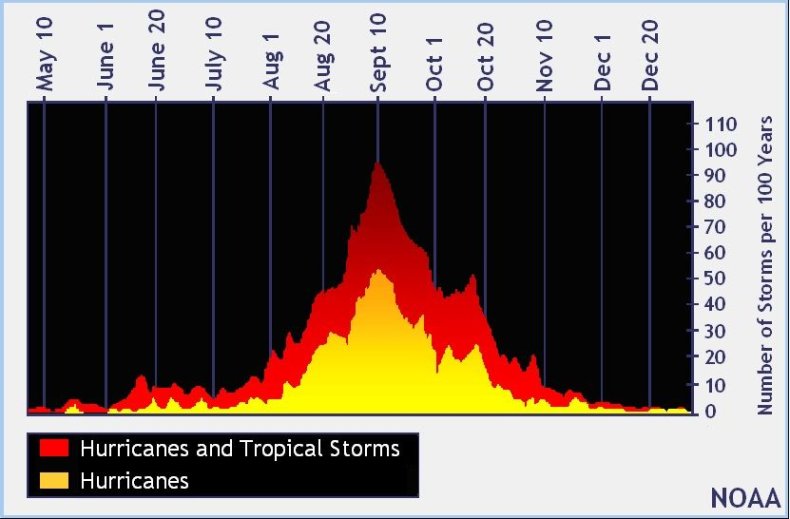 How Do Hurricanes Form?
Before a hurricane can form, it starts out as a tropical cyclone—a rotating system of clouds that form over tropical or subtropical water, according to the NHC. As the cyclone rotates, it can pick up water and speed.
What Do the Different Categories Mean?
Once the cyclone reaches maximum sustained winds of 38 miles per hour, it's considered a tropical depression. Wind speeds between 39 mph and 73 mph are tropical storms. A cyclone officially becomes a hurricane when it has maximum sustained winds speeds above 74 mph.
The hurricane is then given a wind speed-based category using what's called the Saffir-Simpson Hurricane Wind Scale. Hurricanes can change categories quickly depending on wind speed. Each category corresponds to the type and likelihood of damage; a Category Three or higher runs the risk of the loss of life in addition to damage.
The Saffir-Simpson Hurricane Wind Scale, according to NOAA, is as follows:
Category 1: 74-95 mph winds and some damage
Category 2: 96-110 mph and extensive damage
Category 3: 111-129 mph and devastating damage
Category 4: 130-156 mph and catastrophic damage
Category 5: 157 mph or greater and catastrophic damage
The NHC did not immediately respond to Newsweek's request for comment.