Hurricane Season Is Off to Below Average Start Amid Record Heat Wave
The Atlantic Ocean has seen a below-average hurricane season so far, with the strength and length of storms less intense than typical. But Dan Kottlowski, a meteorologist and the lead hurricane forecaster at AccuWeather said in an interview with Newsweek that the height of hurricane season—between late August and late October— has yet to come.
"People have got to realize we still have a ways to go and we're going to see some really powerful storms this year and should not let their guard down, " Kottlowski said.
"Until you get into August you don't really see what the whole picture looks like," he added. "We've got these sophisticated computer models and they're all pointing to robust situation evolving during August people should not be surprised if we see a big ramp up in August because that's typical."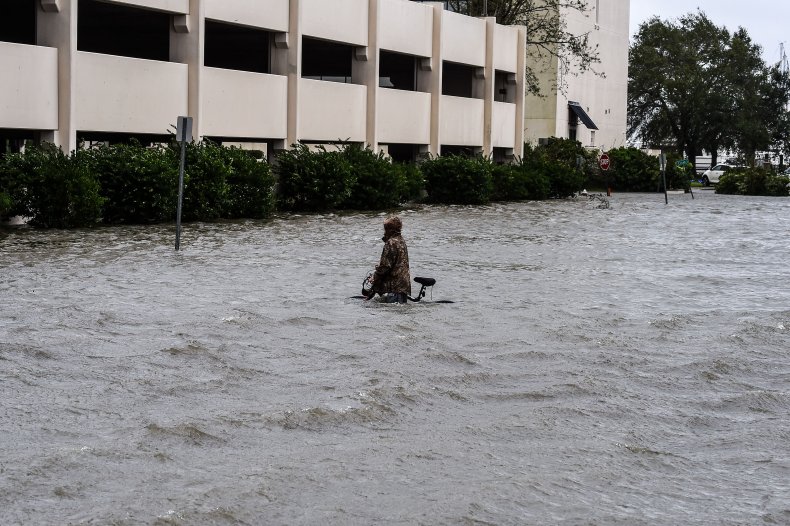 Storms This Year
So far, the Atlantic Ocean has seen three named storms this year, none of which have become hurricanes. On an average year, the Atlantic sees three storms by August 3. But the storms have had a smaller life span and have been weaker than in previous years.
"The actual quality of the storms we've had, those three are lower than normal. That's a good thing because that means they've had less damage in a lot of places," Kottlowski said.
But the season so far has not been damage-free. In June, Tropical Storm Alex caused flooded streets in southern Florida. In Cuba, three people were killed and the storm knocked out electricity, officials reported.
What Is a 'Typical' Storm?
The Accumulated Cyclone Energy (ACE), an equation that measures the length of time of a storm and the strength of the wind, of the three storms is 2.9.
Normally, Kottlowski said, we'd be seeing an ACE that's usually double that, at 6.6.
Is the Heat Wave Affecting the Hurricane Season?
Kottlowski said there is "some interaction" between hurricane season so far and the heat wave the globe is facing, including devastation in Europe.
Countries in Europe, including the U.K., Spain, Portugal and France, have seen sweltering temperatures—with temperatures hitting 104 degrees Fahrenheit in some cases— in recent days, which have led to deaths and wildfires. NASA noted that in Tunisia, which has seen fires from a heatwave this month, the temperature hit 118 degrees Fahrenheit in the city of Tunis, "breaking a 40-year record."
The high-pressure systems causing heat waves in the eastern United States and Africa are linking up with systems in the south Central United States, according to Kottlowski.
That inner linking can make it "very difficult" for tropical weather systems to develop close to the eastern U.S. and gulf coast. The heat wave could be contributing to an increase in the dust that's coming off the coast of Africa, which supresses tropical development.
Will It Last?
But this phenomenon likely won't last, he said.
"Dust continues through the season, it's just not as much of a problem for tropical development when we get into mid-August because areas that were extremely dry are no longer extremely dry," Kottlowski said. "That's the key here—we've had a slightly above-normal season for dust and dry air off the coast of Africa and that's helped to suppress tropical development."
While there's likely a connection between the record heat waves because a high-pressure system is causing both the heat wave and dust, Kottlowski said it's not the only reason we've seen less intense storms, so far.
Looking Forward
Kottlowski said true hurricane season has yet to really begin.
August has historically been when the Atlantic sees an influx in storms and Kottlowski said Accuweather is still predicting up to 20 named storms, some of which are likely to be devastating.
"The odds of there being another destructive hurricane are [still] higher than normal," Kottlowski said.