Hurricane Season 2018 Forecast: Here's How Many Storms Are Predicted This Year
Hurricane season in the Atlantic starts next week, and the National Oceanic and Atmospheric Administration (NOAA) has predicted a near- or above-average season.
Via its Climate Prediction Center, NOAA announced its annual hurricane season predictions Thursday, and the results showed a 75 percent chance the season would be either on par with or worse than normal.
Hurricane season officially begins June 1 and continues through the end of November. During that time, NOAA estimates, there will be 10 to 16 named storms. A storm only gets a name when the sustained wind speeds reach 39 miles per hour, a NOAA spokesperson told Newsweek. Tropical depressions and tropical disturbances are not named.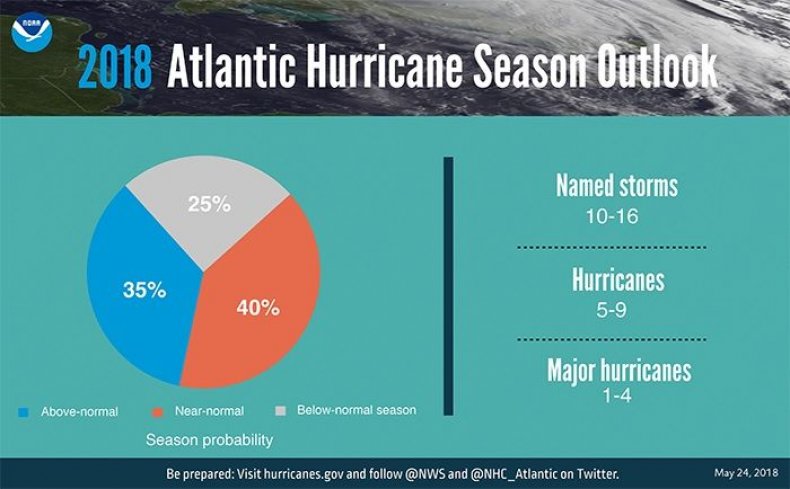 Of those named storms, NOAA predicted there will be five to nine hurricanes that develop, and of those, one to four major hurricanes. A major hurricane occurs when the wind speeds reach 111 mph or more. A normal hurricane season sees an average of 12 named storms, half of which end up becoming hurricanes and three of which develop into major hurricanes, according to NOAA.
The season might also have a weak El Niño that could contribute to a stronger hurricane season.
There might be a storm before the season even begins. NOAA's National Hurricane Center issued a weather outlook that detailed a storm drifting over the Yucatán Peninsula in Mexico Thursday. While the storm brought just rain and winds, conditions in the area could transform the storm into a subtropical or tropical depression in the Gulf of Mexico.
If the storm gains sustained winds of 39 mph or more, it would be named Alberto, from the list of 2018 Atlantic tropical cyclone names. The formation chance over the next two days was listed at about 70 percent and could increase to 90 percent over the next five days. Those along the Gulf Coast and in Florida should beware of the storm and possible strong rip currents in the area over the holiday weekend, NOAA advised.
Forecasts for the development of the storm forming will be available on NOAA's website and from the National Weather Service through the weekend and into early next week. NOAA plans to update its hurricane season outlook in August, before the season peaks.