Hurricane Sergio May Boomerang Back, Hit Southwest U.S. With Heavy Rain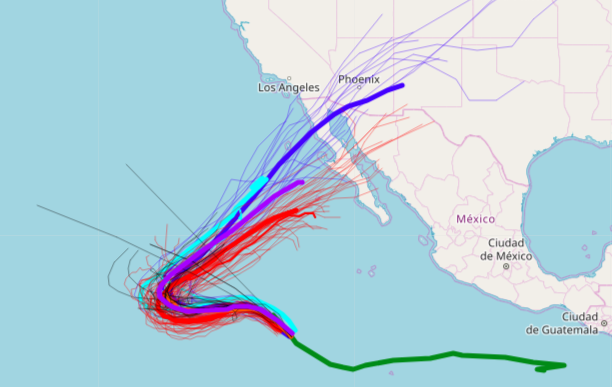 Hurricane Sergio remains a powerful Category 4 storm in the Pacific according to the latest updates from the National Hurricane Center, but it's what Sergio might do next that's drawing interest.
Currently located about 800 miles southwest of Cabo San Lucas and moving northwest at about 9 miles per hour, Hurricane Sergio is packing maximum sustained winds of 140 miles per hour and a clear eye with intense thunderstorms wrapped around it. But in its west, northwest movement, there's currently no threat to land in the coming days.
That's likely to change, however, and the southwest U.S., including Southern California areas Los Angeles and San Diego, and parts of the Desert Southwest including Phoenix, which just experienced heavy rain and some flooding from the remnants of Hurricane Rosa, could get heavy rain from Sergio late next week.
The latest Hurricane Sergio spaghetti models show the storm taking a turn back to the north and east – taking aim at northern Baja California, Mexico and the southwest U.S. including Southern California. The good news is that Hurricane Sergio will weaken from its Category 4 status in the days ahead, according to forecast models, but even a tropical storm could bring heavy rain to U.S. areas prone to flooding.
"Into this weekend, the track of Sergio will take the storm farther out to sea and over cooler waters which will allow gradual weakening," according to AccuWeather Hurricane Expert Dan Kottlowski. "However, a turn toward the north is likely early next week, followed by a turn to the northeast and an increase in forward speed is possible later next week."
That Sergio storm track would bring the hurricane across Baja California, just as Hurricane Rosa did last week. That could bring rain downpours from Los Angeles to San Diego and into Phoenix, Arizona, Accuweather forecast maps showed Wednesday. The latest forecast models show Sergio would be at tropical storm strength when it made landfall across Baja California.
"Thee (European) and (GFS) model runs from Wednesday night suggest that Sergio could make a run for Baja California as a weakening tropical storm late next week," reported Dr. Jeff Masters of Weather Underground.
The official National Hurricane Center forecast is in agreement that Hurricane Sergio will make a turn in the coming days.
"Late this weekend, a decrease in forward speed is expected as the ridge retreats in response to a large trough over the southwestern United States," the National Hurricane Center said in an update late Wednesday. "This change in the steering pattern should cause the cyclone to turn northeastward by the end of the forecast period."
Hurricane Sergio May Boomerang Back, Hit Southwest U.S. With Heavy Rain | U.S.