Hurricane Sergio Path, Forecast Update: Predicted to Track Across U.S. Southwest, Where Rosa Flooding Occurred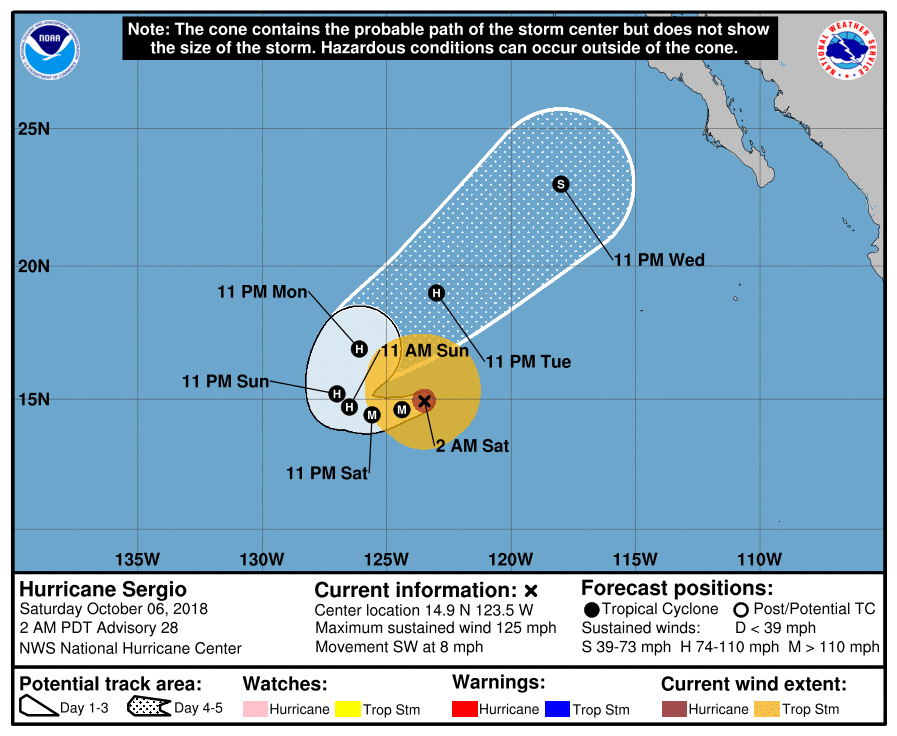 Hurricane Sergio continues churning as a large, Category 3 storm in the Pacific, but it's what Sergio is forecast to do as a tropical storm late next week that has forecasters keeping a close watch on the storm.
The latest forecast models and storm predictions track Sergio to the east as a tropical storm, making landfall across Baja California, Mexico and tracking up through the U.S. Southwest as a heavy rain maker. Sergio's path would be similar to Hurricane Rosa's, which caused flooding across the Desert Southwest earlier this week.
Hurricane Sergio, currently with winds of 125 miles per hour after reaching Category 4 strength two days ago, continues moving away from Mexico and the U.S. West Coast, but that's expected to change in the coming days. The weather pattern is predicted to turn Sergio back to the East, toward land.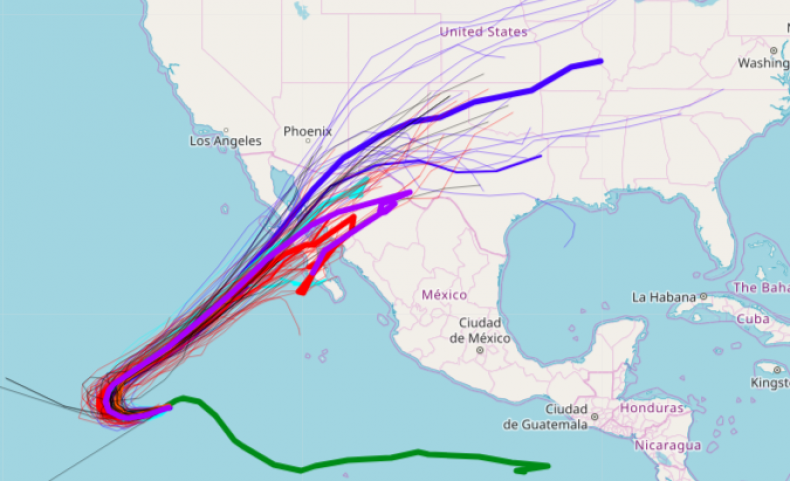 "A shortwave trough swinging across the Baja California peninsula will bypass Sergio during the day, leaving a weakness in the ridge that will allow the hurricane to begin making a sharp northward and then northeastward turn during the next 24-72 hours," the National Hurricane Center said Saturday, in its latest forecast update. "Another shortwave trough forecast to dig southward off the California coast will then cause Sergio to accelerate northeastward on days 4 and 5."
The latest Hurricane Sergio spaghetti forecast models show agreement that the storm will move inland across Baja California next week. Most models also take Sergio into the U.S., across Arizona and New Mexico and ultimately perhaps into Oklahoma and Texas as a rainmaker.
Hurricane Sergio is expected to weaken as it approaches Mexico and the U.S., becoming a tropical storm in about five days before it makes landfall. But Sergio, as either a tropical storm or depression, could pour heavy rains with flooding potential to southern California's San Diego area and into Phoenix and Arizona, recently flooding by Rosa. Sergio's rain could help drought-stricken areas of the Desert Southwest, however.
"Sergio's intensity is not likely to change much during the next day or two, although some slight weakening is possible as the hurricane's speed slows down and it upwells some colder water from below, or due to possible internal structural changes," the National Hurricane Center said Saturday. "More definitive weakening is anticipated by days 4 and 5 due to an increase in westerly and southwesterly shear and the hurricane reaching colder waters."