Hurricane Sergio Track 2018, Spaghetti Models Update Sunday: Arizona, Southern California, New Mexico in Storm's Path Next Week
Hurricane Sergio, currently a well-organized Category 2 storm in the Pacific moving slowly west, but the latest forecast update still predicts a turn back to the east toward Baja California, Mexico, and the U.S. Southwest next week. Sergio is expected to make landfall as a tropical storm, threatening Southern California, Arizona, and New Mexico as a rain-producing tropical system with flooding threat.
Sergio will likely make landfall across the central Baja Peninsula, south of Tijuana, Mexico, on Thursday night or Friday, according to Accuweather. Heavy, flooding rain will accompany Sergio and move inland with downpours to the southwest U.S.
"The risk of flash flooding and mudslides may be renewed across a portion of Arizona and New Mexico, but these states could use the rain due to persistent drought," Accuweather.com reported.
The National Hurricane Center said Sunday that Sergio is taking a more organized, classic hurricane shape.
"Somewhat quickly and unexpectedly, Sergio took on the appearance of an annular hurricane overnight," the National Hurricane Center said Sunday in its 10 a.m. Central Time update. "The eye of the hurricane expanded, nearly doubling in size (now 70 n mi across), and most of the banding features disappeared. However, IR imagery over the past hour or two indicates that the hurricane is still somewhat asymmetrical, suggesting that the hurricane may not have a classical annular structure, at least not yet."
Hurricane Sergio, with maximum sustained winds of 105 miles per hour, will soon make a boomerang move toward Baja California.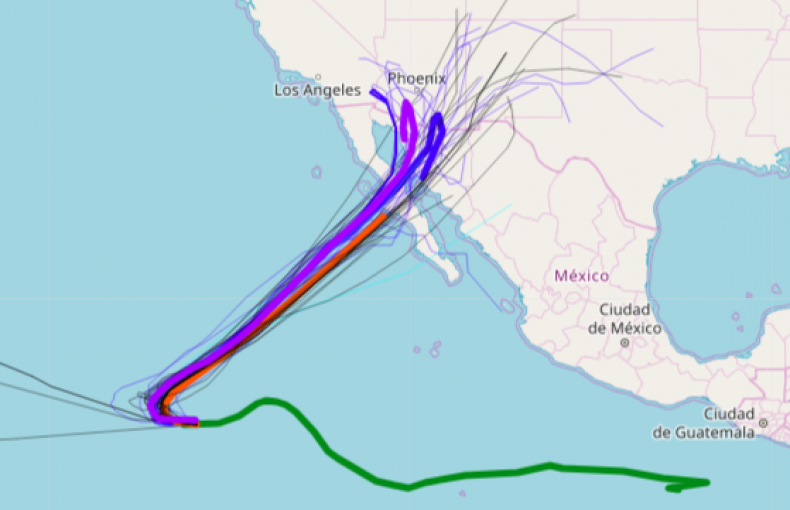 "The hurricane continues to move due west with an initial forward speed of 7 kt.," the National Hurricane Center said Sunday. "Sergio is still expected to slow down and turn first northward, and then northeastward over the next couple of days. By mid-week, a mid-level shortwave trough moving southward off coast of California should cause Sergio to accelerate northeastward toward the Baja California peninsula."
Sergio will be a tropical storm in five days, about the time it approaches land, with maximum sustained winds of 50 miles per hour. The latest Sergio spaghetti models, which include the official NHC forecast, show the storm turning to the north after landfall, and crossing into either Southern California, Arizona or New Mexico. All of the areas are likely to experience some heavy rain from the storm. Parts of Arizona recently received several inches or more causing localized flooding from Hurricane Rosa.