Hurricane Teddy Tracker, Update As Category 4 Hurricane Heads for Bermuda
Teddy remains a powerful hurricane over the central Atlantic after intensifying to a Category 4 storm. The U.S. is not expected to be greatly impacted by Hurricane Teddy, which is forecast to reach Bermuda this weekend.
Hurricane Teddy is located around 550 miles east-northeast of the northern Leeward Islands and around 935 miles southeast of Bermuda. The hurricane has maximum sustained winds of 130 mph and is moving northwest at 12 mph.
Teddy is expected to reach Bermuda as a hurricane this weekend and make its closest approach to the island late on Sunday or Monday. It is not known how intense Teddy will be as it nears the island, but the risk of strong winds, storm surge and heavy rainfall on Bermuda is increasing.
Hurricane Teddy is generating large swells that are affecting the Lesser Antilles and the northeastern coast of South America. It should spread westward to the Greater Antilles, the Bahamas, Bermuda, and the east coast of the United States by the weekend. Forecasters say that these swells are likely to cause life-threatening surf and rip current conditions.
While there are no coastal watches or warnings in effect, forecasters say that "interest in Bermuda should monitor the progress of Teddy."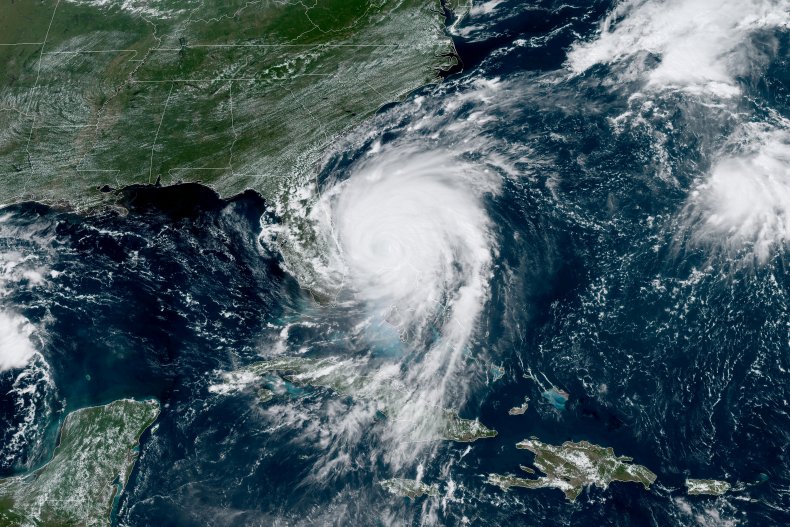 AccuWeather Senior Meteorologist Rob Miller expects Teddy to pass to the east of Bermuda as a Category 2 or 3 hurricane late Sunday night or Monday.
The U.S. is expected to miss the impact of Hurricane Teddy as it is forecast to make landfall in Nova Scotia, Canada, as a Category 2 storm.
Residents of Bermuda are now preparing for Teddy, after being hit by Paulette earlier in the week. Bringing a wind gust of 117 mph to Bermuda, Paulette triggered an island-wide power outage, leaving more than 20,000 customers without electricity.
However, Bermudan officials say that the island bounced back quickly after being hit by the hurricane. Bermuda Premier David Burt said: "It is a source of some considerable pride in our Island that less than 24 hours after a hurricane warning was dropped in our country, our main roads are clear, the airport is open, transport and other public services will resume tomorrow, and our children will shortly be returning to school.
"This speaks to our preparation, our leadership at various levels in this crisis, and the overarching desire of the people of Bermuda to always get to work."
In a statement issued about Hurricane Teddy today, Bermudan Minister of National Security Renee Ming said: "I know that our residents are feeling incredibly anxious at having to deal with hurricane Paulette and now Teddy against the backdrop of navigating the COVID-19 pandemic. But we cannot let our guard down and we must remain vigilant with our preparations.
"Today I will receive a full update from our EMO government departments and partner agencies regarding any outstanding restoration efforts and the status of our preparedness for hurricane Teddy. It is my aim to update the public following today's meeting."