Hurricane Teddy Tracker, Update As Storm Hurtles up East Coast Towards Canada
Hurricane Teddy is now heading north as dangerous rip currents are forecast along western Atlantic beaches for several days. Teddy's size is likely to increase substantially over the next couple of days as it heads northward.
Teddy is currently around 165 miles southeast of Bermuda with maximum sustained winds of 100 miles per hour, moving north at 9 mph. The center of Teddy is forecast to move east of Bermuda today.
Wind gusts near tropical storm-force have been reported on the island and tropical storm conditions could continue into Monday evening.
Forecasters say that once Teddy moves north of the Gulf Stream and over much cooler waters, it is forecast to weaken below hurricane strength and will become extratropical.
But even with a decrease in its highest winds, Teddy will still likely produce a large area of tropical-storm-force winds when it approaches Atlantic Canada in a couple of days.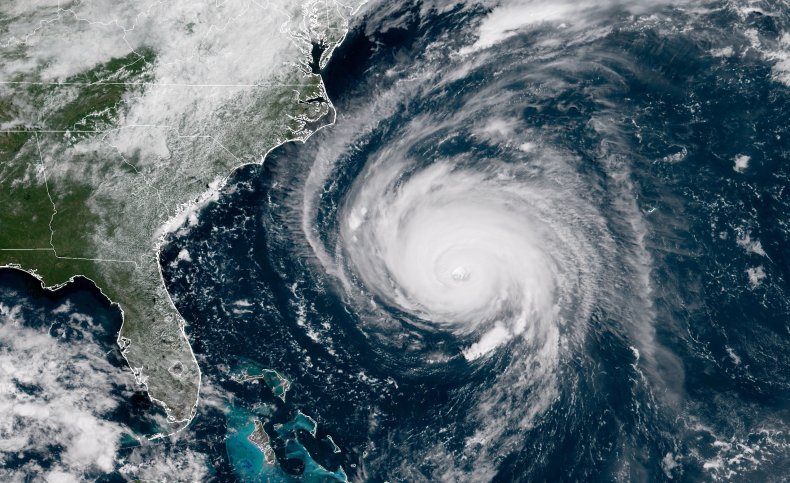 Teddy is expected to transition to a powerful post-tropical cyclone as it moves near or over areas of Atlantic Canada late Tuesday through Thursday, and once it does, heavy rainfall is expected in these areas.
A Tropical Storm Watch is in effect for Lower East Pubnico to Main-a Dieu, Nova Scotia, and there is an increasing risk of direct impacts from wind, rain, and storm surge.
Large swells produced by Teddy are expected to affect portions of Bermuda, the Leeward Islands, the Greater Antilles, the Bahamas, the east coast of the U.S., and Atlantic Canada during the next few days. These swells could cause life-threatening surf and rip current conditions.
Residents of Nova Scotia have been urged to prepare for the arrival of Hurricane Teddy. In a statement, Chuck Porter, the Municipal Affairs and Housing Minister, said: "Last year, we weathered Hurricane Dorian because we started preparing long before the storm arrived, and now it's time to get ready again.
"Being prepared is the best thing we can do for ourselves and our neighbors and everyone needs to do their part."
The Emergency Management Office is encouraging Nova Scotians to ensure that they have enough food and water for 72 hours and that they are monitoring local media outlets for updates, securing gates, doors, and windows, and moving yard furniture and securing trash cans, hanging plants and anything that can be picked up by wind.
They are also urged to check radio batteries, fill vehicles with gas and park them away from trees, keep pets inside, move any type of watercraft to high ground, ensure the safety of their family, and to check on neighbors.