Hurricane Nicholas Path, Update as Storm Hits Houston After Texas Landfall
Texas and Louisiana have been hit hard by heavy rains battering the Gulf Coast as tropical storm Nicholas strengthened into a hurricane, causing widespread power outages and spurring warnings of flooding.
The National Weather Service (NWS) said that Nicholas had become a hurricane late on Monday and that the main wind and flooding was likely to stay east of South-Central Texas as it continued to move to the northeast. The NWS said it was downgraded to a tropical storm by the early morning.
The National Hurricane Center (NHC) said early Tuesday morning that Nicholas had made landfall on the eastern part of the Matagorda Peninsula, 10 miles west-southwest of Sargent Beach, Texas.
It said there were maximum sustained winds of 75 miles per hour which got stronger at landfall and warned people to follow the instructions of local officials.
Nicholas is headed toward the same part of Texas hit by Hurricane Harvey in 2017 which made landfall in the middle Texas coast and caused at least 68 deaths.
"There is the danger of life-threatening storm surge inundation along the coast of Texas from Port Aransas to Sabine Pass," the hurricane center tweeted.
Video tweeted by news outlet KHOU showed the Gulf Freeway lined with empty cars and people shared images on social media of uprooted trees and rising waters.
Louisiana already reeling from Hurricane Ida, has declared a state of emergency as it braces itself for the impact of Nicholas. The declaration by Louisiana Governor John Bel Edwards was approved by President Joe Biden, who ordered federal assistance to help the state and local responses in the state.
"We want to make sure that no one is caught off guard by this storm," Louisiana Governor Edwards told a news briefing, according to Reuters, as he warned of flash floods because drainage systems still clogged with debris from Ida and other storms may be deluged by the heavy rain.
Meanwhile, Texas Governor Greg Abbott declared states of emergency in 17 counties as he warned the storm posed a "threat of imminent disaster" including property damage and death from flash floods, storm surge and wind damage.
Those counties were: Aransas, Brazoria, Calhoun, Chambers, Galveston, Harris, Jackson, Jasper, Jefferson, Matagorda, Montgomery, Newton, Nueces, Orange, Refugio, San Patricio and Victoria.
He said in a statement that officials were trying to keep communities safe but "it is up to all Texans in the path of this storm to take precautions, heed the guidance of officials, and remain vigilant as this severe weather moves through Texas."
Houston Mayor Sylvester Turner warned people to avoid streets and highways because of the prospect of flooding, telling a news conference, "this is primarily a rain event and we don't know how much rain we will be getting."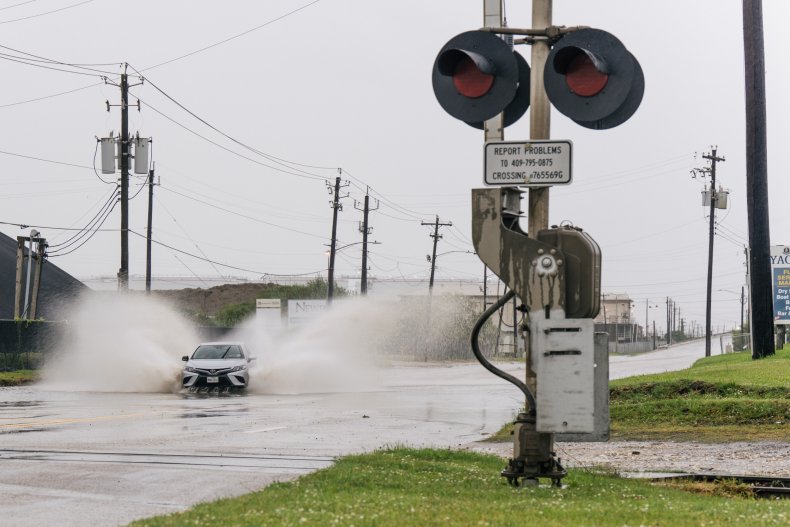 National Hurricane Center senior specialist Eric Blake said Nicholas would hit the middle and upper Texas coastline with eight to 16 inches of rain, and as much as 20 inches in places in the middle of the week. On the rest of the coast of Texas into southwest Louisiana, between 5 and 10 inches is expected, USA Today reported.
Dozens of school districts near the Texas coast canceled classes on Monday while others, including the Houston school district, have already canceled Tuesday classes, The Texas Tribune reported. Houston suspended light rail and bus services hundreds of flights were canceled or delayed at airports in Corpus Christi and Houston.
Many people have been left without electricity in places such as Bay Caity, Galveston and the greater Houston area. According to CenterPoint Energy's outage tracker, 214,035 customers were without electricity before 3 a.m. Tuesday.
The Texas power grid operator and energy companies said customers should report outages, downed power lines or gas leaks to local electric providers.
In a media statement shared with Newsweek, the Electric Reliability Council of Texas (ERCOT) said it was preparing the grid to maintain the power supply in the face of rain, winds and potential flooding.
"Any power outages caused by the storm will most likely be at the local distribution level," its statement said, adding that local outages can be caused by factors ranging from "high winds toppling power poles to tree limbs falling on power lines."
Petrochemical plants and gas and oil storage facilities along the Texas coast are bracing themselves for the hurricane's onslaught. The U.S. Coast Guard shut inbound traffic into Corpus Christi and other Texas ports as the storm headed toward the area, Argus media reported.
Update 9/14/2021, 12 p.m. ET: This article has been updated to note the hurricane was downgraded to a tropical storm.