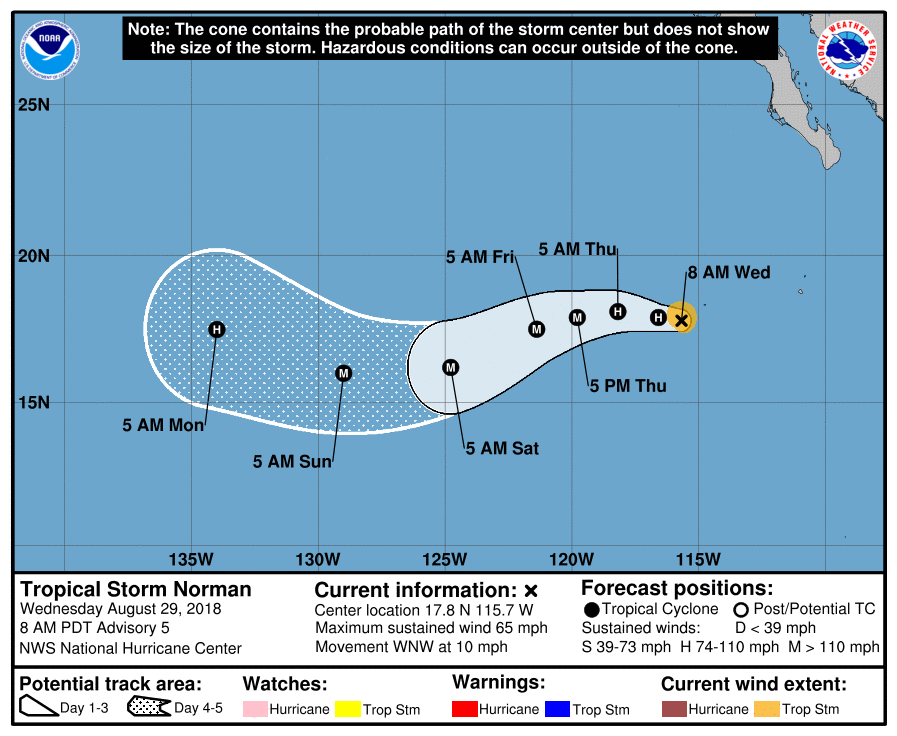 Two storms brewing in the eastern Pacific were gaining strength Wednesday.
Tropical Storm Norman was off the coast of Baja, California, Wednesday morning but heading west away from the continental United States. While the storm was gaining strength, the five-day forecast for Norman showed that it would still be far from Hawaii come Monday, according to the National Hurricane Center. Norman was also expected to become a hurricane at some point Wednesday as it traveled west-northwest at 10 miles per hour.
As of Wednesday, Norman was classified as a tropical storm with maximum sustained winds of 65 miles per hour. The wind speeds would need to be at least 74 mph for it to be considered a hurricane on the Saffir-Simpson scale. It was expected to track mostly west-northwest through the five-day forecast.
In addition to Norman, Tropical Storm Miriam was also brewing in the waters east of the islands, according to the NHC. Miriam is far closer to the islands than Norman but was still not expected to make landfall as of Wednesday.
The five-day forecast showed that the storm was expected to head north before heading west, missing the islands entirely. While the storm wasn't expected to land a direct hit to the islands, they both have the potential to stir up the waters in the area or cause stronger waves than usual.
Miriam's maximum sustained wind speeds Wednesday were 70 mph and the storm was headed west at 12 mph, according to the NHC.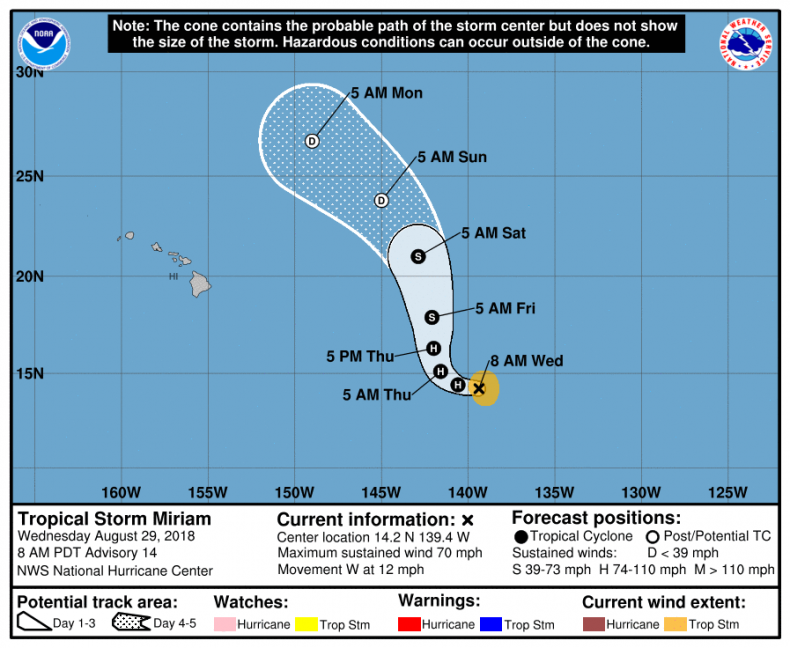 Much of Hawaii is still recovering from Hurricane Lane that hit last week and battered many of the islands with wind and rain through the weekend. The rain totals from the storm totaled more than 50 inches in some areas on the islands.
Before the rain arrived on Maui the winds were so strong that brushfires spread rapidly on the island. The fire caused one of the evacuation shelters to be moved. Additionally, heavy rains caused mudslides and road closures on several of the islands.
While the Pacific hurricane season has already seen several storms, the Atlantic hurricane season has been fairly quiet. The National Oceanic and Atmospheric Administration's National Hurricane Center revised the 2018 outlook earlier in August to predict an average or below-average season.
Originally, the NHC predicted there would be 10 to 16 named storms during the season, a number that was lowered to nine to 13 storms.