Hurricane Walaka Threatens Seabirds With Direct Hit on Johnston Atoll in Pacific
You may not have heard about massive Category 4 hurricane Walaka or the tiny island it's scheduled to smash into, but the damage later Tuesday when Walaka hits Johnston Island in the Pacific could be devastating for a different species of inhabitant.
The Island, known as Johnston Atoll, is the nesting site of millions of seabirds of 14 different species, including red-footed boobies, brown noddies, wedge-tailed shearwaters, and masked boobies. They are in the path of a direct hit from Walaka, packing winds in excess of 150 miles per hour, with no shelter and little protective vegetation.
Located about 140 miles south-southwest of Johnston Island, the uninhabited, unincorporated U.S. territory (except for on-site scientists) that's home to a National Wildlife Refuge, Hurricane Walaka is tracking Tuesday on a path for a direct hit on the island. The Central Pacific Hurricane Center in Honolulu has issued a hurricane warning for the Johnston Atoll, with hurricane conditions late this afternoon and into tonight. The right side of Hurricane Walaka's eyewall, the strongest side of the storm, will likely smash into Johnston Island with mighty force as a Category 4 storm.
Already, four scientists working on the atoll have been evacuated ahead of Hurricane Walaka. They had planned to wait out the storm in hurricane shelters, but U.S. Fish and Wildlife officials decided to evacuate the scientists when Walaka reached Category 5 status Monday. Unfortunately, however, the seabirds there now number in the thousands and can't evacuate from Johnston Island, their only nesting site within the region.
"As with any severe weather event, wildlife will be affected," said Laura McMarlin Beauregard, acting Refuge and Monument Supervisor, according to Hawaii News Now. "Red-footed boobies, brown noddies, wedge-tailed shearwaters, masked boobies, and red-tailed tropic birds are currently nesting. It is the only nesting site in 450,000 square miles of ocean for them."
But, while there will be losses, experts said birds are resilient and they expect the colonies to rebuild. Johnston Atoll is also known for its coral reef and Hurricane Walaka could damage that as well with strong waves.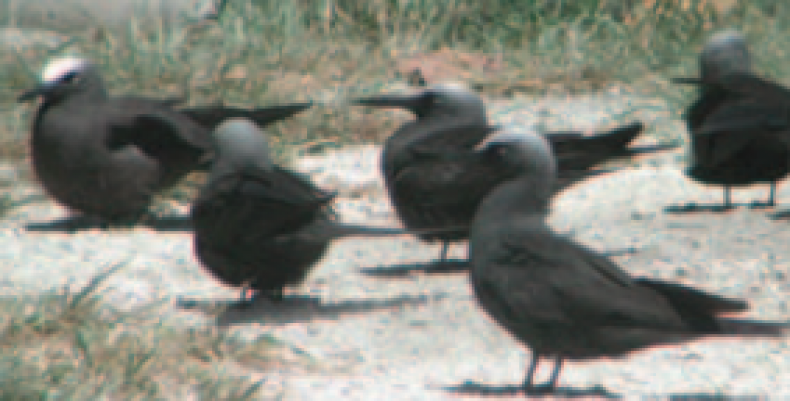 Hurricane Walaka reached Category 5 strength briefly late Monday and remained there through Tuesday morning, before dropping back slightly to Category 4 strength with maximum sustained winds of 155 miles per hour. The Central Pacific Hurricane Center said that conditions including a "deep moist airmass with low vertical windshear, high ocean heat content, and sea surface temperatures between 84 and 86 Fahrenheit" mean that Hurricane Walaka will remain at or near current strength, if not stronger, when it makes a direct hit on the Johnston Atoll – with its right-hand eyewall, likely passing over the island.
Johnston Atoll "one of the most isolated atolls in the world, is located in the central Pacific Ocean, between the Hawaiian Islands and the Line Islands. The formation of Johnston Atoll began about 70 million years ago, when repeated submarine volcanic eruptions built up layer upon layer of basaltic lava from the floor of the ocean to its surface," the Fish and Wildlife Commission said. "Geologically, Johnston anchors the northern end of the Line Islands Ridge, although its coral reef biota resembles Hawai'i's marine fauna and flora."
Johnston Atoll lies approximately 800 miles southwest of Hawaii. It was first discovered in September 1796 by a whaling ship.