Hurricane Willa Track, Forecast: 'Extremely Dangerous' Category 4 Hurricane to Make Landfall in Mexico
Not long after Hurricane Michael decimated parts of Florida in the Atlantic as a Category 4 hurricane, Mexico's coast in the Pacific is forecasted to be on the receiving end of an "extremely dangerous" Category 4 hurricane.
Hurricane Willa, currently a Category 4 hurricane with maximum sustained winds of 155 miles per hour, is predicted to make landfall along the Mexican coast the evening or night of October 23, according to the National Hurricane Center (NHC).
A slight strengthening is possible on Monday, with the NHC reporting in an advisory that it's possible the storm could become a Category 5. Before making landfall, the storm is expected to weaken a bit, but it is still supposed to be a "dangerous" hurricane when it reaches the coast of Mexico. Landfall is expected to occur in the area between Rancheria Palmito del Verde and Ejido Cristo Rey, according to the NHC.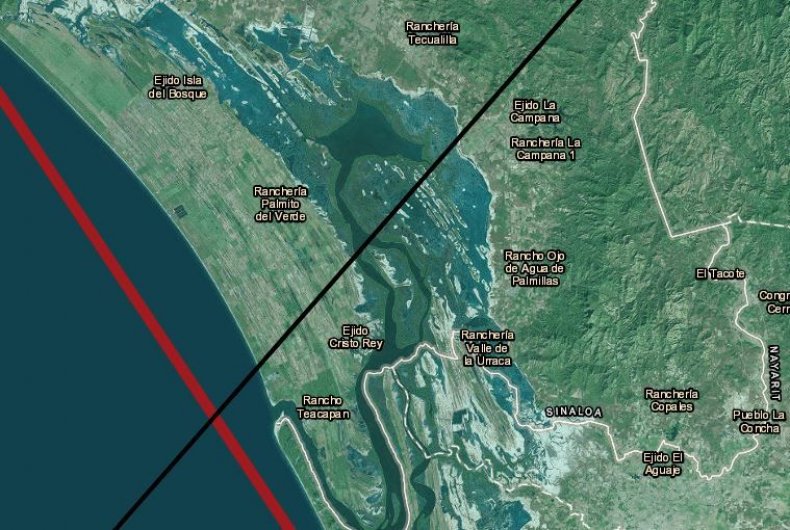 On Monday morning, Willa was about 200 miles south-southwest of Las Islas Marias, Mexico, and about 155 miles southwest from Cabo Corrientes, Mexico. The storm was moving at about 7 miles per hour in a northern motion, which is expected to continue through Willa making landfall.
Willa is predicted to move inland over southwestern and west-central Mexico on Tuesday night and early Wednesday. Within 48 hours of making landfall, the NHC forecasted that the storm would dissipate. By Wednesday morning, Hurricane Willa is expected to be downgraded to a tropical storm, and downgraded again to a post-tropical depression on Thursday morning.
Ahead of the storm's impact with land, the NHC issued a hurricane warning for San Blas to Mazatlán and a tropical storm warning for Playa Perula to San Blas and North of Mazatlán to Bahia Tempehuaya.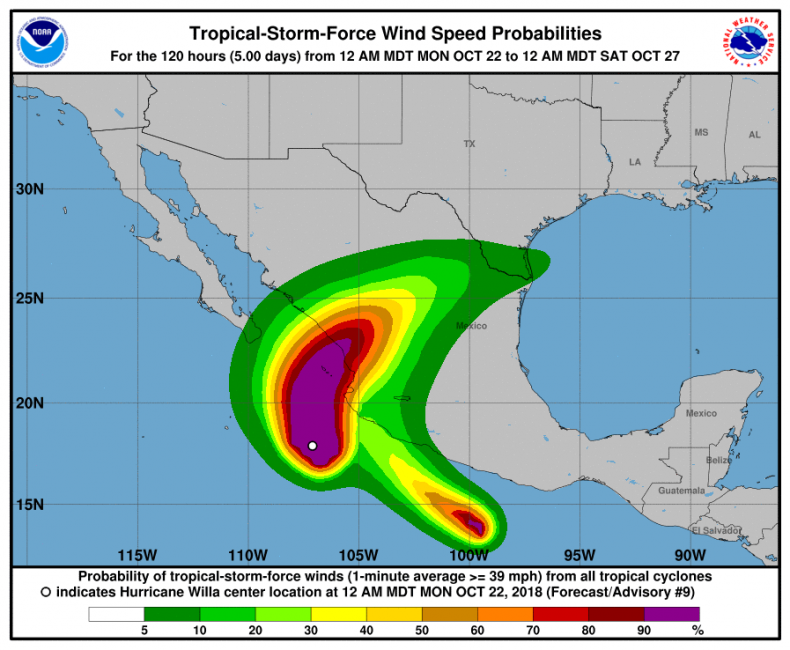 Portions of the southwestern coast of Mexico are expected to experience dangerous storm surges by Tuesday night, accompanied by "large and destructive waves." An estimated 6 to 12 inches of rain are predicted, with some areas of western Jalisco, western Nayarit and southern Sinaloa seeing up to 18 inches.
The heavy amount of localized rainfall could bring life-threatening flash flooding and landslides to parts of Mexico, according to the NHC.
Hurricane strength is measured on the Saffir-Simpson Wind Scale, which has categories ranging from one to five. Willa is currently a Category 4, which includes hurricanes with wind speeds between 130 miles per hour to 156 miles per hour. Category 5 is the highest category on the scale and begins when wind speeds reach 157 miles per hour.
When Willa makes landfall, the NHC forecasted it will be "near" major hurricane strength, meaning it will border on a Category 3 storm with wind speeds of about 111 miles per hour.