Hurricane Zeta Photos, Videos Show Severe Damage and Flooding Around New Orleans
Hurricane Zeta hit the southeastern U.S. coastline yesterday as a Category 2 storm, with ferocious 110 miles per hour winds, causing serious damage to the Greater New Orleans area.
The storm made landfall around 4 p.m. near the fishing, shrimping and crabbing village of Cocodrie on the coast of Louisiana, and the eye of the storm hit New Orleans around 7.30 p.m.
Zeta is the fifth significant storm to hit the state this year. Officials put out numerous warnings before the storm made landfall, and President Donald Trump declared an emergency and ordered federal assistance to help Louisiana deal with the aftermath.
Homes were damaged and areas were severely flooded in coastal towns. One Twitter user posted a video of a boat on the road.
Water rushed through the Golden Nugget Parking Garage in Biloxi, captured by to by WLOX News footage.
Treasure Bay Casino, also in Biloxi, suffered serious damage.
Businesses were torn apart in the Phoenix area.
Power lines were toppled around the state, and a man was reportedly electrocuted by a low hanging cable. Police said the line blew from a transformer near Dublin Street and Stroelitz Street, reported 4WWL.
"It's very unfortunate, but this is why we're asking everyone to remain at home," said New Superintendent of Police Shaun Ferguson. "We do not want you to travel the streets. There are wires that are down—live wires, as well as trees. It's very, very challenging for anybody to get around, so we're encouraging you please to stay at home or stay in place."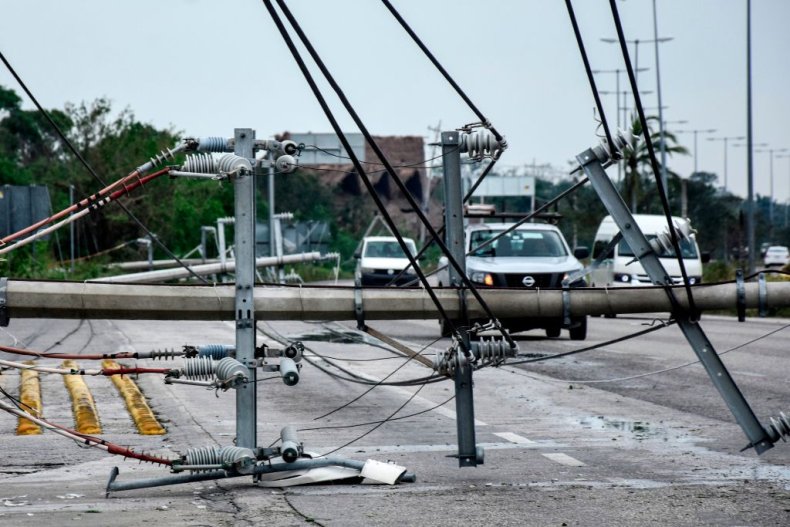 According to weather forecasters AccuWeather, more than 800,000 people in Louisiana, Mississippi and Alabama have suffered power blackouts.
Meteorologist and storm chaser Reed Timmer captured footage of the flooding and floating debris in Venice, Louisiana, and of buildings being ripped apart in Lake Charles.
Hurricane Zeta has moved inland and has weakened to a tropical storm over Alabama. It is heading north with sustained winds of 41 mph and gusts of 68 mph.
The National Hurricane Center still regards the storm a "life-threatening surge" and asks residents of these states to prepare for extreme weather. However, it said the surge will "gradually subside in the early morning hours on Thursday."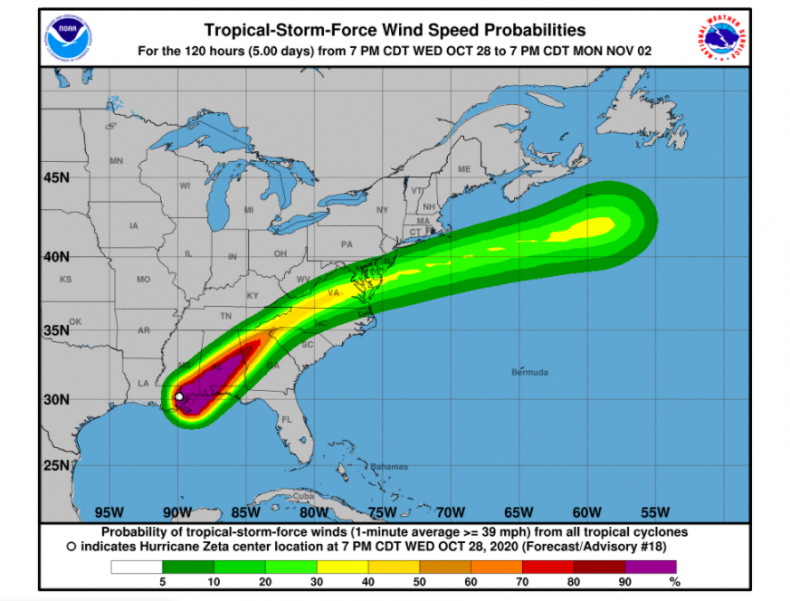 Zeta is fifth named storm to ravage the region this year, and the 27th storm of the Atlantic hurricane season. In 2005, there were a record number of 28 storms, including 15 hurricanes.