Hurricanes Destroyed Water Island, the Most Forgotten Place in America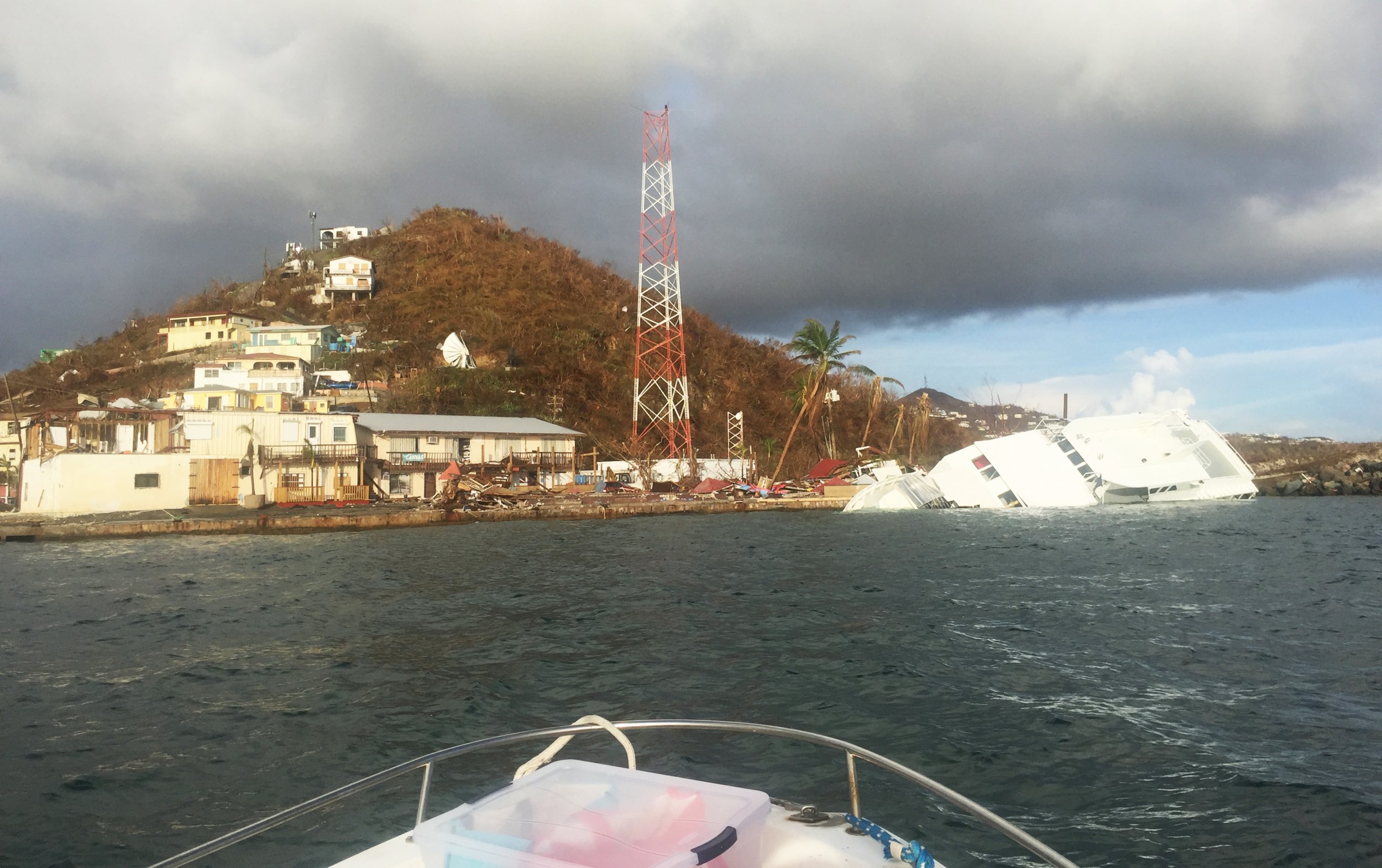 UPDATED | Before her husband latched the door to the concrete bunker beneath their house, Linda Gidley looked around at the lush green leaves, bright hibiscus flowers and majestic palms and thought, "This is the last time I'm gonna see this."
For the next 19 hours, Gidley, 70, and her husband, Chuck, 71, hid from Hurricane Irma. It was early September, the beginning of what would become one of the strongest hurricane months on record. They had a battery-operated radio, lanterns, books and a cooler filled with food. For nearly a day, they listened to debris, trees and god knows what else bump and thump all around them. "At one point, I really thought my ear drums were going to burst just because of the pressure from the air. There were 185-mile-per-hour sustained winds powering around us!" Gidley says. When they finally emerged, "the world looked just like Dante's Inferno—everything was black, twisted, horrible!"
Irma flooded their house, covering everything in a thick film of leaves and grime, took chunks out of the patio stairs and ripped off the cover to their cistern (it landed in the middle of their pool). Branches, debris and barbed wire wove an almost impenetrable web around their land. "We didn't have time to get into the depression because we had to prepare for the next storm," Gidley says.
From late August through September, hurricanes Harvey, Irma and Maria ravaged the Atlantic and Caribbean, killing close to 200 people, destroying communities and causing billions of dollars in damage. News outlets covered every moment, making it clear that Harvey was all about Houston, Irma was all about south Florida, and Maria quickly became a Puerto Rico story.
Water Island, where the Gidleys live, is a place the mainstream media ignored—or perhaps it didn't even know it existed. " We're only a seven-to-10 minute ferry from St. Thomas," Gidley says, "but I always say we're the forgotten stepchild" of the U.S. Virgin Islands (USVI).
The rarest gem
Forty miles east of Puerto Rico—about a mile from St. Thomas—sits Water Island, a 500-acre spit of tropical paradise without a single hotel, store, gas station, police station, hospital, taxi or restaurant. It's the smallest of the four U.S. Virgin Islands (after St. Thomas, St. John and St. Croix), and it's home to about 100 people. In the winter months, the population swells as tourists—including Vice President Joe Biden and his family for a couple years during the Obama Administration—move into modest rentals or dock their sailboats just offshore. But it remains one of the rarest gems in a region that's overrun with tourists.
During World War II, Water Island served as an Army base to protect a submarine base on St. Thomas. Then the Army's Chemical Warfare Division used the island as a laboratory for poisonous gas and chemical agents. In 1951, a former investment banker named Walter Philips stumbled upon Water Island while searching for a place to retire. By that point, the Army had turned the land over to the Department of Interior. Philips and his wife, Floride, leased Water Island and started developing it, opening a hotel in the abandoned Army barracks, building Honeymoon Beach, which later made a cameo in the Oscar-winning The Curious Case of Benjamin Button, and turning a once-deserted island into a thriving community known for its no-frills beauty and eclectic inhabitants. There has never been a whole lot to do on Water Island other than unplug. Today, residents are a mix of old-timers who've lived there for decades and young people raising children while commuting to jobs on nearby islands.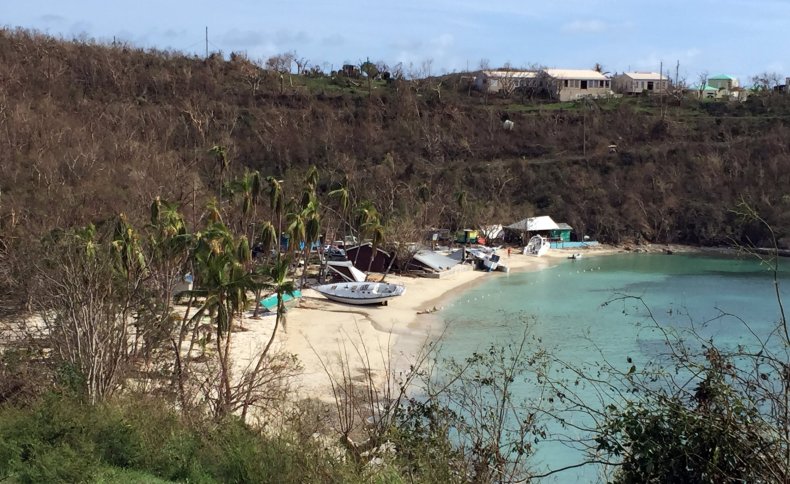 In September, Water Island was hammered by Irma and Maria, then a tropical storm dropped nearly a foot of rain on its battered shores and broken homes. Since then, it's rained most days. There is still no power, and residents don't expect it to return for another five or six months. Towering palm trees and telephone poles crashed across the island's narrow roads. Of the 100-odd houses, about 40 were reportedly destroyed and most were damaged and flooded. Boats—the only form of transportation to and from the mainland—were crushed or capsized.
"I've been an emergency manager for 20 years, but working on an island this far off the coast of the continental U.S. and hit by two Category 5 hurricanes, they write books about these kinds of things," says Shamus Leary, a federal coordinating officer with FEMA and the branch director for St. Thomas and St. John.
'The most forgotten place possible'
A couple days after Irma, a helicopter landed in Alexander Randall 5th's backyard. "Two guys got out, FEMA-related people maybe," he says. "They asked, 'Is there anyone who needs to be rescued?' We said we need water and tarps. They said, 'All we can do is rescue people who need to be rescued.' What happens is, we have to do it ourselves. Water Islanders have to pull for Water Island… We're used to fixing everything with the wrong tools and wrong parts. We are the most remote place from Washington imaginable. It's the most forgotten place possible."
In 1995, Randall sold everything he owned—house, car, company—and moved to Water Island with his three young children from Boston. Days later, Hurricane Marilyn clobbered the USVI, heaving "a lot" of damage on his house. He's been storm-proofing his property ever since, and it worked: He had minimal damage from Irma, Maria and the rains that followed. "But I can't cook, can't flush the toilet. The fridge doesn't work. Pump doesn't work. You're sitting there with candles eating Meals Ready-to-Eat (MRE), thank you Uncle Sam," he says. "At night, I sit out and see three houses with lights and that's it baby, that's who's got juice."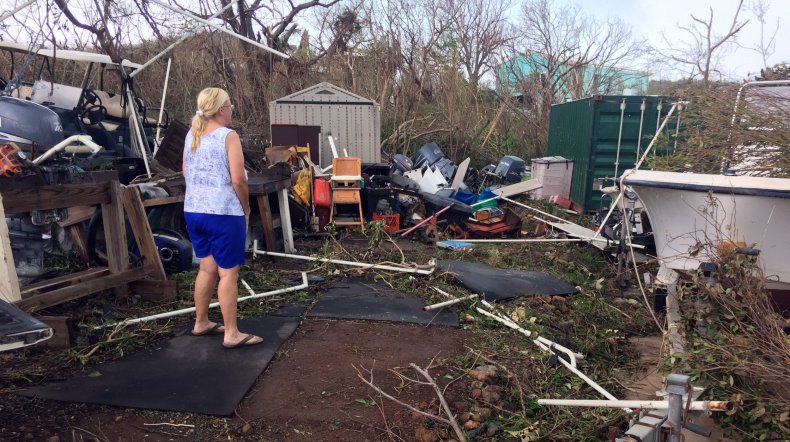 The pot-marked roads around Water Island were incapacitated, so residents spent weeks whacking a path with machetes and chainsaws. Government vehicles arrived a couple weeks ago to help and remove debris from the island. A few days after Irma, Collette Monroe, a policy advisor to USVI Governor Kenneth Mapp, got her dinghy into the water and puttered over to St. Thomas to see what was happening at the office. "They said, 'Do you need MREs?' And I said, 'I'm the only person who got a dinghy out!' They had 15 boxes of MREs and 25 boxes of water, so I put 'em in my dinghy. I was the first boat of water and MREs that we got over to Water Island." Monroe has since been tasked with coordinating recovery efforts on Water Island.
For Anoushka and Tom McCoy, who've lived on Water Island for 28 and 50 years, respectively, the hardest blow has been financial. Nine days after Irma and a few days before Maria hit, Anoushka was laid off from her job—via text message. "It said, 'Hope you're okay. Please don't come back to the office. There is no work for you. I'm suggesting that you go and collect unemployment benefits.' Period! I was there for 24 years," she says. "Now I'm scrambling around trying to get health insurance." Then the McCoys' renters lost their jobs and Internet access after the hurricanes, so they fled home to Texas. "That was our income, so that's gone," says Tom, who works in construction. "The people here are tough, but unemployment has not been dealt with for all those people who lost their jobs. They are hurting most."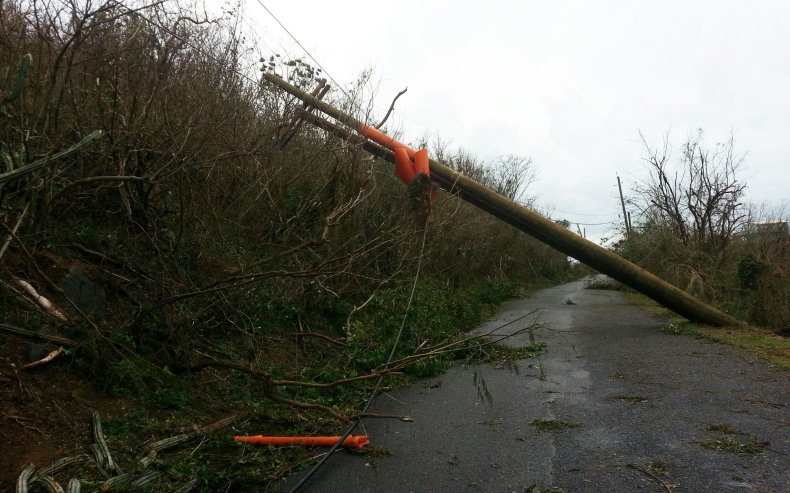 There are only two places to work on Water Island: Heidi's Honeymoon Grill and Dinghy's Beach Bar, both located on Honeymoon Beach, which was decimated by the hurricanes. Two pavilions were leveled by boats flung ashore by waves or wind. The small building with the bathrooms flooded. The beach is not only the closest thing Water Island has to a town center, but it attracts tourists from cruise ships, who often come over for a day at the beach.
"We want the cruise lines to come back," Monroe says. "It sounds like a small picture, fixing the beach, but we're fixing a much larger issue: a place for people to be. If they have one or two places to go, the cruise ships will still come. Tourism industry is the center of commerce."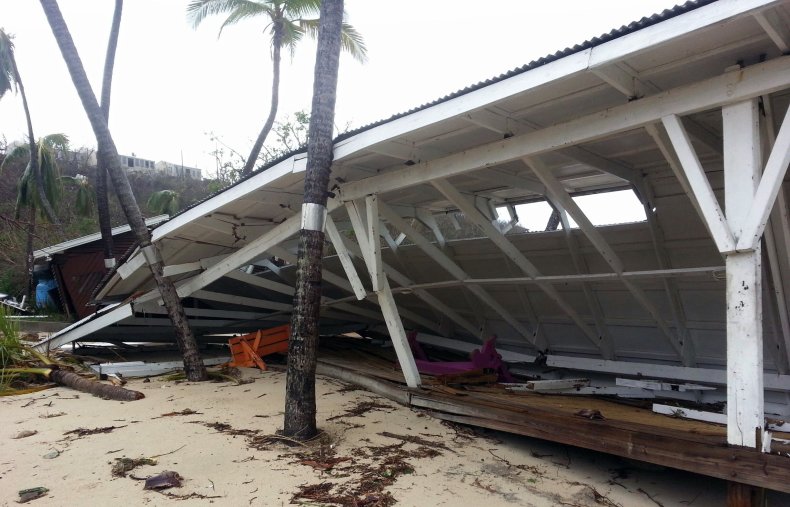 A local contractor and crew spent weeks clearing debris off the beach, and the folks behind Dinghy's Beach Bar launched a Go Fund Me to raise money for the cleanup effort. Yet some residents worry there is too much focus on bringing tourism back before Water Island is ready. "It's difficult to imagine why the priority is to restore the beach versus providing electricity," says one resident, who asked for anonymity—Water Island is a small community, and this person did not want to offend friends. "We don't need the beach bar restored; we need our homes restored first." Gidley agrees: "What are the tourists gonna look at? The devastation? They'll get hurt wandering around!"
For now, Water Islanders are relying on each other and waiting their turn. "It's par for the course that we're the last on the list," Randall says. "Even in normal times, the only thing the government does for Water Island is haul the trash away. There's no other government services here; you can't get a police officer or fire truck. We're off the edge of the universe."
This article previously stated that Anoushka McCoy was fired from her job after Hurricane Irma. She was in fact laid off. Newsweek regrets the error.