Hurricanes, Floods and Wildfires: 2018's Extreme Weather in Pictures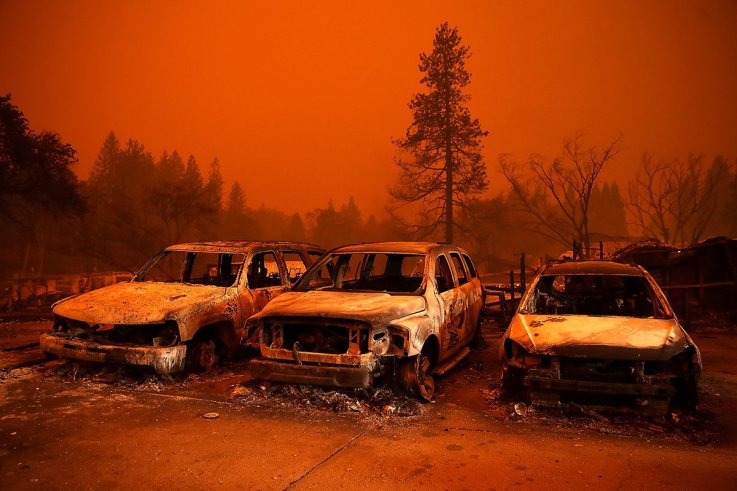 Wild weather dominated the headlines in 2018. As early as January, the east coast of America was bitten by sub-zero weather conditions, breaking the record for the lowest temperatures in some areas.
A powerful blizzard deposited a foot of snow onto New England and caused flooding in coastal areas. Europe saw a similarly vicious cold snap on the arrival of a dramatic storm, dubbed the Beast From the East, the following month.
Volcanoes and earthquakes were responsible for some of the years' worst natural disasters. In May, Hawaii's Kilauea volcano began spewing streams of lava which covered entire neighborhoods. A 6.9-magnitude earthquake followed shortly afterwards, causing a minor tsunami along the coast.
One of the deadliest natural disasters occured in Indonesia, when a 7.5-magnitude earthquake triggered a tsunami. The catastrophe killed 2,000 people, and affected over a million others.
After a freezing winter across much of the world, temperatures swung the opposite direction in July, as a heat waves from Britain to Japan saw the hottest summers in decades. Japan's heatwave was so intense that it was declared a national disaster by the government, killing over 80 people.
In Greece, the heat and the wind proved to be a deadly combination, whipping up wildfires that spread fast. Although some managed to seek refuge in the sea, the fires ultimately left 93 people dead.
In November, California was also devastated by the Camp Fire wildfire, the deadliest and most destructive wildfire in the state's history. The fire killed over 85 people, burned over 150,000 acres, and took 17 days to contain completely.
Hurricane season hit the U.S. hard this year. Hurricane Florence, which smashed into the Carolinas in August, killed over 50 people. Hurricane Michael followed in October, blowing through Central America before making landfall in Florida as a high-end Category 4 hurricane.
Scientists are linking extreme weather to man-made climate change with increasing certainty. Yet despite the many Americans directly affected by extreme weather, President Donald Trump seemingly remains skeptical of the scientific evidence.
We've gathered the best images of the year's most dramatic weather events and natural disasters from around the world, from the Camp Fire's devastation to Asia's deadliest earthquakes.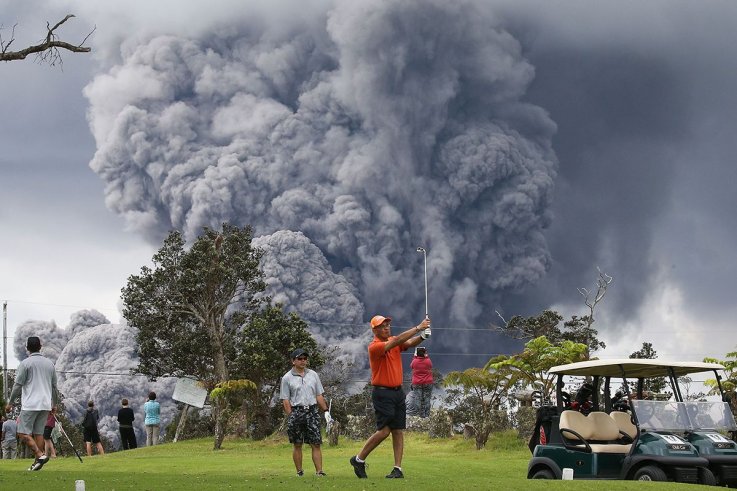 Mario Tama/Getty Images
People play golf as an ash plume rises in the distance from the Kilauea volcano on Hawaii's Big Island on May 15, 2018 in Hawaii Volcanoes National Park, Hawaii. The U.S. Geological Survey said a recent lowering of the lava lake at the volcano's Halemaumau crater 'has raised the potential for explosive eruptions' at the volcano.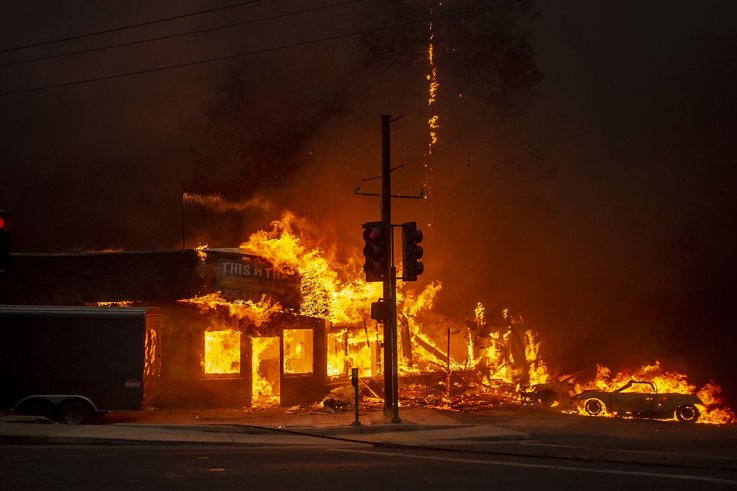 JOSH EDELSON/AFP/Getty Images
A store burns as the Camp Fire tears through Paradise, California on November 8, 2018.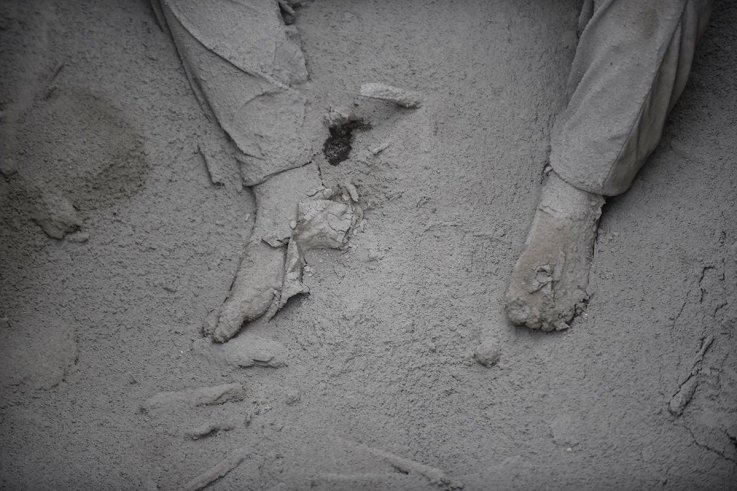 JOHAN ORDONEZ/AFP/Getty Images
A victim of the Fuego Volcano in San Miguel Los Lotes, about 35 km southwest of Guatemala City, taken on June 4, 2018, a day after the eruption.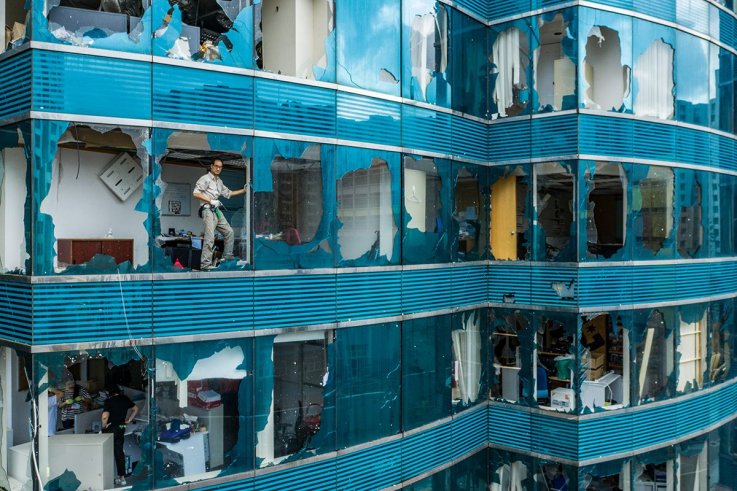 Lam Yik Fei/Getty Images
The aftermath of Typhoon Mangkhut on September 17, 2018 in Hong Kong.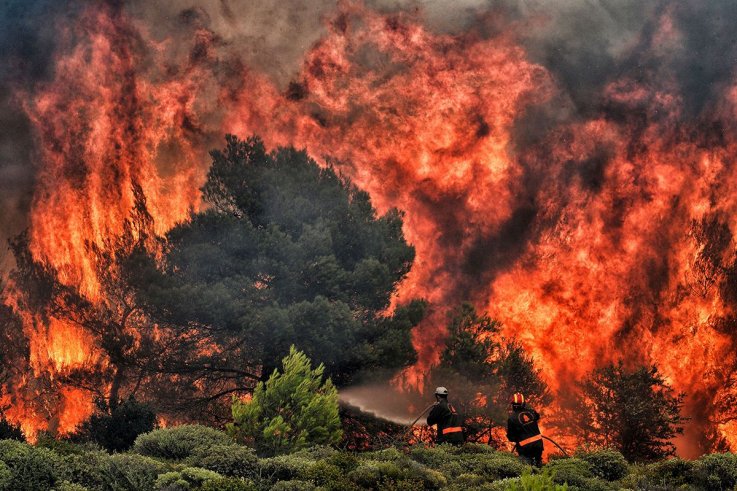 VALERIE GACHE/AFP/Getty Images
Firefighters try to extinguish flames during a wildfire at the village of Kineta, near Athens, on July 24, 2018. Raging wildfires killed scores of people including small children in Greece, devouring homes and forests as terrified residents fled to the sea to escape the flames.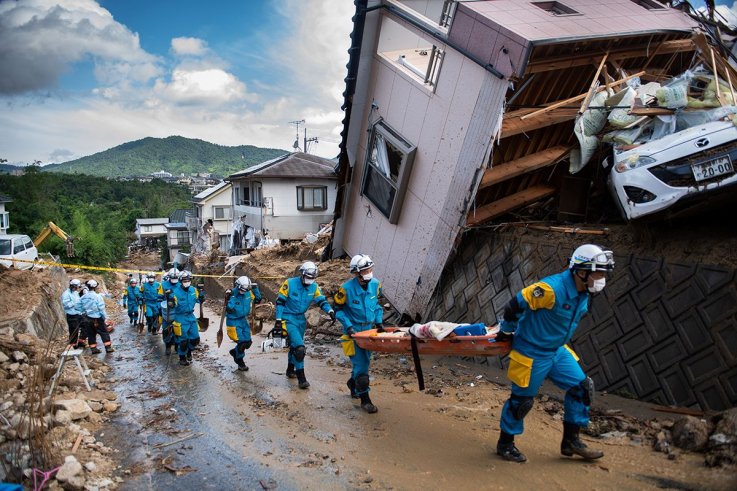 MARTIN BUREAU/AFP/Getty Images
Police arrive to clear debris scattered on a street in a flood hit area in Kumano, Hiroshima prefecture on July 9, 2018. Rescue workers in Japan battled to reach residents trapped after devastating rains.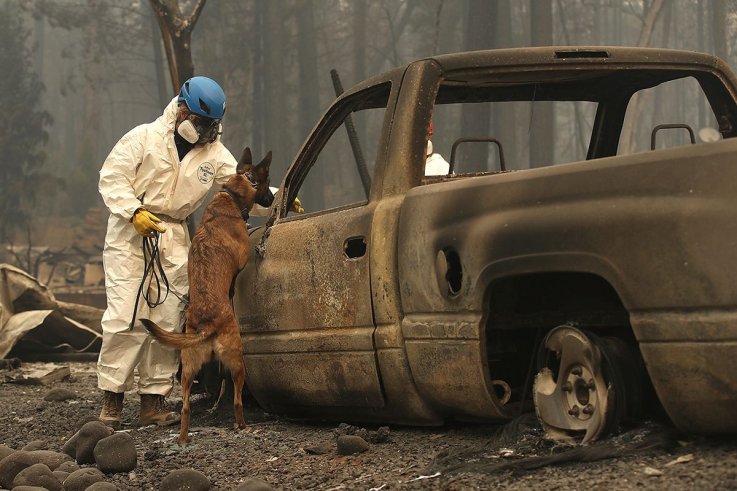 Justin Sullivan/Getty Images
A rescue worker uses a cadaver dog to search for human remains at a mobile home park that was destroyed by the Camp Fire on November 14, 2018 in Paradise, California. Fueled by high winds and low humidity the Camp Fire ripped through the town of Paradise charing over 135,000 acres, killing at least 85 people and has destroyed over 8,000 homes and businesses.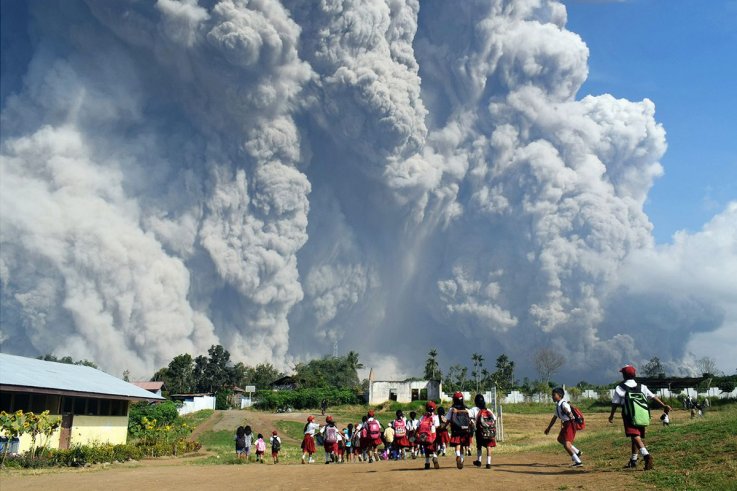 ANTO SEMBIRING/AFP/Getty Images
Indonesian school children walk together at Sipandak elementary school in Tiga Pancur village in Karo, North Sumatra on February 19, 2018, as thick volcanic ash from Mount Sinabung volcano rises into the air following another eruption. Sinabung roared back to life in 2010 for the first time in 400 years and has remained highly active since.