Three Hurricanes, Florence, Isaac and Helene, Churning in Atlantic at Once
While East Coast dwellers keep close tabs on Hurricane Florence as it approaches the United States, two other storms are following close behind.
Those second and third storms brewing in the warm waters of the Atlantic both had sustained wind surface speeds fast enough that they were considered hurricanes Monday. The second storm in the line of three is Hurricane Isaac, with maximum sustained winds of 75 miles per hour, making it a Category 1 storm. Behind Isaac was Helene, with wind speeds 10 mph faster, at 85 mph.
Neither storm was expected to hit the United States or follow in Florence's path as of Monday. Florence was gaining strength and headed in the direction of the Carolinas on the East Coast of the United States. The storm was still days away from potentially making landfall, but the winds and coastal impacts on ocean conditions were expected to arrive late this week.
Neither Isaac nor Helene were expected to directly hit the U.S. mainland, forecasts showed Monday. The five-day prediction of Isaac showed that the storm would likely be between Venezuela and the Dominican Republic by early morning on Saturday if it continued on its path west in the direction of Central America. Parts of Puerto Rico and the islands to its east would likely feel the strong winds from the storm, and potentially get the heavy rains it could bring.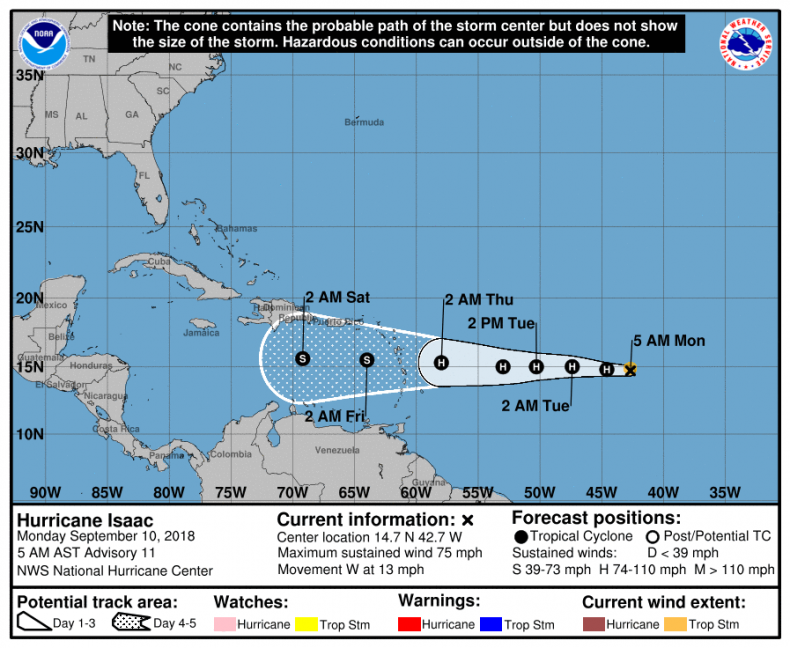 Meanwhile, Helene, following behind Isaac, was expected to turn northward after heading east for several days. The storm was traveling at 17 mph Monday and was headed west-northwest. It was expected to turn north beginning Thursday, a five-day map from the National Hurricane Center showed.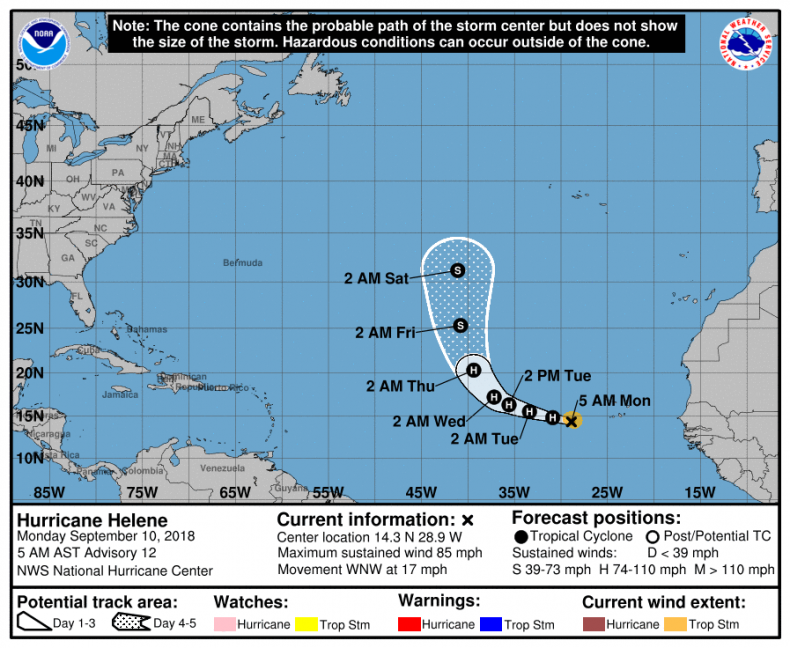 Hurricane season—beginning June 1 and running until the end of November—is in full swing. The National Oceanic and Atmospheric Administration originally predicted that the season would be slightly above average, but a revised forecast released August 9 said the season was actually expected to only have nine to 13 named storms in all.
Originally, the prediction included 10 to 16 named storms. So far there have been nine named storms in the Atlantic, with Isaac as the latest one. The list of names for the storms is available from NOAA and changes each year.
In the Pacific, Hawaii was already hit with Hurricane Lane and was tracking Hurricanes Olivia and Norman for quite some time. Eyes are now turned to the possibility of another hurricane in Tropical Storm Paul.