Hurricanes Norman, Miriam Both Form In Pacific In Single Day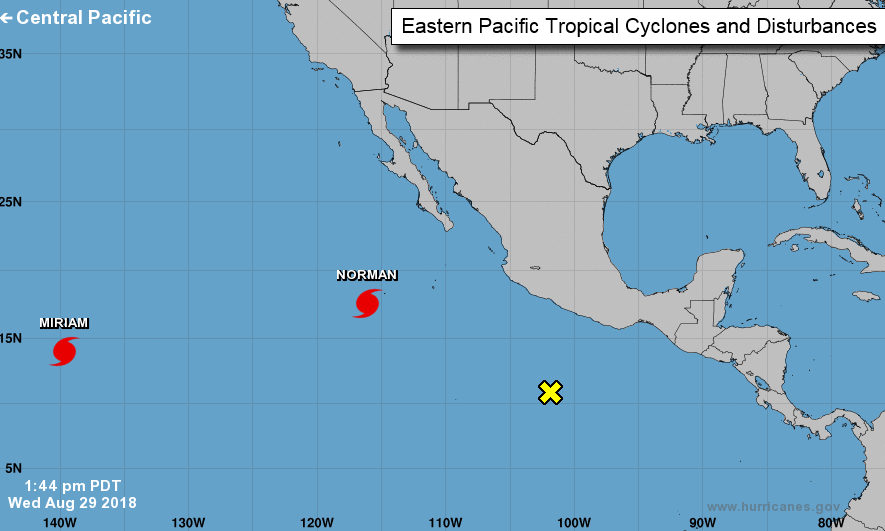 Two hurricanes formed in the Pacific Ocean on Wednesday, the National Hurricane Center confirmed. Hurricane Miriam, a Category 1 storm, became a hurricane just before moving into the Central Pacific. Hurricane Norman, also a Category 1, became a hurricane in the Eastern North Pacific.
Miriam was moving west at 9 mph on Wednesday, bringing with it maximum winds of about 75 mph. The storm, which is located about 1,100 miles east-southeast of the Hawaiian Islands, was expected to continue on a northwest trajectory before moving further west Sunday through Monday.
Hurricane Norman, further east and closer to land, was also moving west with maximum winds of 75 mph. The storm was located several hundred miles southwest of the southern tip of the Baja California peninsula.
Another storm system was brewing in the Pacific as well, in the form of disorganized showers and thunderstorms several hundred miles south-southwest of Acapulco, Mexico, the NHC said.
The Pacific has seen a more active hurricane season than the Atlantic thus far, though that may change in the coming days. Activity in the Atlantic, as well as the Gulf of Mexico and the Caribbean, could pick up over the course of the next few weeks, AccuWeather reported. Two to three tropical threats could hit the region during the first portion of September.
"During next week, one or more tropical systems may come about, and at least one may be rather close to the U.S.," said AccuWeather hurricane expert Dan Kottlowski. "There is the potential for two or three tropical features spinning over the Atlantic by the second weekend in September.
The National Oceanic and Atmospheric Administration recently amended its predictions for the 2018 Atlantic hurricane season, which starts June 1 and runs through the end of November. An original forecast from the center said there would be 10 to 16 named storms. The updated forecast, however, said there would be likely be somewhere between nine to 13. Four to seven of those were predicted to be hurricanes, with winds of at least 74 mph, while zero to two of those were forecast to be major hurricanes with winds at or above 111 mph.