'Hurt': Teen Defended for Leaving Mom, Stepdad and Their New 'Happy Family'
Members of a popular internet forum stood behind one teenager who said why he can no longer be a part of his mother's new family.
In a viral Reddit post published on r/AmITheA**hole, Redditor u/Fun_Reindeer_4743 (otherwise referred to as the original poster, or OP) said he went from being his mother's "joy and pride" to feeling entirely forgotten and recounted the events that sparked his decision to leave her family altogether.
Titled, "[Am I the a**hole] for saying that the reason why I don't want to visit my mom is because it hurts to see her happy with her new family?" the post has received more than 8,000 votes and nearly 1,000 comments in the last day.
Writing that he was "deeply close" with his mother until he was 9 years old, when she had an affair and moved in with another man, the now-17-year-old original poster said he tried to make the new arrangement work but was overshadowed at every turn.
"As my mom's husband's ex-wife wanted nothing to do with the 3 kids they had...my mom started spending more time [with them]," OP wrote. "She sometimes acted more like a mother to them than to me."
"She celebrated their birthdays while she was just a guest at mine," OP continued. "She never tried beyond the minimum when it wasn't her [custodial] time."
Noting that his mother attempted to keep their relationship intact, the original poster admitted that scars were already forming and that, ultimately, it is not beneficial for him to spend time at her home with her husband and stepkids.
"It isn't healthy for me to be at her house, I suffer a lot when I'm there," OP wrote. "It sucks seeing them play the happy family and even if her husband has treated me good, I see nothing but the man that destroyed my home and hurt my dad."
"[I] told her that it's not healthy for me to be at her house because it hurts me," OP continued. "I let her know that I'm never coming back [and] I also said that as long as she is in this family we can't have a relationship."
"She said she never meant to make me feel cast aside," OP added. "But I made my choice."
When parents remarry, children are often thrown into an unfamiliar living arrangement, sometimes with new siblings—always with a new parental authority.
And while some blended families hit the lottery and painlessly come together as one, issues with stepsiblings and stepparents are almost universal.
In non-blended families, sibling rivalry is to be expected and arises from a myriad of sources, namely attention, or lack thereof. However, where biological siblings squabble over the attention of their shared parents, stepsiblings are foreign enemies fighting for the attention of the parent who previously cared just for them.
"In a blended family, everyone is still getting to know each other," Healthline reports. "You may not have an underlying sense of love or loyalty that's buried under the bickering and jostling for position."
Throughout his viral Reddit post, the original poster made it clear that he felt completely boxed-out by his step siblings, and that they had effectively blockaded him from receiving any attention more than the bare minimum from his mother.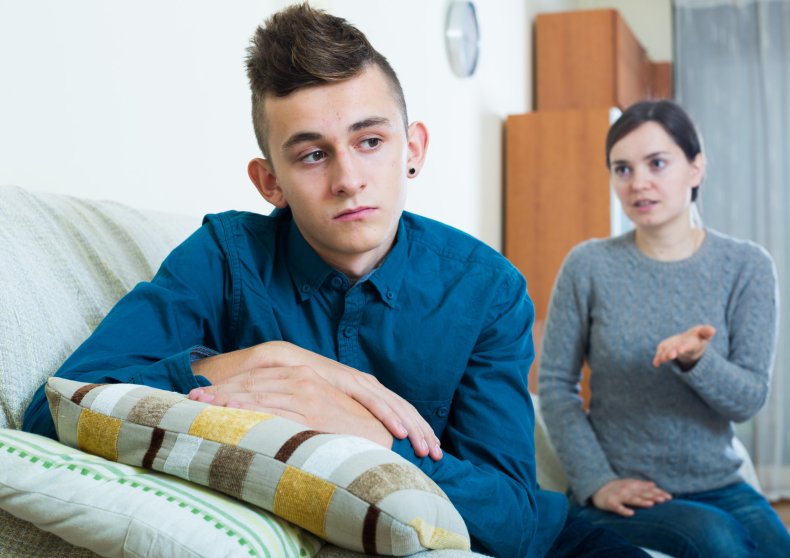 Responding to the viral post, hundreds of Redditors took issue with this, and called out the original poster's mother and stepfamily for turning their back on him. Redditors also applauded the teenager for standing up for himself and protecting his mental health by leaving his mother's home.
"[Not the a**hole]," Redditor u/DrMahlek wrote in the post's top comment, which has received nearly 8,000 votes. "She made her choice, repeatedly, to pick her step children over you."
"You cannot control what others do, but you can control your response to those actions," they added.
Redditor u/Ghitit, whose comment has received nearly 5,000 votes, echoed that sentiment.
"When she suddenly realized you were cutting ties to her because of her behavior [is] when she suddenly decides that you're her baby and she never meant to treat you that way," they wrote. "She seems pretty selfish."
"She talks a good game, but her years treating you like her last priority have caught up with her," Redditor u/MrsJingles0729 added, receiving nearly 2,000 votes. "Don't let your mom or her family gaslight you into believing that you're wrong or you have to accept it."