The governor of North Dakota condemned his own political party for passing an anti-LGBTQ resolution, calling it "hurtful and divisive."
Gov. Doug Burgum, a Republican, issued a statement early Thursday morning on his Facebook page denouncing the resolution, which asserts that many "LGBT practices are unhealthy and dangerous, sometimes endangering or shortening life and sometimes infecting society at large."
"As I've long said, all North Dakotans deserve to be treated equally and live free of discrimination," Burgum said in his statement. "There's no place for the hurtful and divisive rhetoric in the NDGOP resolutions."
Hundreds of delegates helped pass Resolution 31 over the weekend during North Dakota's GOP convention. The resolution primarily functions as a list for why LGBTQ protections would hurt straight and cisgender people.
"SOGI [Sexual Orientation and Gender Identity] bills grant protection to voyeurs who wish to prey on members of the opposite sex," the resolution states.
Mike Nowatzki, a spokesman for Burgum, declined to comment for this story beyond the governor's statement, Nowatzki wrote in an email to Newsweek.
At the state GOP convention, Republican delegates voted on a package of 53 resolutions that determine the group's values and stances on various political and moral issues—including a broad rejection of SOGI laws, or laws that prohibit discrimination on the basis of sexual orientation and gender identity.
Corby Kemmer, North Dakota Republican Party executive director, apologized for the offensive language and said that delegates would reconsider the resolution.
"The intent of the delegates was to stand up for individual and religious liberties, and, unfortunately, this language falls woefully short of that goal," Kemmer wrote in a statement. "We regret any offense this may have caused, and we will be reconsidering this resolution at a future meeting to bring it more in line with what delegates were attempting to communicate."
Newsweek contacted the North Dakota Republican Party for comment, but did not hear back in time for publication.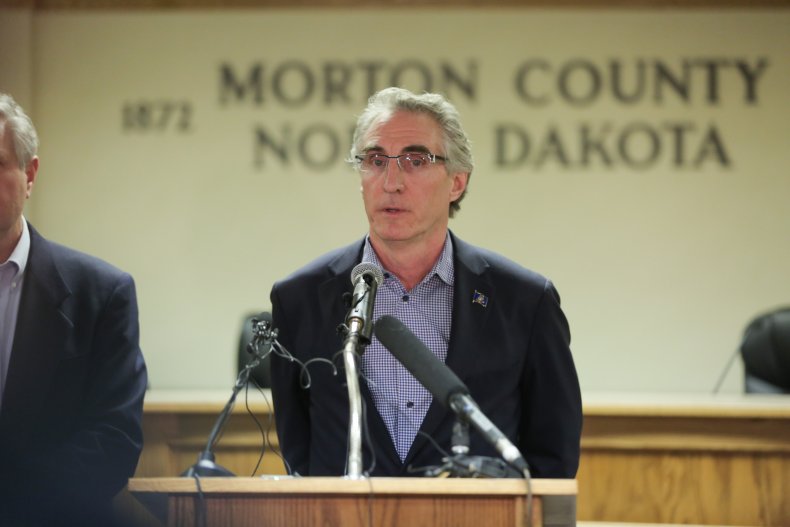 The resolution received blowback from Democrat lawmakers, as well.
State Rep. Josh Boschee, a Democrat who serves as the North Dakota House minority leader, said the resolution contains "blatant lies."
"This is nothing to help the image of North Dakota," Boschee, the state's only openly gay member of the Legislature, said in a statement. "This is just a gut punch to see they would approve language like this."
In a tweet late Wednesday night, Boschee encouraged other state lawmakers and Burgum to speak up if they disagreed with the GOP resolution.
"Is this how Gov. @DougBurgum feels? If not, then say something & do something about it!" Boschee wrote. Mere hours later—at approximately 1 a.m.—Burgum issued his statement denouncing the rhetoric.
"We can respect one another's freedoms without disrespecting or discriminating against the LGBT members of our state and our party, whom we support," Burgum said.
Update (07/23/20, 7:07 p.m.): This article has been updated to include a response from Gov. Doug Burgum's office.