A mom-to-be has divided opinion online after confessing that she doesn't want her husband to go to a music festival this weekend.
The British woman is 35 weeks pregnant with the couple's first child and is likely to be induced at 38 weeks, because of gestational diabetes and reduced movement.
Her husband, however, is planning to spend the weekend at the Glastonbury festival in rural Somerset—one of the U.K.'s biggest music events and a particularly hot ticket this year as it's taking place for the first time since 2019.
In a post on parenting forum Mumsnet, the woman explained that her husband had managed to get tickets thanks to a friend who works "high up" in the festival.
"He wouldn't normally be able to go due to the nature of his work, but he's got the weekend off," she wrote. "It's a three hour drive away and he would be drinking."
"I'm also aware [cellphone] signal can be pretty patchy, so I'm worried I couldn't get hold of him if things did kick off."
"Am I being unreasonable saying he shouldn't go as I'm 35 weeks pregnant with my first child?" she asked.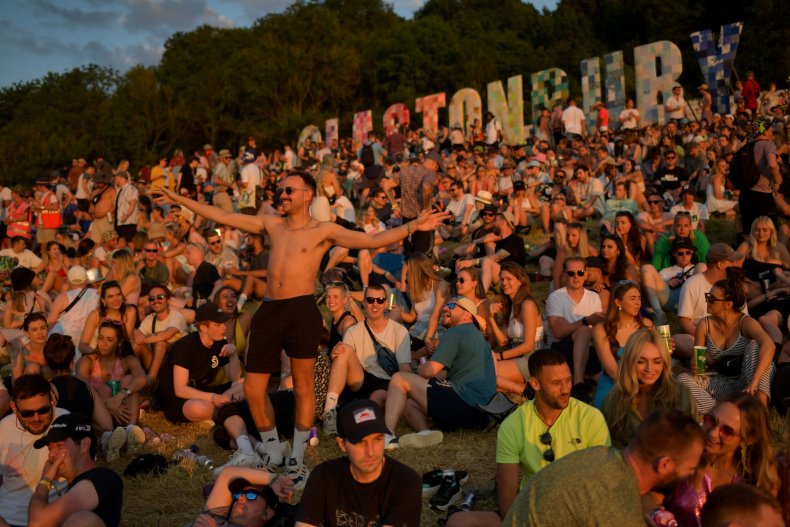 A new baby is a common cause of rifts between couples, research has found. One study conducted by psychologists John and Julie Gottman found that 67 percent of couples reported a decline in relationship satisfaction after the arrival of their first child.
Many of these problems are recorded when the baby is 6 to 9 months old but, in this case, the conflict has started even before the birth. To make her situation more complicated, her husband wouldn't be able to get a train home from Somerset because of strike action while her own family live some two hours away.
The mom-to-be's dilemma has sparked a fierce debate among Mumsnet commenters. "Honestly, you are being unreasonable," wrote one. "Unless you're very high risk for preterm labor, you're very unlikely to have any issues on the weekend he's away. I would have no problem with him going."
Another said: "I wouldn't question it, the baby isn't due and he wants to go."
A third user said the woman's husband should seize the chance to go to the festival: "This opportunity is unlikely to easily come round for him again in the near future. He's usually working? Tickets are sold out within hours. You will have a child he's 50 percent responsible for. This sounds like a lovely last weekend of freedom that I wouldn't begrudge him."
Others disagreed, arguing that with his wife so far into a complicated pregnancy he should be around to help out or be on call in case the baby arrives early.
"Drinking and not making it an essential priority to be contactable would be a major issue for me at 35 weeks," wrote one user. "Even if you are not about to imminently go into labor, at 35 weeks you can still be knackered, aching, unable to lace up your shoes and needing a bit of support."
The mom-to-be returned to the thread later to explain that she had discussed the situation with her husband—and realized it was representative of far bigger worries in their relationship. She is upset at the lack of money they have saved ahead of her maternity leave, while he confessed that he does not feel ready to be a parent. They are working through it, she wrote.