Bride Not Wanting to Cancel Honeymoon Despite Family Emergency Dragged
Reddit users have faulted a recently married woman for not wanting to cancel her honeymoon after her brother-in-law and his family had a car crash.
In the thread, user RealitySome3605 said she is from Thailand, 24, and her husband, 32, is from America. They were recently married after knowing each other for six months and had planned to travel around Europe, Asia and Africa for two months on their honeymoon. That plan is now in jeopardy after her brother-in-law and his wife and child were in a car crash, causing her new husband to want to cut their honeymoon short and go home to see them.
"His parents and his in laws are helping with the kids so there's really nothing they need help in. I told him our honeymoon was important because it's a time for ourselves to enjoy and spend together," she wrote. But her husband "wasn't having any of it, he called me selfish and then he kicked me out of our bedroom, I had to ask for a new one until he decided to let me in again.
"He told me that he's leaving tomorrow because he needs to be supportive of his brother and told me I can continue the trip by myself. But that's not the point of [a] honeymoon at all, I told him so and he said that if he would've known how bitchy I was he would've never dated me. Am I really wrong here?" the poster said.
A survey by betting comparison website Compare.bet found that where you go on your honeymoon can have an impact on whether your marriage will last. The survey asked 31,000 people whose marriage had ended in divorce where they went on their honeymoon. Despite being a dream honeymoon destination for many people, the Maldives came out on top as the biggest marriage ender, with 20 percent of the divorced people surveyed having honeymooned on the islands.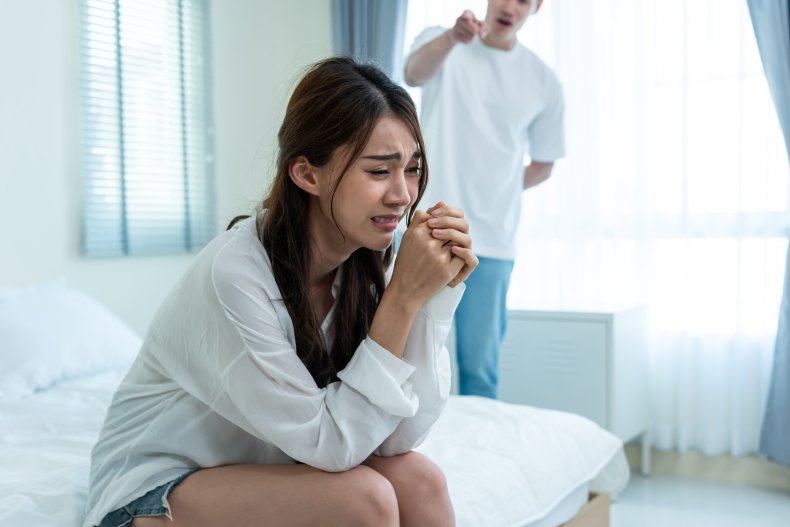 The Reddit poster wrote, "He doesn't want me contacting his family so he insisted that I shouldn't have their numbers, the only few times I've spoke to them over the phone was using his phone but not he doesn't allow me to call them."
On Reddit's AmItheA***** page, the users' verdict was that she was one. But clinical counselor Linda Whiteside told Newsweek she disagreed.
"From my perspective as a counselor, I don't think that the wife is overreacting in this case. I don't want to say that the wife is fully not at fault here, as she also seemed to be too focused on the honeymoon rather than attending to the crisis her husband and his family is going through."
Whiteside continued: "One red flag that I noticed was that, yes, the husband was definitely stressed out by the situation of his brother, but it was wrong of him to kick out his young new wife from their shared hotel room over a minor disagreement. This is an unpleasant overreaction. It seems like he wants to exercise control over her by withholding information and literally shutting her out.
"For him to then comment that he 'would not have dated her' had he known how 'bitchy' she is is also a cruel and seemingly over-top reaction, which suggests to me that there is more going on here than meets the eye. I would suggest the wife has a clear and frank conversation with her husband, explaining that she understands he is upset but she is disappointed that they are having to cancel their dream trip, and gauge his reaction," Whiteside said.
Despite voting that the original poster is an a******, many users in the comments called out the husband's behavior.
User kittyinwonderland420 commented, "GET AN ANNULMENT. This relationship is full of red flags, I'm worried for you hun."
Others said the original poster was in the wrong.
MaybeAWalrus said, "Doesn't matter how well your in laws are doing. The only important thing here is that your HUSBAND doesn't feel right staying away from his family in this time of need.
"Your husband is NOT having fun with you right now, he is not enjoying your company because his mind is elsewhere and he is worried for his brother. Yes, it's 100% wrong of you to ask him to disregard his own feeling just so he can keep you company, for your own little sake."
Newsweek has reached out to @RealitySome3605 for comment.
Have you noticed any red flags that made you end a relationship? Let us know via life@newsweek.com. We can ask experts for advice, and your story could be featured in Newsweek.