Fury as Man Refuses To Let Wife's Friend Stay Over After She Was Kicked Out
A woman on Mumsnet has asked if she is being unreasonable "to think DH is in the wrong and is being insensitive."
In the post the woman (who goes by the moniker Roarlikealiontonight) explains that a work colleague recently turned up at her house on Valentine's Day, "crying and with her daughter" asking if she could stay the night after her husband kicked her out.
She reports that the woman said she didn't feel safe with her husband any more.
She goes on to say that her husband quickly interjected and said "no," despite the fact that they have the space.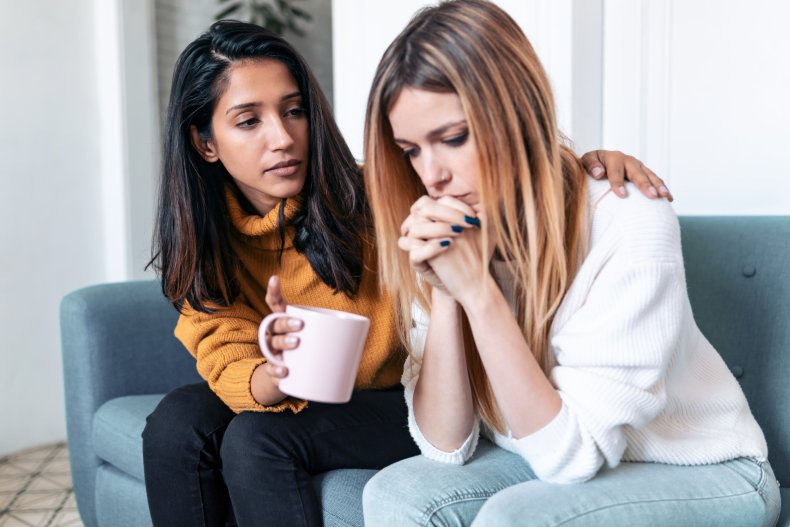 "I told her I'd speak to DH and gave her some money to go get a coffee with in the meantime." She explains that her husband told her not to go and meet her friend and not to allow her to stay the night.
Some 92 percent of Mumsnet users voted that the OP was not being unreasonable with one user commenting, "Your dh doesn't get to refuse. Unless he wants to be labelled also abusive..", while another said, "Na i am with your husband. Don't let randos who are not in a fit state of mind in your house."
In an update, the OP revealed "I'm going to my car now to go and meet her at the coffee shop and have a conversation about what's happened and make sure she's ok. I'll deal with DH later. I think I'll just let her sleep at ours tonight if I have to."
Newsweek spoke to Andrea Miller, founder and CEO of relationship advice website Your Tango and author of Radical Acceptance: The Secret to Happy, Lasting Love about the situation.
"Contrary to many of the readers' outraged replies to the husband's reaction, I believe his perspective was likely reasonable, but how he communicated was a mistake. There's a lot to unpack here," she said.
"Why do I say his perspective was likely reasonable? I could see him having valid concerns about what it would mean to let someone who's not a close friend or family member running from an abuser in at the last minute for these reasons: Could the abuser show up at their door and cause trouble or be violent?
"Yes, absolutely. Abusive men are already prone to violence and hostility. We have all seen terrible stories where abuse becomes fatal. This seems to be happening more and more unfortunately.
"Open, honest, safe communication is massively missing here. But this is not uncommon in many marriages, unfortunately. I bet if you polled 100 men, the majority of them would have responded in the same way or similarly—their instinct being to protect their own.
"And if you polled 100 women, I bet the majority would be empathetic and compassionate and want to help, their instinct being to help an abused woman in need. So many of us have been there. We know how scary it is, and how common it is. And, yes as someone commented, for a woman to finally summon the chutzpah to leave an abuser, she absolutely does need and deserve help.
"I would recommend that the wife do what she did regarding sending the co-worker to a coffee shop to buy some time.
"Then, she should take a breath, center herself and ask her husband to sit down with her to: a) understand his concerns b) discuss how they might be able to help this woman in need and perhaps c) educate him on what abused people face so he might be more compassionate and open to helping.
"Should he be more informed and compassionate? Ideally, yes, but again we don't know a lot about what's going on here. Maybe he is ignorant and understanding the situation better would cause him to be more open and willing to help."
Newsweek was not able to verify the details of the case.
Have you noticed any red flags that made you end a relationship? Let us know via life@newsweek.com. We can ask experts for advice, and your story could be featured on Newsweek.