Husband of 15 Years Slammed for Wanting Threesome With Wife's Friend
Some say honesty is the best policy—although perhaps, just sometimes, certain things may be better left unsaid.
In a popular Mumsnet post, user Puppies831, explained her husband of 15 years has started to act "out of character" as he recently revealed he has a crush on one of her close friends.
She wrote: "He's made numerous comments about her being really attractive and mentioned how he'd love a threesome.
"I know for a fact that she would never even look at him in that way, let alone do anything else, but I can't help feeling jealous and insecure when we are all hanging out together."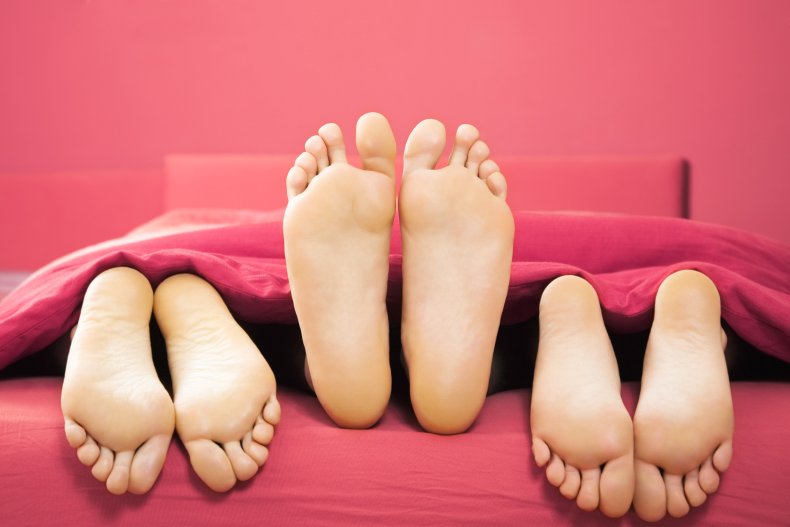 The woman pointed out her friend has a boyfriend but she could not help but wonder if her husband was checking her out every time they were all together.
In March 2021, from a sample of 3,438 single adults in the U.S, researchers found one in six (16.8 percent) wanted to be polyamorous, and one in nine (10.7 percent) have been polyamorous at some point in their lives, according to the authors of the study published in Frontiers in Psychology.
However, a non-monogamous relationship isn't something this wife wants.
'People Grow and Change Their Views, Habits, Desires, and Kinks'
Kimberly Chapman, 29, a relationship coach, told Newsweek: "Finding other people attractive is completely normal in a healthy relationship. It becomes an issue when fantasies start to impact romantic feelings and actions taken toward another person.
"If your partner fancies a friend, you must have an open dialogue about boundaries and what you both feel is appropriate moving forward. Outline exactly what type of communication and behavior you are comfortable with them engaging in. This may require continued conversations about their interactions, how they make each of you feel, and what the long-term expectations are. Ultimately, you must come together as teammates and create a plan on how to proceed in the relationship with trust.
"A conversation about new desires and what your partner feels is missing from the current relationship is important as well. When you enter a relationship or marriage with someone, you must have the expectation that they will evolve throughout the years. People grow and change their views, habits, desires, and kinks. Stay vulnerable, curious, and open-minded throughout the evolution of the relationship."
In the comments, the original poster referred back to a night out in 2022. She wrote: "They were discussing the topic of a threesome. I thought they were both flirting a little bit. Then at the end of the night, she kept going in to hug him. Since then we've hung out loads of times and she has kind of been distant with him since then. She hasn't hugged him once since and it feels like there's a bit of an awkward vibe between the [two] of them."
Over 170 Mumsnet users have responded to the post and some have even implied they are having an affair.
"He is rude and disrespectful and surely he knew when he said he has a crush on your friend that it would make you feel insecure? I would leave him personally even if he didn't cheat, the disrespect alone would make me want to leave," commented one user.
Another person said: "Sorry, why are you still wanting to be with someone like that? 15 years and he wants a threesome with a friend disgusting. Out of character or just now decided to verbalize it. Sorry I wouldn't be staying if that was my marriage I deserve respect."
"I think it's distinctly possible that they are already having an affair," said another person.
Newsweek was not able to verify the details of the case.
Has infidelity broken your trust in your partner? Let us know via life@newsweek.com. We can ask experts for advice, and your story could be featured on Newsweek.