Husband Share Wife's Reaction to Seeing Lost Wedding Video for First Time
An adoring husband has captured the moment he surprised his wife on their anniversary with a screening of their long-lost wedding video.
Drew Gottfried shared a video to TikTok capturing the heartwarming moment he surprised his other half Kayla during a trip out to the movies.
Kayla assumed they were marking their 14th wedding anniversary with a low key trip out to the cinema—but Drew had other ideas.
Unbeknownst to his wife, he had managed to get his hands on a copy of their wedding video - a tape they were previously told had been "accidentally erased."
Renting out a local theater, he organized it so that the video would play in place of a movie.
All that was left was for Drew to chronicle Kayla's reaction to what he described as "a surprise 14 years in the making."
Writing alongside the moving clip, Drew explained that his wife had "never seen a video of our wedding ceremony."
"We were told shortly after our wedding that the video had been accidentally erased," he continued.
"A couple of months ago a friend found the video with a bunch of old tapes at our church and gave it to me!."
Drew revealed that his wife had "no idea what is about to play" having been duped into thinking they were heading to a screening of "one of her favorite movies."
What followed was a mix of shock, elation and joy as Kayla revisited something which, as Drew puts it, the couple "thought was lost forever."
Tears soon began to flow as the scale of Drew's romantic gesture dawned on Kayla.
Sharing a warm embrace with her husband, the clip ends with the couple cuddling close together as they watch back one of the happiest days of their lives.
First uploaded to Tiktok on July 20, the video has already been viewed more than 3.5 million times, racking up over 11,000 comments in the process.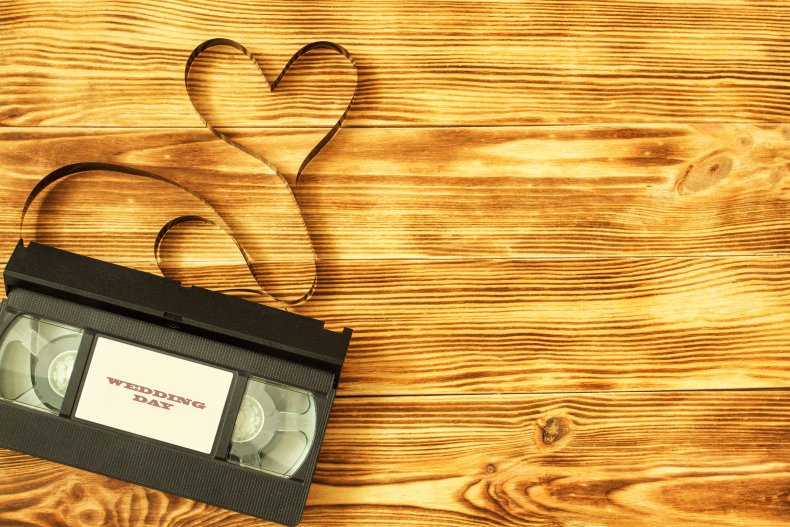 Reacting to the clip, many on Tiktok were left feeling understandably emotional by it all.
Ashanttyyy wrote: "I'm literally crying."
Mamafoote6 commented: "I started crying as soon as the room went dark knowing the joy she would have. I love it."
Lena__gg, agreed saying she was "crying before the wedding clip even started."
Imchrissheldon went further claiming: "Bruh, I cried from the explanation alone."
Drew was also praised for organising such a memorable surprise.
Helonwheels said: "I love that you didn't just tell her and bring the video home, you planned a whole beautiful surprise for her. What a gem."
Porkasaurusrex commented "She just fell in love again when she realized the effort you put in."
Angieegonzz wrote: "I can see why you have been together 14 years."
Crivcastro18, meanwhile, declared: "Ladies and gentlemen...the 2021 Best Husband Award goes to...this wonderful man!"
Drew later returned to Tiktok in a second video where he commented on the online reaction to his anniversary surprise.
"This has been a crazy morning," he said.
"I posted that video because I knew our friends and family would enjoy it, but I had no idea you guys would love it so much. I will get a snippet of the ceremony posted soon."
True to his word, he returned with one final clip - a snippet from their wedding video all those years ago.
Newsweek has reached out to Drew and Kayla Gottfried for comment.