Husband Branded Unreasonable for Refusing to Share Pet With Wife: 'My Dog'
A husband has been accused of acting like a "child" online after arguing with his wife about the ownership of his dog.
In a viral Mumsnet post titled: "It's my dog, not our dog," user Bieder explained a row they had on February 22.
He wrote that he paid, trains, and spends the most time with the dog. So he believes the pet is his, but his wife, who lives in a different home, considers it to be both of theirs.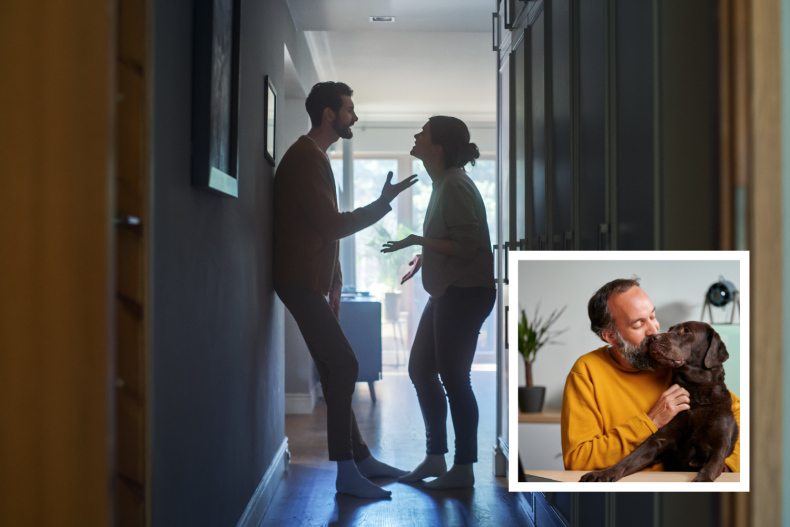 According to the U.S. Census Bureau, 63.8 million of the 128.5 million occupied housing units own a pet, and almost half of those (49.6 percent) own a dog.
A marriage therapist told Newsweek that it's important that the Mumsnet poster is clear about the ownership to avoid any costly custody fees if the couple break up in the future.
Explaining his story, the man wrote: "I live in the countryside and she lives in the city. A couple of years into our marriage I decided to buy a puppy because I always wanted a dog and I have the space and the time now."
The dog stays with his wife two to three times per year while he is on a business trip.
"My wife loves the dog and indulges him which can sometimes lead to a bit of conflict as I feel she undermines his training. But I'm pretty happy to trust her with him and glad they get on so well. So this isn't the issue," he wrote.
He then explained the problem, that his wife believes the dog belongs to her, too.
"She got quite upset about that and said because we're married we share everything, and hence the dog is our dog. I love my dog very much and invested so much time in bringing him up well and looking after him. He has a great, happy life with me in the countryside. I regard him as my dog and I don't like that she simply assumes there is this joint responsibility and custodianship," he wrote.
Mumsnet users were shocked by this husband's reaction, but senior therapist Sally Baker told Newsweek that it isn't anything unusual.
London-based Baker said: "I absolutely recognize how emotive this topic can be, and I have experience of working with a couple who separated amicably initially, but then spent thousands of pounds fighting over the custody of their previously co-owned dog.
"I think it's important that he is clear with his wife that he considers the dog to be solely his. It is clear the boundaries are blurred especially because she occasionally has the dog on her own. It's interesting that his wife does not comply with how he has trained the dog and undermines his wishes.
"This could be considered passive-aggressive behavior and could signify she already feels she has an equal part in the ownership of the dog. It also suggests she feels entitled to make choices that are at odds with how he would want the dog to be treated," Baker added.
"The husband bought the dog, so hopefully the paperwork is in place that supports his claim to ownership. Should the worst happen and this couple ever split up, this could be crucial to avoid costly divorce proceedings."
More than 280 Mumsnet users have commented on the post, and 77 percent of 1,422 voted 'you are being unreasonable.'
One user wrote: "Yes he's your dog but I don't know why you needed to be so pedantic about it."
"You're married. He's both of yours," commented another.
"You're being ridiculous. I refer to the Nissan as "our car" even though I've only driven it once. I refer to visiting "our relatives" when I see people from [my husband]'s family. "Our shed" even though he paid for it and I almost never use it. When you live a shared life (i.e. by getting married) then some things become "ours", even if only by phrase. What difference does it even make to you?" questioned another user.
Another person posted: "I can see why she lives separately. You sound like a child, honestly."
Newsweek was not able to verify the details of the case.
If you have a family dilemma, let us know via life@newsweek.com. We can ask experts for advice, and your story could be featured on Newsweek.