Husband Hilariously Ruins Gender Reveal With This Reaction: 'Never Forget'
A video of a man's reaction to finding out that he is going to have a boy at a gender reveal party has gone viral on TikTok with over 1.5 million views.
In the recent video, which was posted by user @andysplatt, the couple can seen standing in a backyard holding confetti cannons, while balloons in the background spell out "oh baby."
The couple sets off the cannons revealing blue confetti, just as the husband sprints away and throws himself into a swimming pool while guests look on, with one man narrowly avoiding a dip himself. The video's caption read, "Never forget."
"I will never get gender reveals," one user commented.
Another user added: "Awe! He's so happy! I love it!"
A gender reveal party is a gathering organized by prospective parents to reveal the sex of their baby to family and friends. The event often includes cake, banners, balloons with either blue or pink motifs, and confetti cannons with either pink or blue confetti that is used to reveal whether the baby will be a girl or boy.
The parties have become more in recent years, sometimes with disastrous consequences, whether its piercing a guest with a dart or losing the cake to a dog in a park.
Some parents-to-be want to know the sex of their baby and share it with others as soon as possible, while others want to staunchly wait until the birth to find out.
The American Pregnancy Association suggests that there are pros and cons to knowing and not knowing.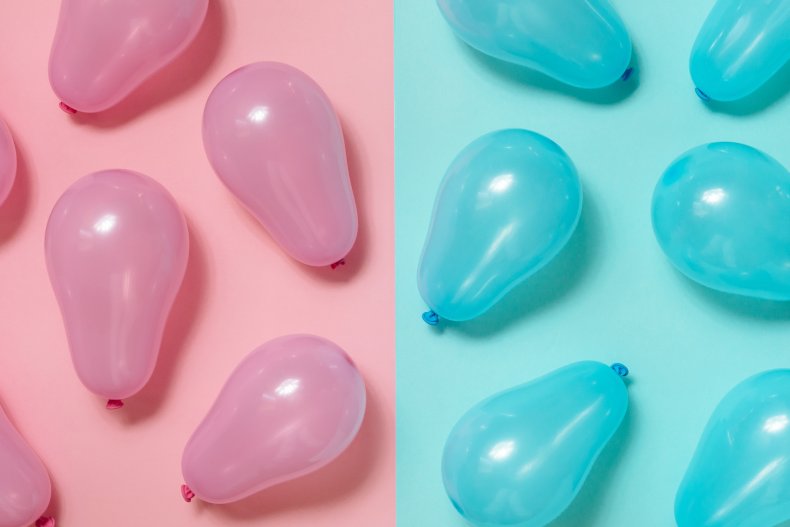 One pro, it says, is that it reduces stress and that the couple can prepare ahead of time.
"Nine months is a long time to be pregnant, so keeping busy helps the time fly by faster. When a couple know the baby's gender, they can decorate the nursery ahead of time in colors other than neutral green or yellow," the American Pregnancy Association says on its website.
Some cons, however, include losing the element of surprise, which is an important factor for some couples.
"Some couples don't want to know ahead of time because they believe it's more fun to wait till birth. They love the idea of surprising family and friends—and even themselves!" the association says.
It also reports that learning the sex of the baby may encourage family and friends to express disappointment, which may lessen the excitement of the process.
"Even if the couple is thrilled with the sex of their little one, family members or friends could express disappointment and that can be very stressful and downright annoying!" the American Pregnancy Association added.
Meanwhile, users on TikTok found the gender reveal to be hilarious.
"no but why did he jump in the pool im crying" said user Zeeya.
In addition, user Bonita Marie commented, "I will never forget this video, this goes down in history for sure!"
Newsweek has reached out to @andysplatt for comment.