Hutchinson Dismisses National Abortion Ban Fears After McConnell Remarks
Arkansas Republican Governor Asa Hutchinson dismissed concerns Sunday of a national abortion ban, after GOP Senate Minority Leader Mitch McConnell said one would be "possible" if the Supreme Court ultimately overturns Roe v. Wade.
After a leaked draft opinion of a pending abortion ruling by the nation's top court showed on Monday that the majority of the justices appear ready to overturn the longstanding legal guarantee that women can access abortions, McConnell told USA Today that a national ban on the medical procedure would be on the table.
"If the leaked opinion became the final opinion, legislative bodies—not only at the state level but at the federal level—certainly could legislate in that area," the Kentucky Republican said in the interview published Saturday. "And if this were the final decision, that was the point that it should be resolved one way or another in the legislative process. So yeah, it's possible."
Hutchinson was asked about McConnell's remark during an interview with ABC News' This Week. The GOP governor responded by saying that such a ban would be "inconsistent" with the goals of conservatives, regarding restricting abortion in the country.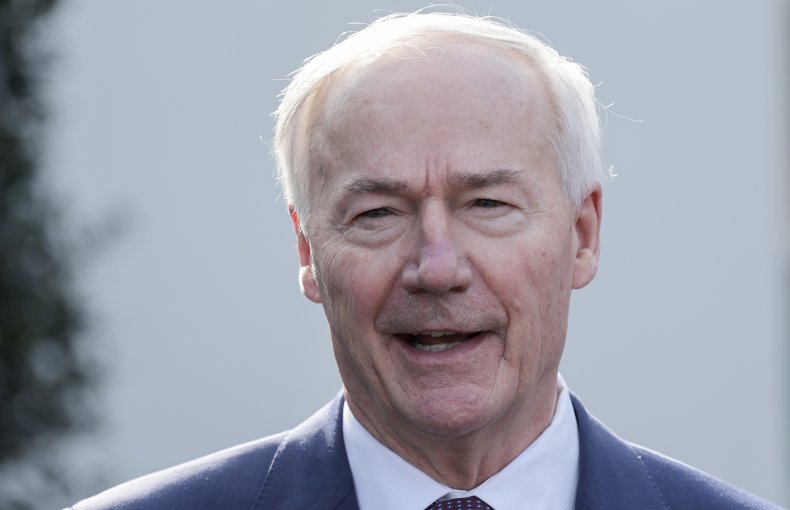 "I think that's inconsistent with what we've been fighting for four decades, which is that we wanted the Roe vs. Wade reversed and the authority to return to the states," Hutchinson said. "So, as a matter of principle, that's where it should be."
"If you look at constitutional or a national standard, that goes against that thrust of the states having prerogative," the Republican governor explained. "And secondly, I think there's some constitutional issues of a national standard as well as to what is the authority of the Constitution to enact that."
Arkansas is one of 13 states with "trigger laws," that will outlaw abortions if Roe v. Wade, as well as the related case Planned Parenthood v. Casey, is overturned. In the case of Arkansas, the state's law would make abortions illegal except in cases where the pregnant individual's life is in danger.
Whether Republicans ultimately pursue a national abortion ban remains to be seen. In the near term, Roe v. Wade being overturned would result in many conservative states outlawing or severely restricting access to abortions. Liberal states will continue to offer abortions as usual, however, experts have said their medical facilities and clinics offering the procedure will likely become more crowded as women from Republican-led states travel to have abortions where it's legal.
Democrats and abortion rights activists have warned that the Supreme Court ruling could have negative impacts on other individuals liberties, including LGBTQ and interracial marriage.
"If the right to privacy is weakened," Vice President Kamala Harris warned last week, "every person could face a future in which the government can potentially interfere in the personal decisions you make about your life."
Justice Samuel Alito, who authored the leaked draft opinion, attempted to mitigate those concerns in the document. "Nothing in this opinion should be understood to cast doubt on precedents that do not concern abortion," he wrote. "What sharply distinguishes the abortion right," the justice argued, is that it destroys "potential life," and that "none of the other decisions cited by Roe and Casey involved the critical moral question posed by abortion."
Newsweek reached out to McConnell's spokesperson for comment.
Polls show that the majority of Americans do not believe that Roe v. Wade should be overturned. Survey results from a Yahoo News/YouGov poll conducted from May 3 to 6 showed that less than a third (31 percent) of Americans thought the 1973 Supreme Court ruling should be overturned. More than half (51 percent) said it should not be overturned.
A June 2021 survey carried out by Gallup found that 58 percent of Americans did not believe the precedent should be undone by the nation's top court. That poll also found that less than a third (32 percent) wanted the historic decision to be overturned. March polling results from Pew Research found that 61 percent of Americans believe abortion should be legal in at least some cases.