What is the Hyde Amendment? Joe Biden Faces Backlash for Supporting Controversial Abortion Measure
2020 Democratic hopeful Joe Biden was placed in the middle of the nationwide abortion debate on Wednesday when his presidential campaign confirmed that he still supported the controversial Hyde Amendment.
The 1976 measure, passed three years after the Supreme Court legalized abortion in Roe v. Wade, prohibits the use of federal funds for abortion services. Medicaid can only be used to cover the procedure in cases of rape, incest or to save the life of the woman.
The Hyde Amendment was passed as a temporary "rider" to the annual congressional appropriations bill for the Department of Health and Human Services, which means that it needs to be reauthorized every year. Seven presidents, three Democrats and four Republicans, have supported the measure (or at least a modified version) over the past four decades.
Barack Obama even used similar language in an executive order relating to the Affordable Care Act. The order established "an adequate enforcement mechanism to ensure that Federal funds are not used for abortion services (except in cases of rape or incest, or when the life of the woman would be endangered), consistent with a longstanding Federal statutory restriction that is commonly known as the Hyde Amendment."
But reproductive rights advocacy groups argue that the Hyde Amendment is a discriminatory policy that hurts minority women and women with low incomes. According to the Guttmacher Institute, women of color disproportionately make up the majority of Medicaid enrollees. Thirty percent of black women and 24 percent of Hispanic women are enrolled in the program, as opposed to 14 percent of white women.
"The Democratic Party platform is crystal clear in supporting the right to safe, legal abortion and repealing the Hyde Amendment, a position held by the majority of voters," Kelly Robinson, the executive director of the Planned Parenthood Action Fund, said in a statement on Wednesday.
"Supporting Hyde isn't good policy or politics. We strongly encourage Joe Biden to speak to the people whose lives are impacted by this discriminatory policy and reevaluate his position," Robinson added.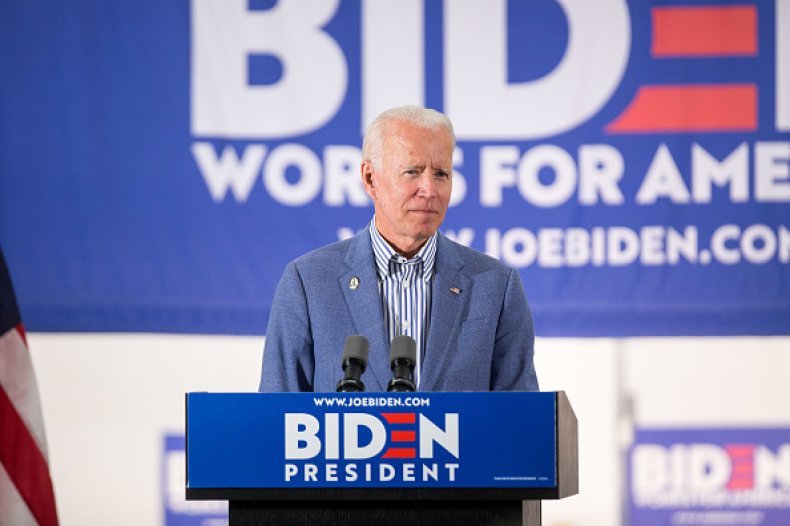 In 1977, as a senator from Delaware, Biden voted against a measure to allow Medicaid to fund abortions for victims of rape or incest and when a woman's life is at risk. Despite Biden's opposition, the exceptions for rape and incest passed. But years later, he voted again to remove them.
Biden's support for the Hyde Amendment made headlines recently after he accidentally told an American Civil Liberties Union volunteer that the abortion measure needed to be removed. "It can't stay," he said to the volunteer last month.
The exchange prompted news outlets to report Biden's attitude shift toward the Hyde Amendment. But on Wednesday, his presidential campaign confirmed to NBC News that he had misheard the volunteer's question and that he still supported the amendment.
Biden's position on the issue immediately sparked backlash from abortion rights activists and his fellow 2020 Democratic candidates.
Bernie Sanders retweeted a post from 2016 in which he wrote: "We must rescind the Hyde Amendment and resist attempts by states to erect roadblocks to abortion." Sanders' "Medicare for All" health care plan would essentially kill the Hyde Amendment.
Texas Democrat Beto O'Rourke also took to Twitter to protest the Hyde Amendment, writing: "No matter your income or where you live, every woman should have access to health care including abortion."
Kirsten Gillibrand joined in the debate, writing online that "Repealing the Hyde Amendment is critical so that low-income women in particular can have access to the reproductive care they need and deserve. Reproductive rights are human rights, period. They should be nonnegotiable for all Democrats."