Hydroxychloroquine for COVID Treatment Linked to Suicidal Behavior by European Regulators
A drug regulation agency for the European Union has confirmed that chloroquine and hydroxychloroquine, which were touted by President Donald Trump as treatments for COVID-19, can lead to "serious" psychiatric disorders and suicidal behavior in individuals who take them.
Throughout the pandemic, Trump has repeatedly promoted hydroxychloroquine and chloroquine despite a lack of scientific evidence that they were effective in treating COVID-19. The Food and Drug Administration also granted the drug an emergency approval authorization in the spring. But that was revoked in June after trials showed no evidence that the drugs had a significant impact in treating the disease caused by the virus.
"The review confirmed that psychiatric disorders have occurred and may sometimes be serious, both in patients with and without prior mental health problems," the European Medicines Agency said in meeting highlights published on Friday. "Based on the available data, the review showed that, for hydroxychloroquine, the side effects may occur in the first month after the start of treatment. For chloroquine, there was not sufficient data to establish a clear timeframe."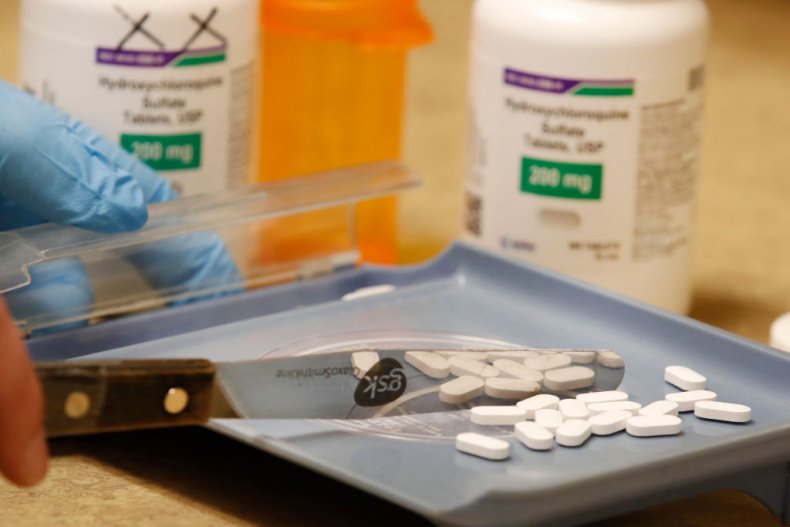 Although psychiatric issues and suicidal behavior had already been noted in previous studies of the side-effects of hydroxychloroquine and chloroquine, the EMA had sought to confirm these problems in evaluating those that had recently been treated with the drugs. The EMA committee reviewing the drugs recommended "updating the product information for these medicines to provide better information to healthcare professionals and patients on the risk of suicidal behaviour and psychiatric disorders."
A spokesperson for the FDA told Newsweek in an email that the agency had noted the possibility of negative psychiatric effects linked to the drugs in a fact sheet when it granted the emergency use authorization in the spring. The spokesperson said "there are also warnings in the labeling for the approved indications."
Hydroxychloroquine is a common anti-malarial drug that is also used to treat rheumatoid disease and lupus. Despite concerns about the drug, and evidence suggesting it was ineffective against treating COVID-19, Trump took hydroxychloroquine as a preventative measure in May.
"Well, I've heard tremendous reports about it. Frankly, I've heard tremendous reports. Many people think it saved their lives. Doctors come out with reports," the president said in late May after he had finished using the drug.
The president contracted COVID-19 in early October. His doctors said he was not given hydroxychloroquine as a treatment before he recovered. Trump was treated with an antibody cocktail called Regeneron. Although that promising treatment is now being distributed by the government, it is in short supply with doctors forced to ration it, if they can get it at all.