Hydroxychloroquine Doctor is Furious Donald Trump Took 'Experimental Antibody Stupidness'
A doctor notorious for claiming hydroxychloroquine is a "cure" for COVID-19 has denounced White House doctors for not giving President Donald Trump the drug to treat his infection.
Dr. Stella Immanuel, who gained fame in July after Trump retweeted a video showing her touting the malaria drug, expressed outrage in a series of tweets on Friday, condemning the medical decisions of "bozo doctors" who surrounded the president after he tested positive for COVID-19.
"Instead of giving the president of the United States a known safe drug," Immanuel tweeted. "They gave him some experimental antibody stupidness. This is so dumb. Please potus family you guys wake up. Give him HCQ, Zpack & zinc asap."
"Whoever told the president to stop taking HCQ should be punched in the face," she said in an earlier tweet. "This did not have to happened. I am so upset. This is our president for crying out loud. No one need to get sick or pcr positive."
White House physician Dr. Sean Conley issued a memorandum about Trump's condition shortly before he was transferred to Walter Reed Medical Center on Friday night, where he is expected to remain for "a few days." While the experimental antibody treatment Immanuel dubbed "stupidness" was on the list of medications the president had taken, zinc was the only inclusion from her alternative suggestion.
"Following PCR-confirmation of the President's diagnosis, as a precautionary measure he received a single 8 gram dose of Regeneron's polyclonal antibody cocktail," Conley wrote. "In addition to the polyclonal antibodies, the President has been taking zinc, vitamin D, famotidine, melatonin and a daily aspirin."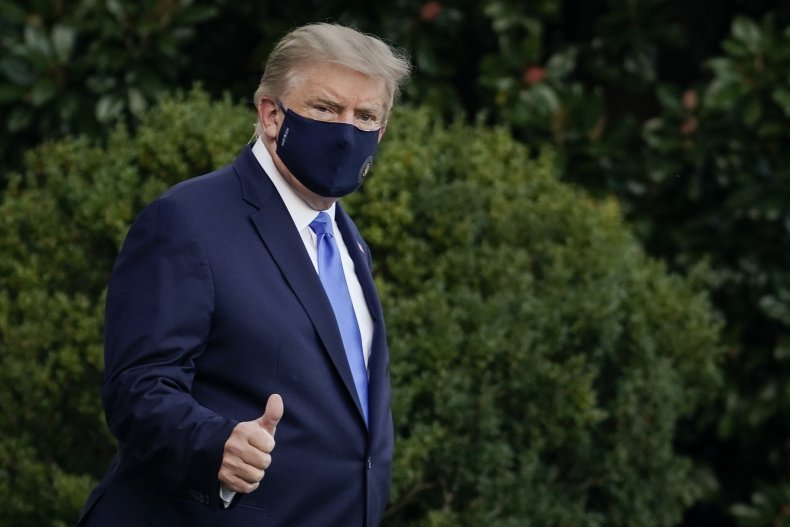 Leonard Schleifer, CEO of Regeneron Pharmaceuticals, insisted that taking his company's experimental treatment, made of potentially virus-neutralizing antibodies, could see the president's condition improve within one week. Although the treatment is widely viewed as having potential, some medical experts have expressed less confidence in its effectiveness.
Conley issued a second memorandum late Friday night, revealing that "in consultation with specialists, we have decided to initiate Remdesivir therapy" for Trump, referring to the antiviral drug that gained an emergency use authorization from the Food and Drug Administration (FDA) over the summer after studies showed it could reduce the length of time a person is ill with COVID-19.
Trump heavily touted hydroxychloroquine as a "game changer" during the early months of the pandemic. In May, he took a two-week course of the drug as a preventative measure, hoping it would prevent his infection after several White House staffers were diagnosed with the virus.
The FDA revoked hydroxychloroquine's emergency use authorization in July after evidence began to mount that suggested it was not effective for COVID-19. Two early studies of the drug, which were later criticized for questionable methodology, had hinted the drug could be promising. Several high-quality, randomized studies published subsequently were less than encouraging.
Regardless, Immanuel insisted that the drug was a "cure" for the virus. The video that was shared by Trump was later deleted from social media platforms for spreading misinformation. Other unsubstantiated claims from Immanuel include declarations that fasting can cure those affected by "witchcraft," that having sex with demons while dreaming can cause gynecological problems and that certain medications contain the DNA of extraterrestrial aliens.
"She was very impressive. I don't know which country she comes from, but she said that she's had tremendous success with hundreds of patients and I thought her voice was an important voice," Trump said of Immanuel, who was born in Cameroon but lives in Texas, after controversy erupted over his sharing the video.
Newsweek reached out to the White House for comment.