'Hyper Scape' Season 1, PS4 and Xbox One Release Dates Revealed in Trailer
Hyper Scape Season 1 is nearly upon us, and it arrives alongside the game's debut on console platforms. Announced via a reveal trailer on Thursday, Hyper Scape Season 1 is set to begin August 11 on PC, PS4 and Xbox One.
Season 1, called "The First Principle," will add LTMs, the new Dragonfly weapon, Magnet hack and features for the game's highly touted Twitch extension. In addition to that, the game's first seasonal event will also take place, in which melee is placed front and center.
While the event is active, teams will be able to enjoy increased melee lethality. And, to truly ensure Hyper Scape leaves a mark on the expanding battle royale landscape, fans will have the opportunity to work through the first free and paid Battle Passes with 100 tiers each.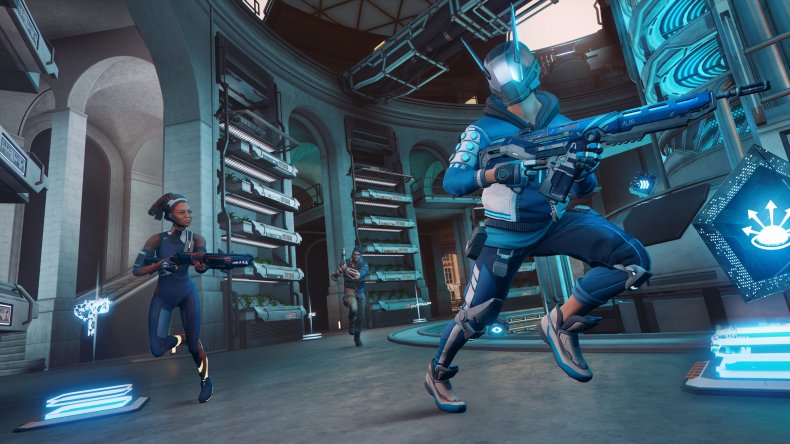 Hyper Scape has been in beta exclusively on PC for quite some time, and those who have played or watched footage of that testing period have a chance to benefit. With cross-progression, all items that active players unlocked through the trial will still be usable at the start of the season. For players who may have earned viewer rewards via the Crowncast extension, those will also instantly unlock the second they log in to Hyper Scape on their platform of choice. Fans who watch just one hour of action on a Crowncast-enabled Twitch stream can earn up to 600 premium Bitcrown currency.
Hyper Scape takes place in 2054, in the Neo-Arcadia metaverse. Beyond its sleek VR-based aesthetic, much of the game's battle royale conventions are fairly standard. Ninety-nine players drop onto a slowly shrinking map, and victory can be earned by being the last surviving player in the lobby. As an exciting twist, however, victory can also be earned by holding onto the in-match crown for 45 seconds. The game takes quite a few cues from the future-focused Apex Legends, but with a unique Ubisoft feel. It's also the first battle royale to feature heavy and constant Twitch integration.
When Hyper Scape launches on PS4 and Xbox One, it will be the game's first real test of the cross-play and cross-progression features that tie the game's whole community together. Questions remain over how that will all work, and even how much the aforementioned Battle Pass will cost, but it'll sure be exciting to see how well Hyper Scape fares with a wider audience.
Hyper Scape Season 1 begins August 11 on PC, PS4 and Xbox One.
Are you excited for Hyper Scape Season 1? Will this game make a splash on PS4 and Xbox One? Tell us in the comments section!