HyperJuice Review: You Need This MagSafe Battery Pack
It's hard to remember one year into a pandemic, but the scene at a conference or amusement park is usually one of excitement. There are picture-taking opportunities at every turn. A stream of messages to friends or family keeps your phone constantly busy planning meeting times. Most phones' batteries are no match for these types of days. The solution is to plug it into a power bank, but then it's attached by a cable and no longer pocketable. A portable battery pack is a double-edged sword in this regard. It keeps the fun going but can drag you down. These types of days will return and more power for your phone will be needed.
To improve the experience of powering up, Hyper's new HyperJuice battery adds a magnet for iPhones 12 to try to cut down on those pitfalls. The new battery pack uses the magnet Apple added in its latest iPhones to accomplish this.
Apple's premise with MagSafe was to improve the wireless charging experience. It's nice to lay a phone on a charging pad and not have to fiddle with a power cord, but if it's not lined up exactly, it won't charge. Magnets help align and secure an iPhone's placement. HyperJuice is a potential dream iPhone accessory in this regard. It employs the latest features to address a long-standing problem. But did Hyper manage to nail the implementation?
Fit and Finish
The excitement a power bank brings is wrapped up in keeping your mobile phone going. The moon shot for phones is that they should last as long as we need them to. So ultimately, this is a product that is purely utilitarian. It needs to be durable and reliable, not flashy or even stylish.
The HyperJuice is about the overall size of a pocket wallet. It has a matte black finish on all sides except the back, where it's gray and includes all the legal print. There's one button on the back, just below four indicator lights, and one USB-C port on the bottom edge. This product is just as attractive as it needs to be.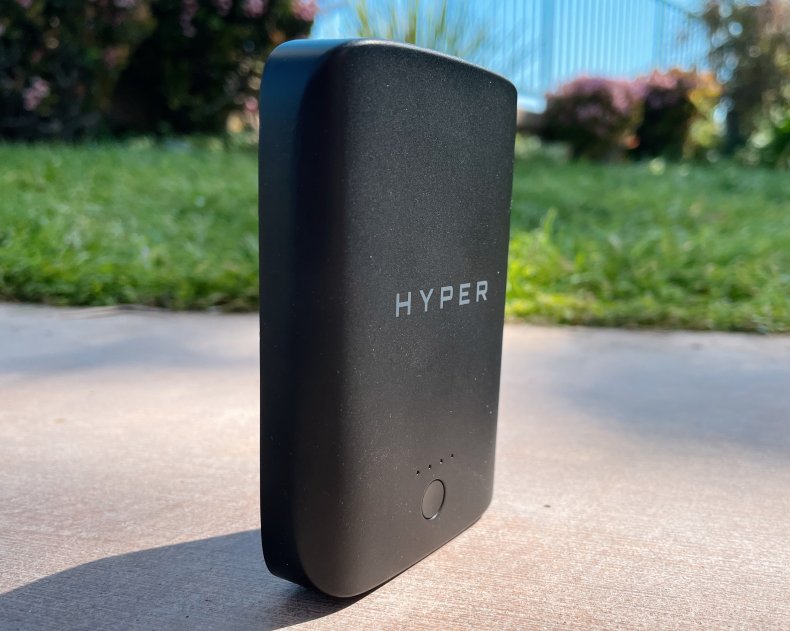 HyperJuice lists a weight of 0.33 pounds. Whether you can imagine how heavy that is or not, just know it's light in the hand and light while on the phone. The whole thing is plastic to keep the weight down, but it feels durable enough.
More than weight, the most noticeable part of the HyperJuice will be how it feels while holding a phone. It's not thick, but connected, it adds some bulk. The combo of the two items won't be pocketable in the tightest pants, but I could carry them in most of my front pants' pockets. I think it's still better than a battery connected with a cable.
Features, Specs and Price
Hyper's HyperJuice advertised features and price:
Price: $39.99
Battery size: 5000 mAh
7.5-watt wireless charging for iPhones 12
12-watt USB-C In/Out
Dimensions: 3.8 inches by 2.48 inches by 0.63 inches
Weight: 5.29 ounces
Compatibility: iPhone 12 mini; iPhone 12; iPhone 12 Pro; iPhone 12 Pro Max; any USB-C Device
Performance
You're likely to need the HyperJuice on days that you have too much going on to fiddle with a battery pack. It needs to work as expected. The good news is that in my testing and use, the HyperJuice didn't need much attention. In a nutshell: It did its job and stayed out of the way.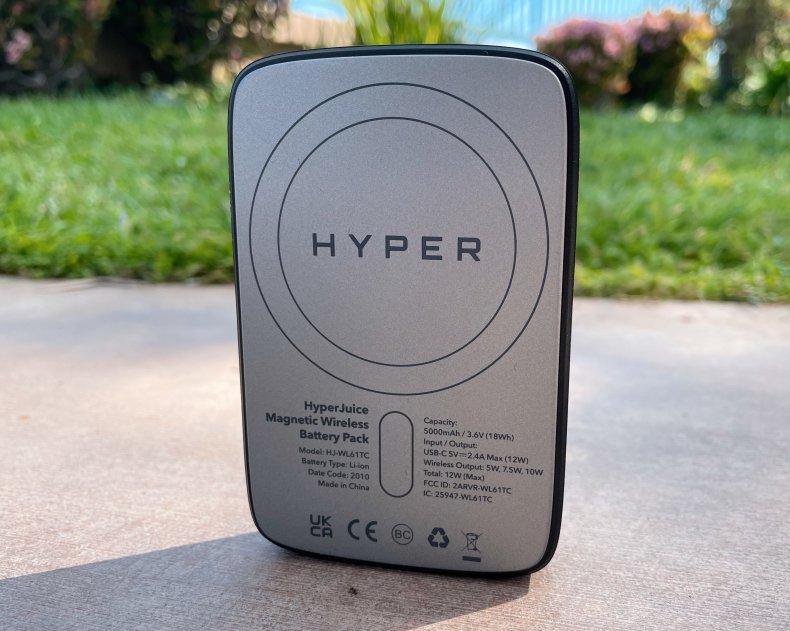 First, let's get some of the finer points out of the way. The HyperJuice is not an official MagSafe product, so it doesn't get its faster, 15-watt charging capabilities. It pumps power into a phone at 7.5 watts. For a real-world example, this speed added 8 percent of battery life to my phone in 15 minutes.
While the HyperJuice's 5000 mAh size can charge a mini's battery twice, it can't do that for an iPhone Pro Max. For some insight here, not all iPhone 12 models have the size capacity battery. The iPhone 12 mini is 2,227 mAh, the iPhone 12 and iPhone 12 Pro are 2,815 mAh. and the iPhone Pro Max 3,687 mAh.
Those items around capacity and speed could be slightly disappointing for the technical minded. In practice, the capacity and speed will serve most people just fine. What would matter more is if the battery didn't stay attached magnetically or if its charging was flaky and cut in and out. Neither of those issues are a concern here. The utility is solid.
I had no luck holding the phone and trying to shake the battery off. It stayed put, attached to the back. Sliding it in and out of a pocket is a little different. If the bottom slides to either side, that loosens its magnetic force. It becomes much easier for it to become disconnected if that happens. Over multiple days, I purposefully put it in and took it out of front and back pockets to get the sense for whether this would be an issue. The battery held on well with virtually no sliding around on the back of the phone. It definitely could come unattached, but in most scenarios, I don't think this would be common.
When the HyperJuice is charging, it will become warm to the touch. This may heat up your pocket. It's something worth keeping an eye on, but it doesn't appear to be dangerous by any means.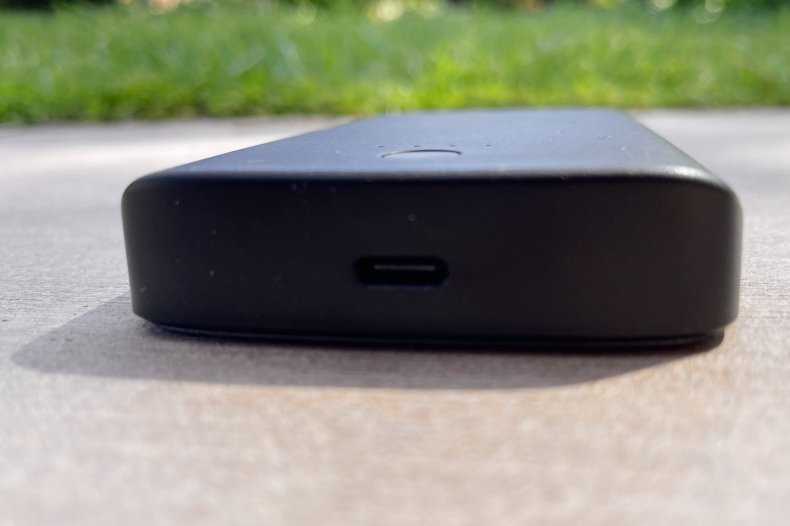 The battery pack's magnetic functionality is neat, plus it provides a cool little hack: It adds a USB-C port to an iPhone. Instead of needing to use a lightning cable, you can plug into the HyperJuice and charge it with a USB-C cable that way. Doing this passes power through the battery first to the phone, then to the battery pack secondarily. It doesn't show the large MagSafe circle animation on the lock screen, but the battery indicator in the top-right corner adds a lightning bolt icon like it does when you connect a cable.
Should You Buy the HyperJuice?
The HyperJuice is not the largest capacity power bank on the market. In fact, it only gives the iPhone mini two additional full charges. But that's the extent of its drawbacks. It's priced decently for its size and feature-set. It's extremely useful among iPhone 12 models with MagSafe and even versatile among non-iPhones.
It's a great device for trips or just to snap onto the back of your iPhone 12 at the end of the day if you're not near a wall charger. It's a product that should be in a lot of tech pouches.
Buy at Hyper.
Newsweek may earn a commission from links on this page, but we only recommend products we back. We participate in various affiliate marketing programs, which means we may get paid commissions on editorially chosen products purchased through our links to retailer sites.