HyperX x Ducky One 2 Mini Keyboard Price, Details and Where to Buy Limited-Edition Mechanical Gaming Device
Gaming has just got a lot more interesting.
Gamer brand HyperX and keyboard manufacturing company DuckyChannel International have teamed to create a limited-edition HyperX x Ducky One 2 Minimechanical gaming keyboard.
Its major selling point: it's 60 percent smaller than other gaming keyboards, meaning more mouse movement space.
According to the press release, the HyperX x Ducky One 2 Mini features HyperX red linear mechanical switches that are built for performance and has an 80 million lifetime click rating per switch. It also has red, green and blue (RGB) exposed backlit keys, which means brighter illumination and cool lighting effects. The collaboration with DuckyChannel brings the company's design and the Ducky PBT double-shot seamless keycaps.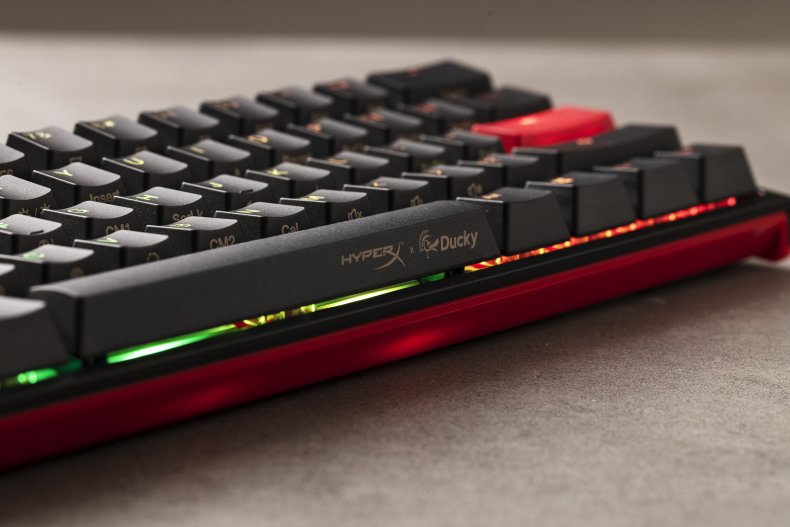 However, the keyboard has limited availability.
Only 3,700 units are available worldwide, with each keyboard laser marked with a unique edition number on the base. It comes in a black and red dual color bezel design with a durable frame that has three adjustable keyboard angles. It also comes with a Ducky keycap puller, additional colored keycaps and a Ducky Year of the Rat spacebar.
From Taiwan, Ducky was founded in 2008 and provides mechanical keyboards across the globe. "Ducky is happy to work closely with HyperX to develop the HyperX x Ducky One 2 Mini with HyperX switches to give users the best combined gaming keyboard experience," says Erik Hsieh, senior marketing executive, DuckyChannel International Co. Ltd. "Our collaboration with HyperX is all about delivering solid and reliable mechanical gaming keyboards, we can't wait for our users to use the HyperX x Ducky One 2 Mini."
HyperX is the gaming division of Kingston Technology Company, Inc., an independent memory manufacturer that has been creating gaming products for 16 years. Its products include high-speed memory, solid state drives, headsets, keyboards, mice, charging accessories for console players, USB flash drives and mousepad. HyperX has shipped over 65 million memory modules, 10 million gaming headsets and one million keyboards worldwide.
"The gaming and keyboard expertise of HyperX and Ducky will almost certainly deliver a high-quality experience for typing and gaming," freelance journalist and gaming hardware expert Mike Jennings told Newsweek. "Mechanical switches are the best for getting a satisfying, weighty feel and HyperX's own mechanical switches have a little more speed and a little less travel than many conventional switches—so they should feel faster and more clinical.
"This limited-edition keyboard has loads of other great-sounding features too. Textured keycaps improve grip, it has a removable cable, two height settings and a keycap puller," he continues. "The steel construction and compact size make this worth considering for anyone who needs a smaller unit, especially if you want to travel with a mechanical keyboard."
However, Jennings does have reservations about the keyboard, especially in regards to its form factor: "This unit is only 60 percent of a keyboard's regular size—everything to the right of the Return key has been removed and the function keys are now secondary functions on the number buttons.
"That means you get a lot less versatility—no numberpad, no cursor keys, no Home, Insert, Delete, PgUP or PgDW. For lots of people, that won't be a problem. But for many people—depending on what work you do or what games you play—it's just not going to work," he said.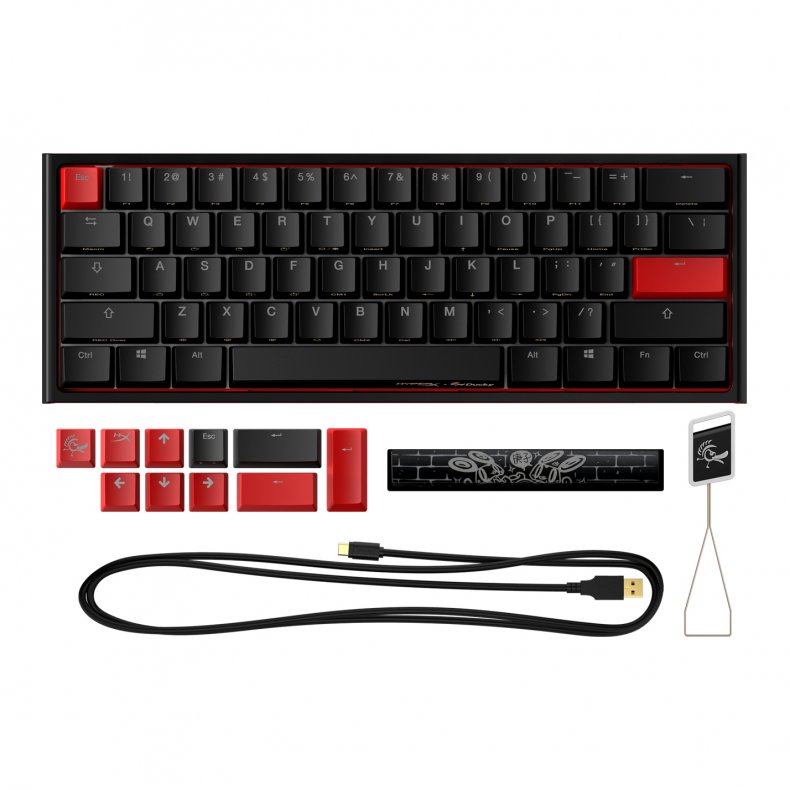 "We are excited to announce our limited-edition keyboard collaboration with Ducky, known for their high-quality and performance-oriented mechanical keyboards in the gaming market," says Jennifer Ishii, keyboard business manager, HyperX. "The HyperX x Ducky One 2 Mini is a great addition to the HyperX keyboard line-up and provides HyperX and Ducky fans with a 60 percent form factor mechanical gaming keyboard utilizing HyperX switches".
The HyperX x Ducky One 2 Mini can be personalized using the Ducky Macro 2.0 support, allowing players to change up the lighting with onboard keyboard controls. Players can also customize macros, offering up to six custom hardware-enabled profiles.
This new piece of kit is available for $109.99 (Manufacturer Suggested Retail Price) and is a limited release through HyperX's Online Shop. It will be available from May 12, while supplies last.
Due to the current COVID-19 situation, HyperX could experience some product and shipping delays, according to the press release.
HyperX x Ducky One 2 Mini Specifications:
Part Number
HKBDXM-1C-US/G
Keyboard
Switch
HyperX Switch
Type
Mechanical
Backlight
RGB
Light effects
Per key RGB lighting
Connection type
USB Type-C to USB Type-A
Anti-ghosting
100% anti-ghosting
Key Rollover
N-key mode
Media control
Yes (Hotkeys)
OS compatibility
Windows® 10, 8.1, 8, 7
Switch
Switch
HyperX Red Switch
Operation Style
Linear
Operating Force
45 g
Actuation Point
1.8 mm
Total Travel Distance
3.8 mm
Life Span (Keystrokes)
80 million
Cable
Type
Detachable
Length
1.6 m
Dimensions
Width
302.0 mm
Depth
108.0 mm
Height
40.0 mm
Weight
599.0 g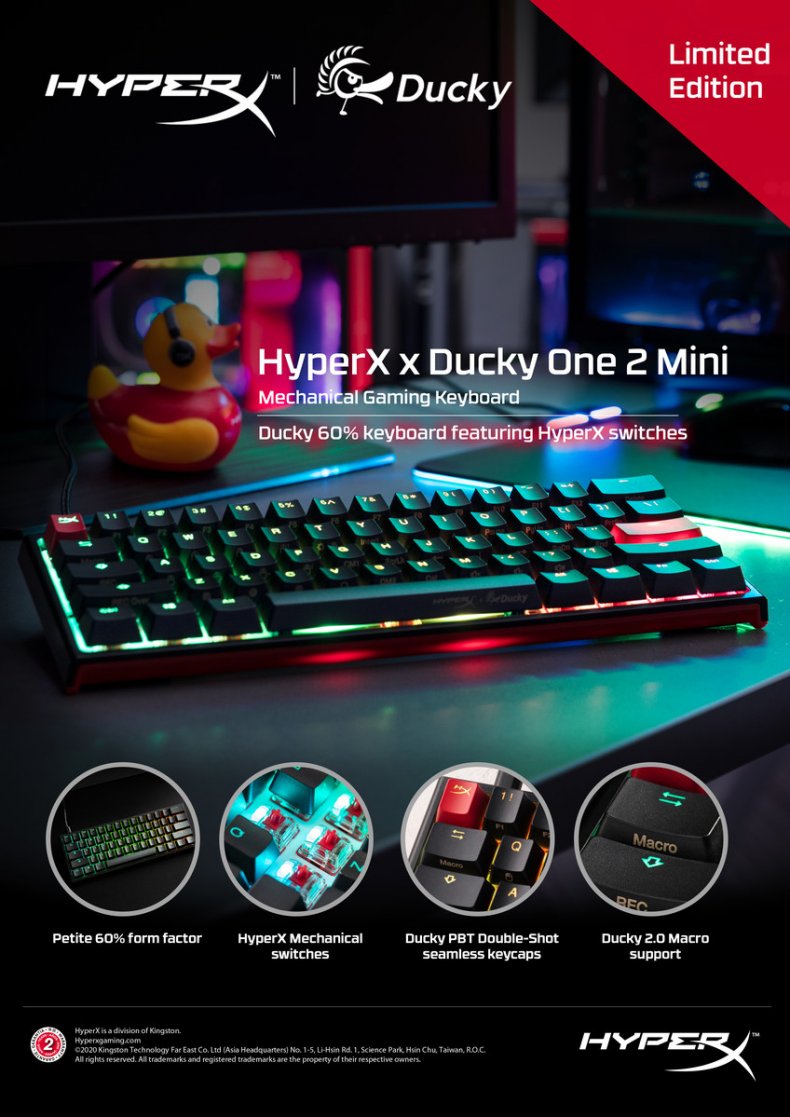 Newsweek has affiliate partnerships. If you make a purchase using our links, we may earn a share of the sale.