Hysterics As Owner Cleaning Kitchen Finds Cat's Secret Stash Behind Stove
A viral video of a cat's secret stash hidden behind a stove has left the internet in hysterics.
Cats are known for having their own habits and peculiar quirks that make them beloved pets, and this feline is no exception.
In the TikTok video, user juliaparadiso_ explains that she wondered where a 60-pack of springs had gone.
As the clip starts, a person can be seen pulling out a stove from its place in the kitchen to clean the space it normally occupies.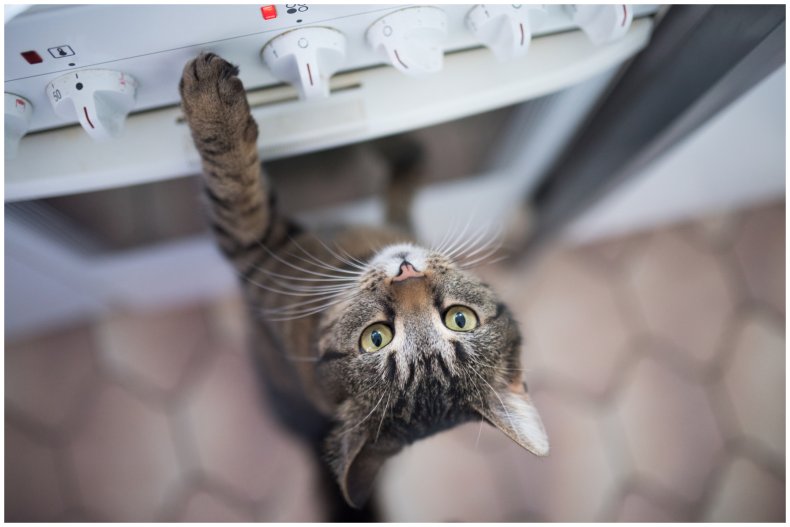 The TikTok user then walks up to film the area where the stove was, only to reveal that it is covered in springs.
Seconds later, a cat squeezes its way through a gap between the stove and the kitchen counter to see what is going on but seemingly does not care that the stash has been discovered.
A caption on the video reads: "The way he walks up as if it wasn't him."
Juliaparadiso_ then comments that the cat looks like a "criminal."
According to the U.K.-based pet charity Blue Cross, cats enjoy toys that can move in rapid and unpredictable ways, like a mouse or bird.
It adds: "Cats also like toys with different textures that are around the size of their natural prey (such as mice). Many cats love squeaky toys but some cats are startled by them so introduce them carefully."
Online Reaction
Since the video was shared on Friday, March 10, it has received more than 7.3 million views and nearly 370,000 likes.
The overwhelming majority of people who commented on the video said their own felines behave in a similar way.
TikTok user lilfiaty said: "The cat showing up like 'finally.' Btw (by the way) I've learned it's easier to take the drawer to the stove out to get cat toys."
OhioMommaDani1974 added: "Lol. I also find these under my couch from my cat. And I have an orange tabby as well."
Sarahhhh commented: "This is exactly what behind my stove looked like when I pulled it out last week."
Meanwhile Blue simply posted: "Returning to the scene of the crime."
According to the American Veterinary Medical Association, 26 percent of U.S. homes owned at least one cat in 2020. The population of pet cats was estimated to be between 60 million and 61.9 million that year.
Do you have funny and adorable videos or pictures of your pet you want to share? Send them to life@newsweek.com with some details about your best friend and they could appear in our Pet of the Week lineup.
Newsweek has contacted juliaparadiso_ for comment via TikTok.