Hyundai Seven Concept Foreshadows Future All-Electric SUV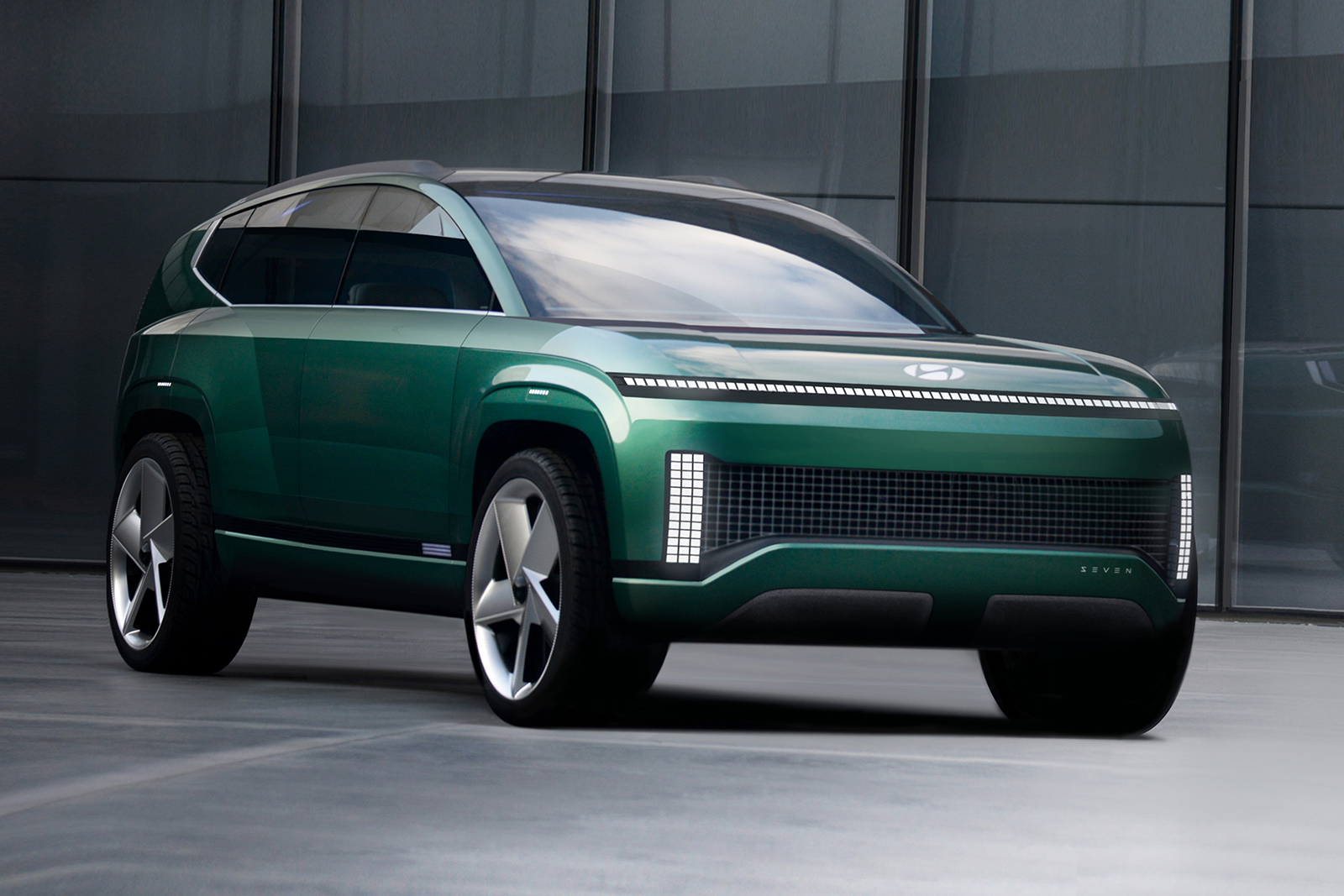 Hyundai's latest concept car pushes its Ioniq electric vehicle plans to the forefront. The automaker calls the Seven sport utility electric vehicle a "clear representation of Hyundai's commitment to carbon neutrality by 2045".
"The SEVEN concept demonstrates Hyundai's creative vision and advanced technological development for our electrified mobility future," said José Muñoz, President and CEO, Hyundai Motor North America. "Its innovative interior space, eco-friendly powertrain and cutting-edge safety and convenience technologies reveal an exciting future for Hyundai SUV customers."
The model is built on Hyundai Motor Group's Electric-Global Modular Platform, a dedicated battery electric vehicle (BEV) architecture that enables the long wheelbase model to have a flat floor.
Designers have prioritized the car's aerodynamics to give life to a shape that is traditionally unseen in the auto space. Its low hood draws the eye to a streamlined roofline whisk the wheelbase serves as a telltale sign of the model's all-electric powertrain.
The model's wheels feature active air flaps, which can deploy or retract depending on the cooling needs of the brakes and drag requirements of the vehicle.
At the rear, Ioniq's signature Parametric Pixel lighting scheme takes center stage.
Hyundai says that the model has a target range of over 300 miles. On a 350-kilowatt charger, Seven's battery can go from 10 to 80 percent charged in about 20 minutes.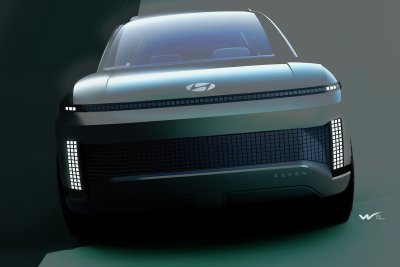 The SUV features a new approach to cabin space that prioritizes new types of environment over traditional design. It also has hygienic features that are designed to keep passengers as germ-free as possible.
There are coach doors, a driver's seat that has a control stick that hides away when not in use, and slim integrated screens. The look is more like a lounge than passenger hauler thanks to swivel chairs and a curved bench seat.
A Universal Island console specially designed home appliances, mini fridge, shoe care compartments and a multi-functional Smart Hub graphic user interface also take their place on the inside of the vehicle.
A panoramic OLED screen displays a variety of content that can be customized based on mood, desires, or taste.
Seven's eco-friendly materials and hygienic features combine to create a unique living environment. The car's bio-paint gives it shine while mineral plaster, bamboo wood and carpet, bio resin and interior paint are based on renewable sources. Copper and hygienically treated fabric with antibacterial functionality also feature.
The company's Hygiene Airflow System uses built-in air intakes in the roof rails and pushes it to the cabin via dashboard air vents, isolating airflow between passengers.
UVC Sterilization allows lights to clean the living space of bacteria and viruses.
The Seven Concept is widely regarded as the precursor to a production version of a new Ioniq-branded model. The company has stated that it intends to bring three Ioniqs to the U.S. market and has already begun offering the Ioniq 5 to customers. The all-electric SUV is expected to wear the Ioniq 7 name.
The concept model will be on display during the Los Angeles Auto Show through November 28.